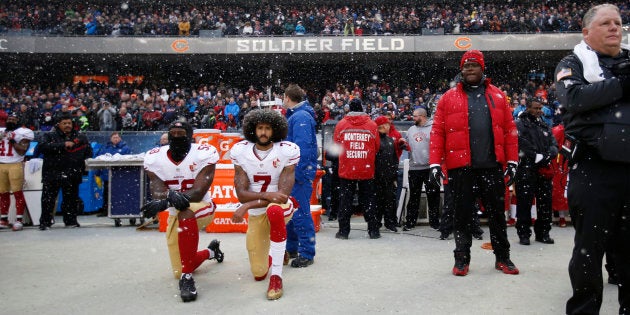 Two Dons don't make a right. Between U.S. President Donald Trump's recent words criticizing former San Francisco 49ers quarterback Colin Kaepernick (including calling him a "son of a bitch"), and Don Cherry's latest comments about Christianity getting kicked around, my head is spinning with the sheer racist ridiculousness of the past week in regards to NFL players taking a knee.
Cherry is blasting the "left wing media" for NOT mocking Kaepernick, calling them hypocrites. According to Cherry, in 2010 during his breakout rookie season, former Denver Broncos quarterback Tim Tebow, a devout Christian, was mocked by late-night lefties for taking a knee to pray after scoring a touchdown.
He went on to say "The reason they can make fun and ridicule Tim getting on his knees and thanking the Lord is because he is a Christian." Cherry failed to acknowledge that Kaepernick is also Christian, with biblical tattoos on his torso, celebrating his own touchdown wins. But apparently "fake news" is not doing a good enough job in the "equal bullying for all" department.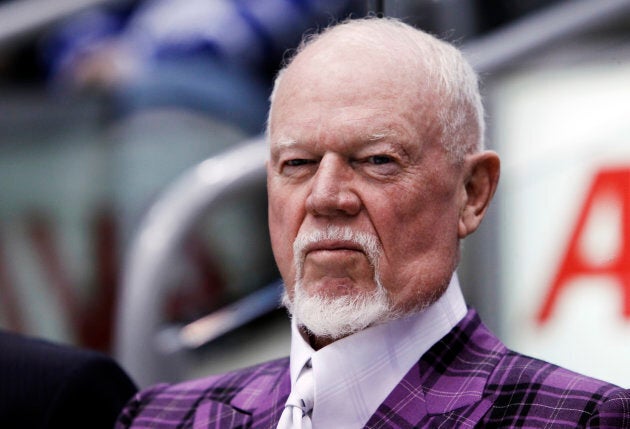 This movement is not about the American flag, veterans or religion
Between all the spin doctors, social media and sheer stupidity being thrown around out there, the whole reason behind Kaepernick's movement is being lost — and I don't think that's any sort of accident. Society has selective listening. They didn't care to hear about the real issue then, they don't want to know about it now and they are doing a hell of a job in making this about something else.
But as Eric Reid, Kaepernick's former teammate, reminded us in a beautifully penned article for the New York Times: "It is paramount that we take control of the story behind our movement, which is that we seek equality for all Americans, no matter their race or gender." He explained how in early 2016 he started paying attention to the reports of police brutality against unarmed black men. The realization that it could have been one of his family members came when Alton Sterling was killed in his hometown of Baton Rouge, La. He was deeply disturbed and brought to tears reading about it.
Angered and hurt, he was moved to take action. And it was actually his faith that moved him to take action: "I looked to James 2:17, which states, 'Faith by itself, if it does not have works, is dead.' I knew I needed to stand up for what is right."
(Don, I'm going to take a wild guess that Reid is a Christian, too... so maybe let's just keep religion out of this.)
From there, the two decided to kneel instead of sit during the anthem because kneeling is a respectful gesture. As Reid said, "I remember thinking our posture was like a flag flown at half-mast to mark a tragedy."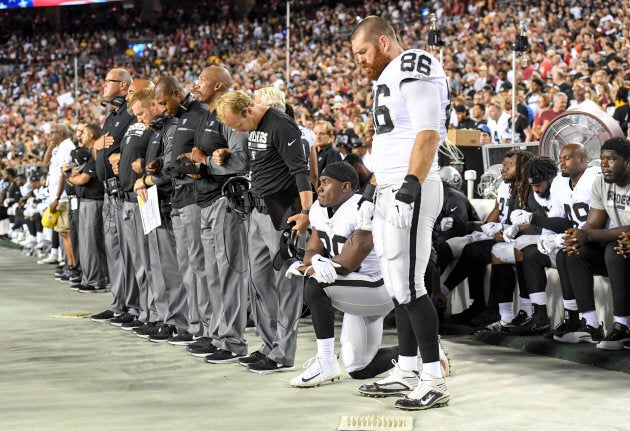 Black athletes aren't activists — but apparently white actors are
It was a beautiful sentiment and meant to be a peaceful, respectful form of protest. At that time, only a handful of other players followed their lead. And certainly no owners showed support in standing by these players protesting the rights of young black men. In fact, Kaepernick's name was smeared and he was eventually let go by the league. I have heard countless comments since then, degrading him:
"Protest on your own time!"
"Protest in private." (Seriously?!)
And the list goes on. If white celebrities are able to use their voice as a platform for what they believe in, why is it so wrong for a black man to do the same? I've never heard anyone complain about George Clooney or Brad Pitt's involvement's in issues of human rights and social justice. I've never heard that they're ungrateful and should just shut up and "do their job."
As Trevor Noah noted, many conservative commentators have called black NFL players that are taking the knee "ungrateful." Ungrateful for what, exactly, I'm not quite sure. Noah attempted to answer the question with his racial rendition of Green Eggs and Ham:
"It's wrong to do it in the streets, it's wrong to do it in the tweets. You cannot do it on the field. You cannot do it if you've kneeled. And don't do it if you're rich, you ungrateful son of a bitch. Because there's one thing that's a fact. You cannot protest if you're black."
In 2017, it is both heart-crushing and eye-opening to hear the president of the United States speak in such racially charged language and slurs against the black community, yet he has no qualms about calling the neo-Nazis in Charlottesville, Va., "very fine people." In that noise and in the attempts to smother and erase what the original intention of Kaepernick's "taking the knee" movement was about, I have come away with a deeper sense of urgency to speak up and stand up (or kneel) for what I believe in.
There have been many moments over the past week where I have fallen to my knees in tears over the racial divide in our own country — but I am inspired to give a voice to those who may not be able to do so for themselves and to always remain focused on my intention, because as this past week has proven, it is very easy for the message to get twisted inside out.
If the good that comes from this is that it gives us the courage and strength to speak up and do what is right, than just as Colin Kaepernick's mother replied in response to Donald Trump's tweet, "I will be one proud Bitch."
Follow HuffPost Canada Blogs on Facebook