Chris Williams Black Box via Getty Images
One of my favourite childhood memories is of my dad making my sister and I breakfast when we were little. His specialty was scrambled eggs with cheese. Although he had an aversion to the healthy meal himself, he somehow found a way to make them delicious every time by adding his secret ingredient- basil.
I didn't know it then, but my dad's loving breakfast was actually helping my young brain develop. The protein and nutrients helped me concentrate and learn during those early morning classes, and kept me moving at recess and lunchtime.
So I guess it should have been no surprise when I learned that eggs are one of the main ways that World Vision helps families get proper nutrition. When I travelled to Bolivia last fall, I witnessed how just a few baby chicks could become a source of income and food for a whole family.
But don't take my word for it. Take a look at the photos and stories below to see just how great eggs can be for kids and families around the world.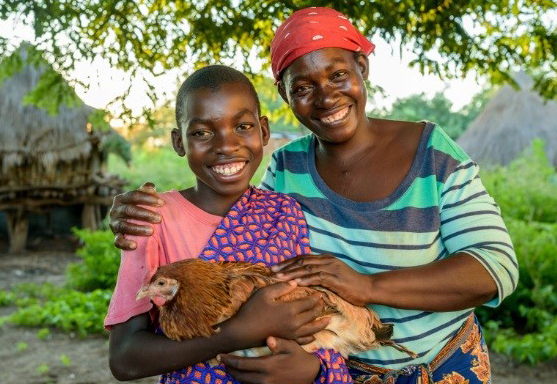 Resheal, a sponsored child from Zambia, holds one of the offspring from four chickens and a rooster his family received from the World Vision Gift Catalogue. Photo: World Vision
After Resheal's father died, the boy's mother, Esnart, struggled to put food on the table. But, with a simple gift of five little animals, she has grown her flock of chickens and roosters to over 300 animals.
He used to go hungry, leaving him unable to concentrate in school. But now Resheal is in the top of his class and wants to be a doctor.
"I want to be treating people. I want people to live a healthy life and I would want to take people out of their old life," he says.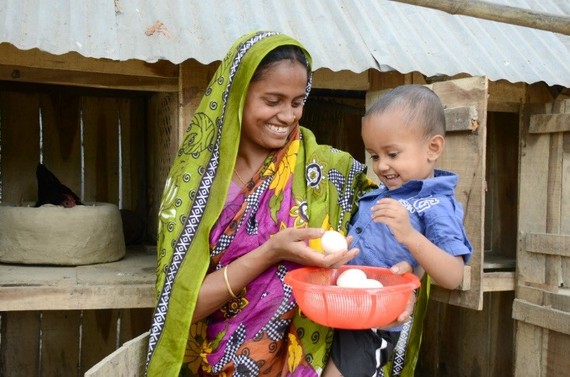 Mahfuja and her younger son Mahfuj are both staying healthy, with the help of eggs. Photo: World Vision
Mahfuja is a mom of two boys in Bangladesh. She's also a partner in a World Vision project that helps local entrepreneurs learn better methods of hatching eggs.
Her son Mahfuj, two, used to be malnourished and constantly ill. He is now in good health, thanks in part to the body-boosting benefits of the eggs his mother's hens produce.
Now, Mahfuja is teaching other moms how to grow their own nutritious egg yield.
"When we have any problems rearing poultry, we go to Mahfuja and learn better techniques," says her neighbour Khodeja.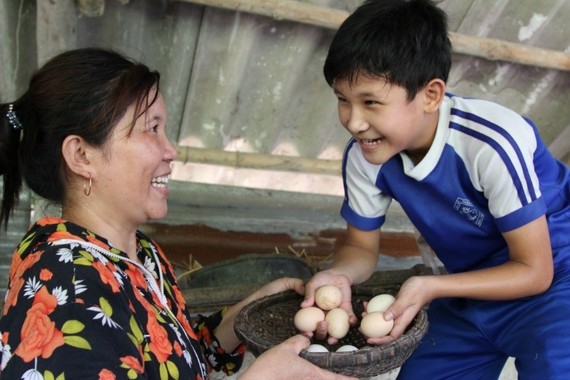 San and his mom collect eggs. Photo: World Vision
San is a Vietnamese boy who says he is "always happy to climb up" to get eggs for a meal. His mom has nine hens who lay eggs all year round. These eggs provide food for San and his older brother, but also offer a little extra cash when times are tight.
"Whenever my mom needs some money to buy more food or pay some school expense for my elder brother and me, she just brings some eggs to the community market," San says. That sounds like an egg-celent idea San!
This Giving Tuesday, for the fifth year in a row, Canadians have an opportunity to double their gift when they donate two hens and a rooster. Burnbrae Farms, a 5th generation family owned-company, will match your gift up to $10,000.
As we enter the season of giving, this deal offers an opportunity to stretch your dollar to help even more families. You can help make yummy breakfast memories for kids for years to come with this simple gift. Now that's what we call egg-ceeding egg-spectations!
Follow HuffPost Canada Blogs on Facebook