Paul Bradbury via Getty Images
I wrote recently about my decision to take World Vision's #consciousconsumer challenge for ethical and environmental reasons. Well, as life would have it, I'm now facing the task of taking that challenge a little further.
Living and housing expenses in Canadian cities are pretty heavy right now. If you're a Millennial like me, you're likely paying off a student loan, car payments, your first mortgage, or all three. There often isn't much left over at the end of the month to enjoy the much-needed and all-too-fleeting summer sunshine. So what's a thrifty city dweller to do?
Well, my friends, I've done a bit of research and taken quite a bit of the guesswork (and the cash) out of summer fun for you. Here are my top five suggestions for saving money in the summer heat:
Take your food on the go and have a picnic!

Making a sandwich when we're running out the door is often the last thing we want to do, but it can save quite a bit of cash. This is a tip I remember my parents using quite a bit, and I'm now finding myself taking a page out of their very experienced handbook.

A good rule of thumb is to just assume you're going to be hungry and thirsty at some point when you're out. Skip the calories, cash and trash of fast food, find a park bench and enjoy your homemade lunch. (Bonus points if the ingredients are fair trade.)

Stock photo

Can't afford a road trip? There's a park for that.

When the thermometer is inching past 30 degrees, all I want to do is get out of the city and into a lake. But that takes planning--and money. Instead, avail yourself of one of the many parks and outdoor pools our Canadian tax dollars have paid for. Cool off with your kids at the splash pad, or grab some friends and head to the pool to relive your 90s glory days.

Skip the summer sales and shop your closet (or your friend's)

The malls are absolutely full of summer sales. But, if you've read our latest report, you know that there is a high cost to most of those 50% off short-shorts. Child labour, unfair wages, and damage to the environment are just a few.

This summer, I'm going on a shopping ban and learning to appreciate and take care of the things I have- because, compared with so many, I have quite a lot. If that means repairing my battered sandals, or sewing up a hole in my favourite band t-shirt, that's what I'm going to do. I'm also hoping to do a clothing swap with my friends at World Vision. One person's trash could be another's chic.

Stock photo

Save the gas -- ride a bike or transit

Now, I cheated a bit on this one because I don't actually own a car. But, even if I did, I would still opt to bike or take the bus sometimes. In the city, it often just isn't worth the cost of parking or the hassle of traffic to drive. So, lose the headache, and the fumes, and take transit or your bike to your next appointment.

Just need to get out of the house? Free is the price to beat!

Summer means music in many Canadian cities, and quite often the organizers (or the municipality) foot the bill. I already have a list of free concerts I want to attend in the next couple months. My local library also has quite a list of art exhibits, film festivals, and classes that I may want to take advantage of--especially when I am in desperate need of an air-conditioned activity.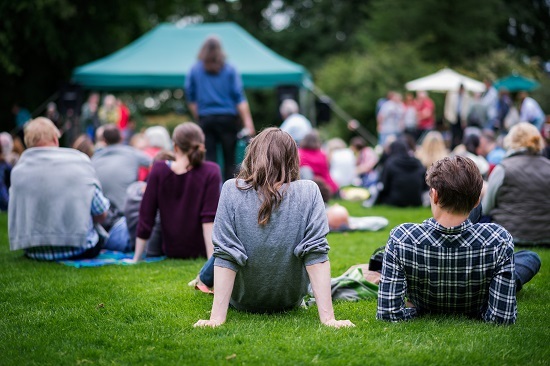 Stock photo
And that's it! I hope you all have fun not spending money with me this summer, and having an amazing time doing it. Now, if you'll excuse me, I need to make some mason jar iced tea for my next adventure.
Follow HuffPost Canada Blogs on Facebook