mtcurado via Getty Images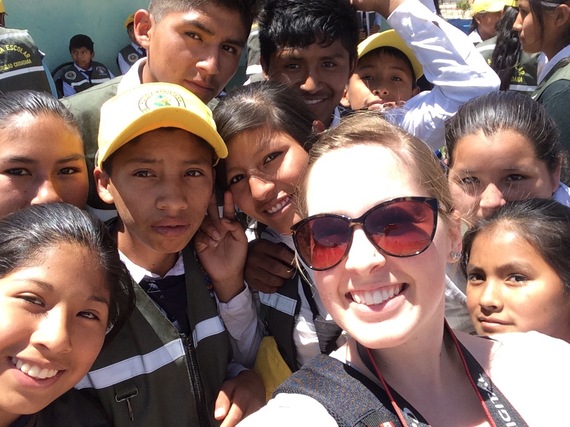 In Bolivia, meeting children served by World Vision. All photos: Megan Radford
If you love to travel, you know that any place you haven't yet been is like an itch in your shoes. For me, that was the entire continent of South America.
So when my Director at World Vision Canada called and asked to accompany him on a trip to see our projects in Bolivia, I didn't hesitate. Being the photographer for a group of pastors sounded like the perfect way to capture my very first trip to South America.
I may have never been to South America, but in many ways my whole life has been spent hopping from one place to another. I have lived in different countries in Africa for a total of 9 years. I spent my journalism school internship in Malaysia. And I have called more houses my home than there are candles on my birthday cake.
With all that in mind, and the research I did on Bolivia, I landed in Cochabamba on September 28, 2015, fully expecting to fall in love with the people and culture. What I didn't expect was to fall in love with a man -- but that's just what happened.
The story begins
When you're the youngest unmarried person in your travel group, you can expect some jokes about your single status. Meeting the World Vision Bolivia team for the first time only added fuel to the flame. As everyone went around the table introducing themselves and their families, it became painfully obvious that I and our translator Rolando were the only ones who were unattached.
Things got even more awkward when one of my team members pointed that out. Loudly.
But, as we all got to know each other, I realized that my team member had my best interests at heart. She wasn't playing matchmaker simply because I was single - it was because Rolando was a pretty incredible guy.
With every stop on our trip we got to meet community members who are working tirelessly to improve the lives of their families and neighbours. As he navigated the language and cultural barriers between us, the Canadians, and the Bolivian community, the respect and compassion that Rolando showed to everyone around him did not go unnoticed.
And neither did the dignity and passion of the people we met with. As Rolando translated their stories, their strength in the face of difficult circumstances hit me hard. I've travelled to many communities around the world, but the town of Lomas was special.
A shared love for children
The young people of Lomas have to contend with gang violence, a shortage of clean water, and poverty that may go back generations. But the love they have for their community is so evident in everything they do.
Youth and children in Lomas have formed community watch groups to ensure the safety of others. They encourage one another to pursue their education and to stay away from drugs. And they educate their peers about sexual abuse and harassment. They are not just the leaders of the future - they are leaders now.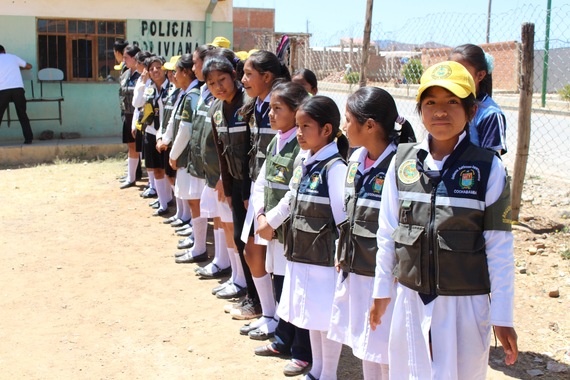 Some of the children from Lomas in their community watch uniforms.
I stood next to Rolando as a group of these teens performed a play about the pressures and temptations they face. He smiled at their antics, and his demeanor went from serious professional to a compassionate protector. He truly cared about these kids.
Rolando's story
I would later learn that Rolando's respect for these people comes from his love of his own grandmother, Alicia. She grew up in a village and would travel for three days to the town of Capinota, where Rolando was later born, to sell produce and cheese. It was on one of these market days that Rolando's grandfather first saw her and was instantly smitten.
After they married, Alicia was not content to just sit back and take care of the children - although she had seven. This woman with a fourth grade education saw a future in Bolivian cities and predicted urbanization long before it became apparent to others. So, against the advice of others, she bought up properties in nearby Cochabamba- properties that would later become very valuable.
Rolando led me to see this same spirit of entrepreneurship in Lomas, where families are turning simple kitchen gardens into a source of income for their families, and a food source for their communities. I thought I knew what hard work was before I visited Bolivia. But the love that is sown with each seed in those gardens taught me otherwise.
The seeds of love
On our second to last day in Bolivia, our matchmaking team member from earlier began a conversation with Rolando and I that would prove to be life-changing. During a bus ride of several hours, we talked about our families, our faith, and our dreams for the future.
When Rolando spoke about his little sister in America, I glimpsed his protective side again. I told him about my three younger siblings, and something clicked, for both of us. Our love for children and community change had led us to World Vision, and now it had sparked a different kind of love.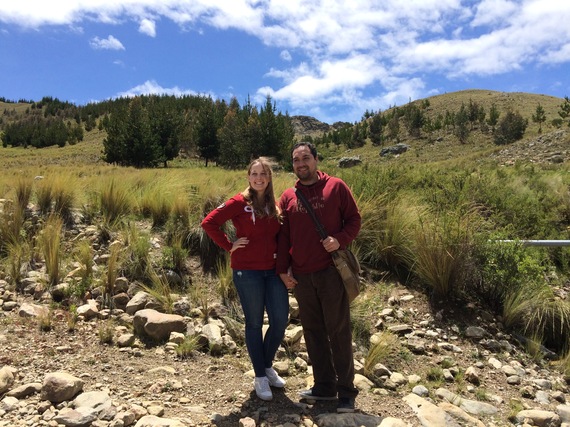 With my husband, Rolando, on a later visit to a World Vision community development project in Bolivia.
The next day, as we boarded a bus to leave, Rolando hugged me and reminded me of my promise to return for a visit. I had no idea as we drove away that I would indeed make the trip back in February 2016 - to marry him, on Valentine's Day.
Share what love can do
My first journey with World Vision Canada turned out to be the trip of a lifetime for me. And each time I have gone back to see my husband, I fall more and more in love with Bolivia. It's become my country too, not just because I married into it, but because it was the first place where I got up close and personal with how World Vision puts love into action.
And there are so many more stories we want to tell! You can find a bunch on our Love Can website. You can also share your stories about what #lovecan do on Twitter and Instagram by tagging @worldvisionca.
Follow HuffPost Canada Blogs on Facebook