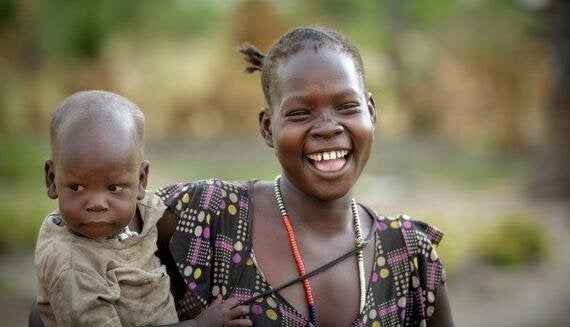 Akook and her little son in South Sudan remind me of a family I met a few years ago. They are doing much better since caring donors reached out to help. Photo/World Vision
When I lived in Senegal, my family often had people coming to our door asking for help. Even in the urban, multicultural capital, word gets out fast when there is a foreigner living in the neighbourhood. Often, the requests were bold ones -- made on the beautiful Senegalese understanding that if you have, you share.
But the mom who approached us one day, toddler in her arms, was different. Fatou was not bold. Her eyes were cast down. She spoke softly, urgently. This was her last hope, and the desperation in her eyes told me that she was already preparing for the worst.
Fatou's little boy lay limp in her arms, suffering from a vicious eye infection that sapped the strength from his little body and was quickly stealing his sight. The father was no longer with them, and Fatou was unable to afford the medicine needed to cure her son. She had taken crowded public transportation into the city, far from home, to find help.
Thankfully, we were able to get Fatou's little boy the help he needed. Slowly, he regained his sight, and a friendship between our families was born. Over the years, Fatou returned to our home, not for more money, but to show her son's progress. As Abdoulaye healed, he grew stronger and was able to go to school. And his proud mom kept us up to date on each milestone.
Fatou's small family thrived in the end, because she was willing to ask for the help she needed.
We all have stories of moms who've gone to extraordinary lengths to provide for and protect their children. But we all need a little help sometimes, and often, the most courageous thing many of us can do is ask for it.
This Mother's Day, World Vision is asking you to consider helping a mother in need. She might be your next-door-neighbor, or a woman on the other side of the world.
Here are five suggestions for extending a hand to moms in need this Mother's Day:
Ask a mom you know out -- or over -- for coffee: It could be the new refugee mother in your school playground, or an old friend who is battling health challenges. You'd be surprised how this small gesture can make a big difference, not only to the mother, but to her entire family.
Find a charity in your neighborhood which helps single mothers, or women who have fled situations of domestic violence along with their children. It may be as simple as making a donation of gently used clothing, or a package of diapers.
Honour two mothers at once: Give a gift in the name of your own mother, to a woman who is struggling to care for her newborn baby in a vulnerable community. The World Vision Gift Catalogue has Mom and Baby Care Kits, with essentials like diapers, wipes, hygiene products and more.
Give a mom some free time: We've all known a mother badly in need of some rest or time to herself. Offer to babysit for a few hours this week so she can sleep, read, or just go for a walk.
Sponsor a child overseas: With sponsorship, children and mothers get the help they need to stay a family. Like Abdoulaye, sponsored kids get medical attention, go to school, and have clean water to drink. Through sponsorship, you join other Canadian donors to help an entire community build for a better future.
We already know that Canadians are incredibly generous. This Mother's Day, let's use that generosity to care for some precious members of our global family. Let's honour the courage and tenacity of moms everywhere, moms like Fatou or the mom next door, by lending a helping hand.
Follow HuffPost Canada Blogs on Facebook