Gifts are often something we think of as meaningful, but mostly superfluous expressions of our love for each other. But in some cases, gifts can be blessings that change the course of people's lives for good.
As Human Rights Day approaches, I've been reflecting on ways to offer hope for a better future to children in need overseas. If well-chosen, through a trustworthy charity like World Vision, such a gift can impact the lives of children and families forever.
I've drawn four examples that represent articles of the Universal Declaration of Human Rights, a global standard of fundamental human rights set out by the United Nations.
Article 3: Right to Life, Liberty and Personal Security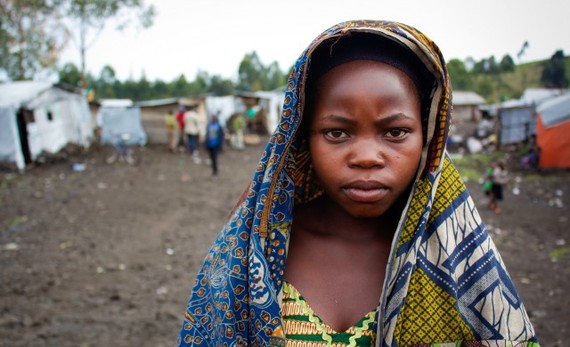 15 year-old Muombi was separated from her family when they fled violence in her village. She now lives with family friends in a refugee camp in the Democratic Republic of Congo. All photos: World Vision
For children living in dangerous places, life, liberty, and personal security can often seem out of reach. But, through support to initiatives like World Vision's Raw Hope, children and families are provided with things like clean water, food, remedial education, healthcare, and shelter.
When we work in refugee camps, our staff often set up Child Friendly Spaces, where children can begin to process the horrors they've experienced, and are able to participate in play again.
Article 4: Freedom from Slavery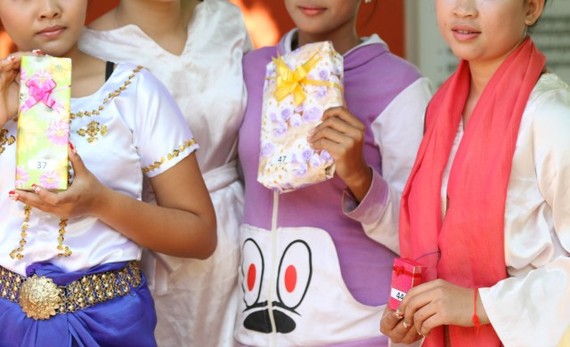 In Cambodia, child survivors of sex-trafficking and sexual exploitation join in a holiday gift exchange with World Vision staff at a Trauma Recovery Centre.
It's a difficult reality that in our modern world: children are still enslaved for labour and sexual exploitation. It's hard to even think about things like this near Christmas, a time that's so focused on bringing joy to children's lives. But on Human Rights Day, it's critical to think how we can honour children's right to freedom from slavery.
By helping communities work together to protect and empower their children, by providing education so children have more options that to look for work, and by advocating for children who are forced into labour, World Vision is helping to protect the most vulnerable.
Article 23: Right to Desirable Work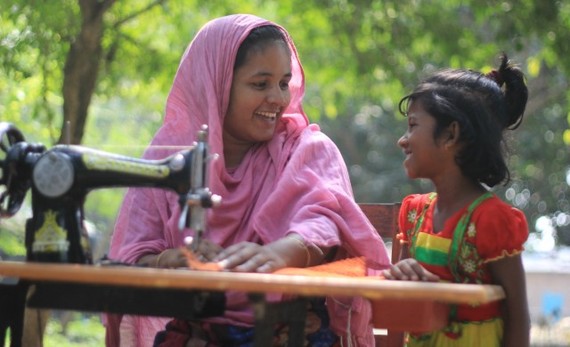 Parul, a mother in Bangladesh, is able to provide for her daughter Tasnim (pictured) and son Tazim because of the training and sewing machine the World Vision provided.
It's the right of every adult around the world, no matter where they live. But in many parts of the developing world, that desirable work can be hard to find. If you choose to give holiday gifts through World Vision's Gift Catalogue this season, you'll be supporting entrepreneurs and artisans alike.
You might choose a beaded bracelet for someone you love, or support a budding businesswoman in the name of someone you admire. Either way, that desirable work will be one step closer for a mother or father overseas. And that's good news for the children who rely on them.
If you're shopping for all things Christmas, consider fairly traded chocolate to stuff into those stockings, or candle holders and decorations from stores like Ten Thousand Villages. We can offer hope to people in need of desirable work, while lighting up our homes this season.
Article 26: Right to Education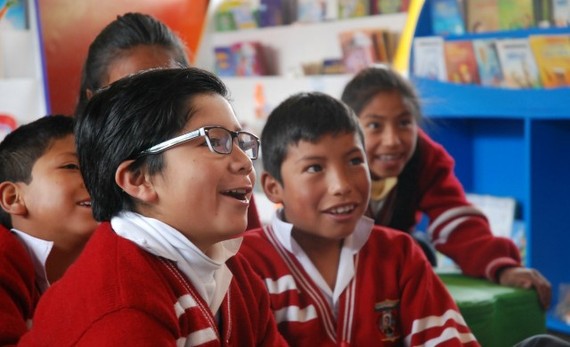 Children in Peru enjoy story-time at their school library. Literacy can help break the cycle of poverty, giving children a chance at better lives.
An education is central to life in all its fullness for children. That's why our Gift Catalogue has an entire section dedicated to providing educational gifts. A well rounded education, complete with music, art, sports can make a world of difference for kids.
Human Rights Day is a reminder of the standard that we are all, regardless of where we come from, entitled to. We'll keep working till those rights are honoured for every person. Will you join us?
Follow HuffPost Canada Blogs on Facebook