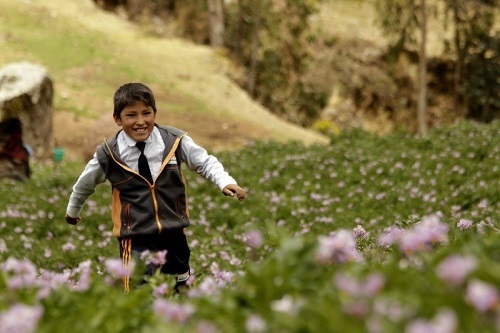 In Bolivia, Franklin gets to run through a potato field on his way to school. "In our garden, I help plan potatoes and onions," he says. (Photo: World Vision)
When I was three years old, my family lived on the coast of Newfoundland in a little fishing village. Across from our home, the ocean crashed in white foamy waves against the shore. The ground was rocky, cold and wet -- not conducive to growing crops -- but next to my house my dad had eked out a small vegetable garden.
My dad's childhood on a farm in southern Ontario ran deep, and his green thumb produced potatoes, carrots, corn and green onions from the black earth. I could often be found with one of the latter sticking out of my mouth as I "helped" him in the garden. My rubber boots deep in the mud, I remember the feeling of triumph as I pulled leafy stalks from the ground.
These days my dad has a flourishing kitchen garden beside my family's home in Halifax, Nova Scotia. During harvest time my Facebook feed is flooded with pictures of bright tomatoes, copious amounts of green beans, and seemingly unending meals my mother cooks up with his basil, rosemary and oregano. It's enough to make my mouth water.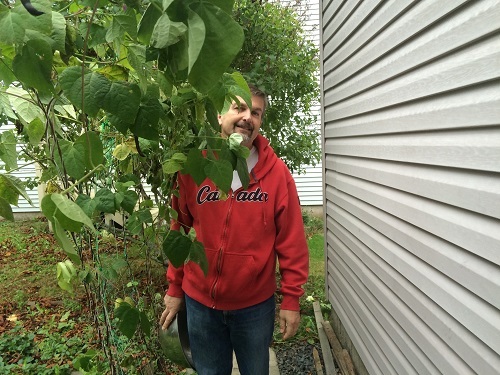 Dad and the beanstalk in Halifax! (Photo: Megan Radford)
Bringing country to the city
On my first trip to Bolivia, I was reminded of my dad's carefully tended garden when we visited a community on the outskirts of the city of Cochabamba. Outside many of the homes we saw were small squares of flourishing green produce. These gardens provide not only sustenance for the whole family, but, when they have grown large enough, a source of income.
Just like my father has gone back to his roots as a grower, these families, many of whom have moved to the city from rural farming communities, are once again tilling the earth. Urban farming has its own challenges, and World Vision provides the expertise to adapt traditional farming techniques to city life, offering sustainable, independent nutrition to a community in need.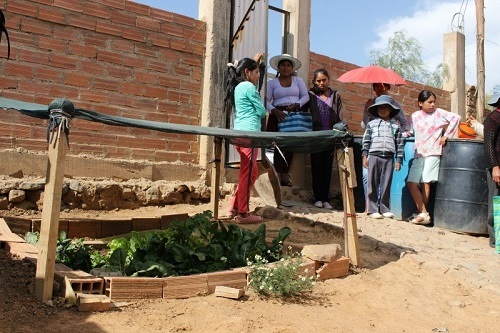 This kitchen garden outside a Bolivian home provides vital nutrients to a family. (Photo: Megan Radford)
Even in rural areas, World Vision is reawakening a love for growing things. In this community, a school garden teaches children lifelong skills and provides potatoes for the school's meal program.
The crop has been so successful that the leaders of the community have decided to start another potato farm -- one that everyone can participate in and enjoy. The money the community makes from selling their crops will go towards improving the local school.
Share the love of the harvest
This October, as we enjoy the harvest with family meals, trips to the apple farm and pumpkin carving, I'm remembering the farmers we partner with around the world. Growing your own food, as my father will tell you, is an ancient and precious tradition. But more than that, it is life-giving to families and to those of us who enjoy the fruit of farmers' labour. I think that's something to be celebrated.
World Vision thinks so, too, and we're doing just that. We're asking you to join us in carving a heart into your harvest pumpkin. Text LOVE to 41010 to give a $10 donation of crop seeds to farmers. Then share a picture of your pumpkin on social media with the hashtag #CarveAHeart to spread the word!
Let's honour the hard work of those who grow the things we eat, and allow communities in need to enjoy the same delicious food.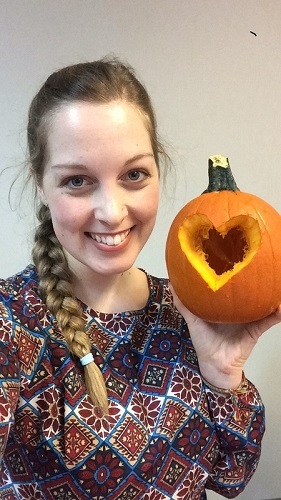 Photo/Megan Radford
Carve a heart this October and help farmers share the love of the harvest!
Follow HuffPost Canada Blogs on Facebook
Also on HuffPost: