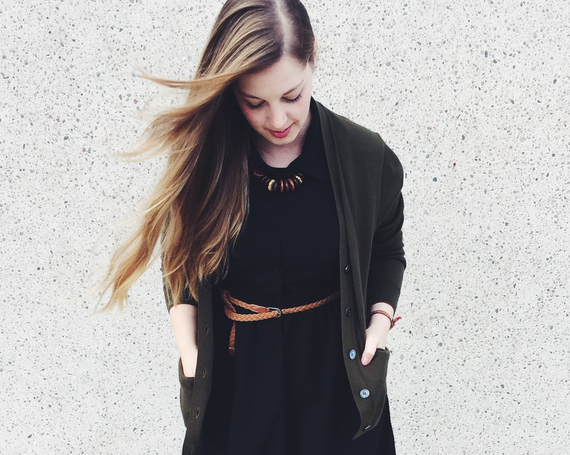 (All photos: Megan and friends)
With the weather getting colder, the author kept thinking about children who don't have warm winter clothing. To draw attention to their needs, Megan Radford challenged herself to wear the same little black dress every day for a month. Here's what it taught her.
Minimalism is a growing trend these days. Basically, it's the idea that to focus on what's important, we need to get rid of the unnecessary objects, activities and baggage that clutter our lives.
In fashion, it's characterized by owning less clothes, but of better quality. It's an idea I've been fascinated with since I moved back to Canada from three years overseas with just a few suitcases to my name.
Working at World Vision, the idea of minimalism takes on added significance for me. Every day I am faced with the contrast between my lifestyle and that of people in the communities we partner with.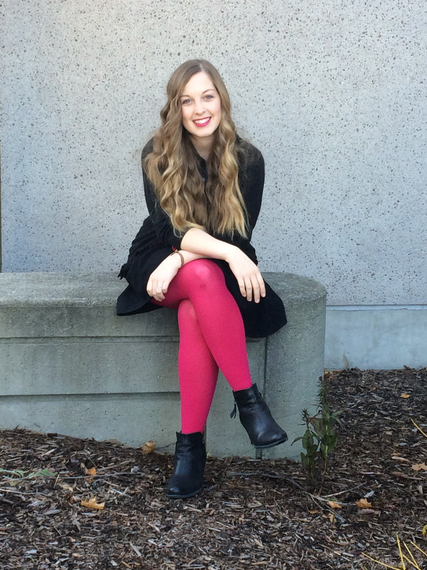 This fall, I decided to challenge myself. I set out to wear one black dress the whole month of November, and, in the process, create awareness about how important having the right clothes for inclement weather truly is.
Every day I have posted a photo of myself wearing the dress a different way on Instagram and Facebook, and directed people to where they could support my project by donating warm clothes to children through World Vision Canada.
I may be managing to go a whole month without a full wardrobe, but I always have my warm coat and boots if I need them. I want kids to have that same assurance.
I really, truly, do not need more than I already have.
Here are five things I've learned from this experiment:
Daily fashion blogging is exhausting.
I have so much respect for the women who run fashion blogs. I have never minded having my photo taken. But being in front of the camera every single day, even for the short time I needed to take one decent picture, was a bit much for this introvert. Putting yourself out there, no matter what form that takes, leaves feeling you a bit raw and vulnerable. I'll be hiding from photos at least until Christmas when this is over.
A little black dress suits every occasion.
From biking to Whole Foods, to going to the ballet, to sitting at a desk, this dress has worked for every situation I've thrown at it. Other than doing CrossFit, sleeping and cleaning, this dress has been with me through the entire month. As Karl Lagerfeld, legendary Chanel designer said, "One is never over-dressed or underdressed with a little black dress."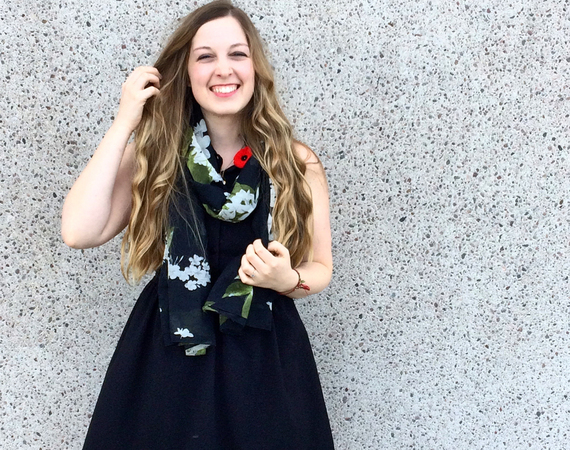 I really, truly, do not need more than I already have.
I love the self-expression of fashion, and I always have. However, despite mostly shopping at thrift stores and trying my best to live a minimal lifestyle, I seem to have an overflowing closet situation. So far, I've managed to wear the same dress for 20-something days without repeating a look. That was surprising to me. And, after seeing how versatile my clothes can really be, I have a new respect for the idea of smaller collections of mix-and-match clothing items, also known as capsule wardrobes. I may be cleaning out my shelves very soon. Please help, Mary Kondo!
Our clothes are not as important as we think.
Except for the people who follow me on social media, no one noticed that I was wearing the same black dress from the day (and week) before. Even my mostly female coworkers, who knew about the experiment, frequently forgot until I mentioned something about it. This taught me that most people only notice if you look appropriate and put-together, not specific details of your ensemble.
And secondly, accessories make all the difference when you are working with a limited wardrobe. Mixing up my sweaters, tights, boots, jewellery, makeup and even the way I did my hair made me feel put-together and refreshed every day -- even if my dress didn't change.
Coats, scarves, hats and gloves make a BIG difference when the temperature drops.
In the chilly autumn and winter, what you wear under your layers is not nearly as important as what you wear on top. There have been many warm days this month, but when the November wind started to bite at my nose, I have been grateful for my bundled-up Canadian uniform.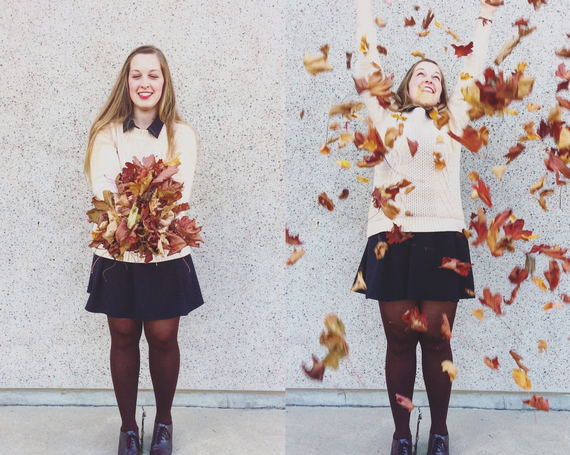 I am so excited about all the Canadians so far who have helped to provide those kinds of warm clothing items for kids, and supported my #1dress1month project in the process. There are so many children who will be fighting the chill this year, in countries like Romania. Economic hardship may mean that their family just can't afford to equip them this winter.
Worn out hand-me-downs and clothes they've grown out of are hard to make work when the temperature is in the negative digits. So, I encourage everyone who can to make a donation of $35.00 through the World Vision Gift Catalogue to provide sturdy footwear and winter clothing that protects children from the lethal cold.
Most of us really do have more than we need -- why not use some of that Canadian generosity and share the warmth this winter?
If you would like to see all of my little black dress outfits, you can follow me on Instagram!
Follow HuffPost Canada Blogs on Facebook
Also on HuffPost:
Best For Your Body: The Little Black Dress