I'm not a runner. Despite my brief stint on the grade five track team, I've always known that running was not my sport.
What I do love is walking. If I have the time, and it's a beautiful day, most of the time I will choose to walk over taking the bus, getting a ride, or even riding my bike.
But in many parts of Africa and Asia, walking takes on a whole different meaning. That's because many women and children in these developing areas have to walk six kilometres every day to get water for their family. It's not a stroll in the park, or a breezy city walk -- it's a dangerous, hot, painful journey to provide for the needs of their families.
In the end, the water they manage to find is often contaminated and makes them sick. But with limited options, they use it anyway.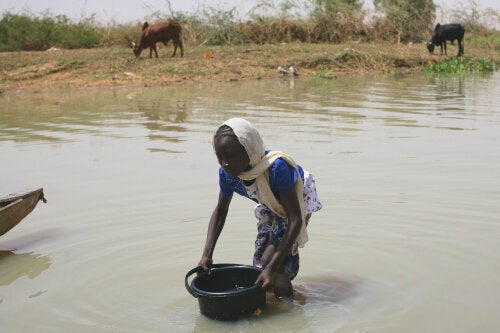 Nana, 12, is collecting water from a river in Niger where animals also go to drink. (Photo: World Vision)
This is why, every year, World Vision supporters participate in a 6km walk or run to raise money and awareness for clean, accessible water projects. It takes a lot of work to get clean water to a community, and our supporters are the first step to making that happen.
This year we wanted to let some of our racers tell their own story about why they run, and how it's become an important part of their lives. They might not all be runners, but to us they're heroes for clean water all the same.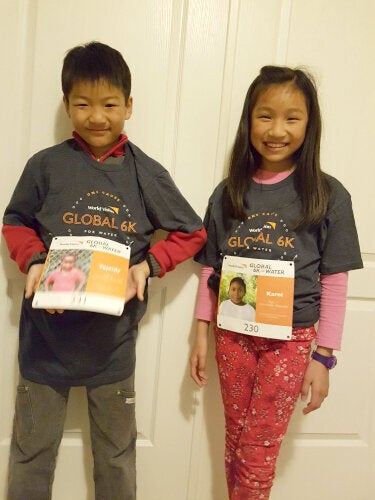 Ryan and his sister Rebecca in their Global 6K t-shirts (Photo: Chan family)
I am running (with my sister) to experience what people in third world countries do to get dirty and unclean water. I am also running to help the people there by donating money to help build wells in third world countries so that people don't have to walk very far to get clean water.
Because of the Global 6K, I am now aware of how much water I am using.
I also am grateful that we have cars and I don't have to walk to school, because in those countries they have to walk far to get needs when we can walk a short distance or drive to get to different places. We also have what we want but in third world countries many people can't even satisfy their basic needs.
Uncle Kwei, 81, former child labourer and cancer survivor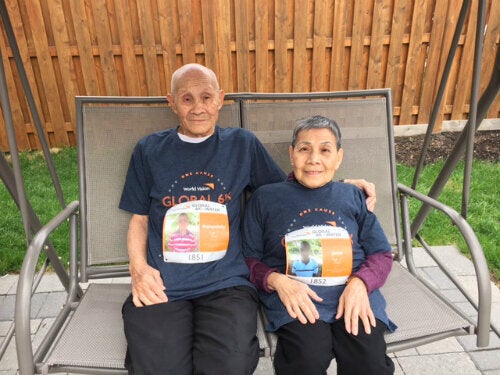 Uncle and Aunty Kwei are ready for the race in their Global 6K gear. (Photo: Kwei family)
It is all about "SAVE" and "LOVE"
I hope with my small amount of effort I can save more people who are suffering and die from contaminated water.
There are a lot of people joining the Global 6K from my church and we are all running for the same reason "SAVE" and "LOVE". A lot of brothers and sisters have come to encourage me and I feel a lot of Love already.
God has blessed me and I hope you are blessed too.
(Uncle Kwei will be walking with the assistance of a cane, beside his 71-year-old wife Auntie Kwei)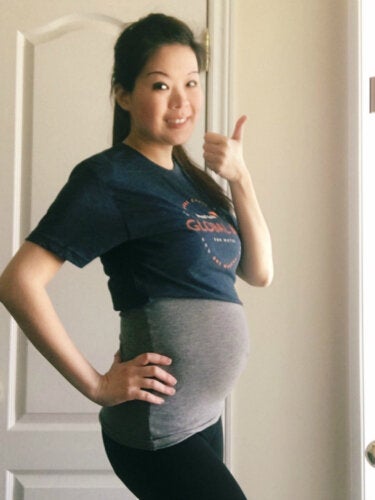 I've never run any race in my life, since I didn't believe I was capable of going even two kilometres. However, when our church started promoting this event, it really caught my attention.
There are children who are walking 6km everyday just for unsanitized water. Meanwhile this morning, it took me 12 steps from my bed to the bathroom for fresh clean water.
I'm a mother of a two-year-old and we are also expecting our second baby this year. By having them participating in this race with me, I hope they will be reminded that they were part of this meaningful event and to know how fortunate they and not to take our natural resources for granted. They need to be aware that you are capable of helping no matter how young or old you are.
Obviously my unborn child is unaware of what I've signed up for, but baby will be with me in every step, and when he/she is born the pictures will show him or her that we can always participate.
Sandra Racco, Councillor, Concord/North Thornhill, City of Vaughan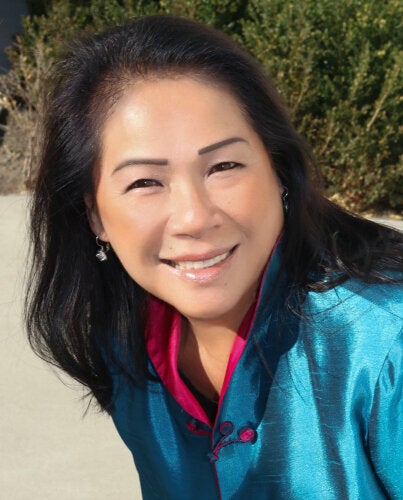 It was through my good friend, Stephen Woo, who introduced me to World Vision and the Global 6K for Water project, that led me to gain a better understanding of what this cause is all about.
We are so blessed to live in a world where we have everything at our finger tips, and often, giving little thoughts to the everyday needs like water.
Learning about the millions of people living in the developing world who have no access to clean water is disheartening. Many are young women and girls, missing school in order to fetch water for their families and homes. It's heart wrenching.
So as a community leader, I want to do my part to help.
I truly believe that we are put on earth to help others and do our best to contribute to the betterment of our world.
If we all contribute and do our part, we can increase the number of people who can gain access to clean water. I hope you will come out and join.
This Saturday, I am proud to walk for Keith who is seven years old from Zimbabwe!
Clean water every 30 seconds
Because of people like Ryan, Uncle Kwei, Carol and Sandra, World Vision is now bringing clean water to someone every 30 seconds. Having clean water close to home means children can go to school instead of fetching water. It also means they don't have to get sick from water-borne illnesses anymore. It means life.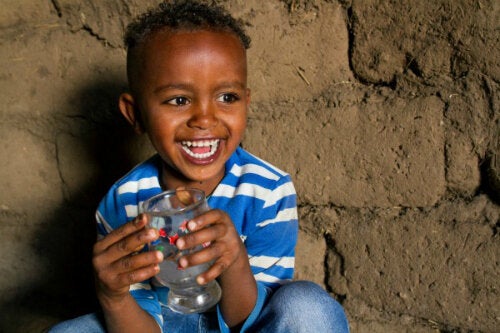 Dagim and his family in Ethiopia now have clean water to drink thanks to World Vision sanitation programs. (Photo:World Vision)
Follow HuffPost Canada Blogs on Facebook