Poverty costs society in terms of lost human capital and money spent on health care, criminal justice systems, and other social services. It is also a violation of economic and social rights and is an affront to dignity. Change requires action, and last week members of the federal government came together to demand just that.
On June 12 a number of parliamentarians gathered to announce the launch of a federal poverty caucus, including co-chair Senator Art Eggleton, the co-author of "In from the Margins," a report on housing and homelessness released in 2009. "Poverty is not benign. It affects us all. It costs us all," he noted as he addressed a crowd that included social justice organizations and members of parliament.
Partisan politics are to be set aside in the new All-Party Anti-Poverty Caucus as Senator Eggleton (Liberal) is joined by co-chairs the Hon. Michael Chong, Conservative MP, and Jean Crowder, New Democrat MP, with Rev. Don Meredith, Conservative Senator, acting as Treasurer. Following an event by the Dignity for All campaign in February of this year called "What's Next? How to Address Poverty in Canada" Canada Without Poverty helped to catalyze the formation of this bi-partisan caucus now boasting 45 members from all political parties.
"Poverty is not a Liberal concern, or a Conservative concern, or a NDP concern. It is a serious concern for all of Canadian society, as people, as fellow human beings with human rights," stated Canada Without Poverty board president Harriett McLachlan, who spoke at the event. Recognizing that solutions lie in coming together, Ms. McLachlan further commented, "You all are the All-Star team, and your opponent is now Poverty."
After struggling in poverty for almost 35 years (20 years as a single parent), McLachlan represents one of the many faces of poverty. Even though she has a Master's degree in social work, she found herself sleeping with rats in inadequate housing, feeling humiliated, dealing with poor health and in desperate need for people to listen. While she is doing better, dental and vision care remain out of reach. "I need you, and others like me need you," she reminded parliamentarians, who were encouraged to come together to find solutions.
Jean Crowder echoed this sentiment, "It is essential that parliamentarians from all parties work together on this very important issue that touches too many Canadians. The federal government has an important role in reducing poverty in Canada. It can only find solutions to this issue by collaborating with various partners at the national and local level."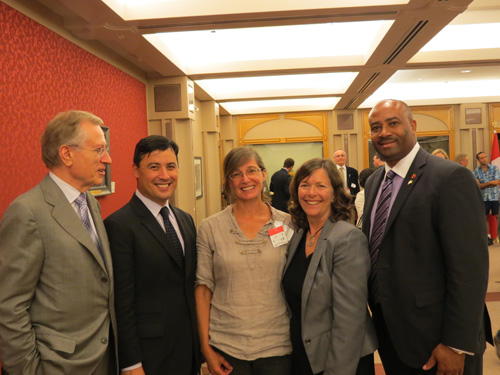 The launch of the caucus is timely considering that Statistics Canada released their annual look at incomes in Canada this week and exposed the reality that poverty remained unchanged between 2009 and 2010. A two-year delay means that this is the most recent information on the low-income population from the government.
In 2010, three million people were below the after-tax Low-Income Cut-Off -- an unofficial poverty measurement tool that considers how many families are spending 20 per cent more on food, clothing and shelter than an average household. This means that millions of Canadians were struggling to ward off hunger, raise a family, improve physical and mental well-being, and participate fully in our society. Included in this enormous figure are 547,000 children.
Vulnerable populations, along with civil society groups, have been calling for action on poverty issues for years with academic reports, statistics, and first voice stories adding weight to the cry for change. Yet little has been done and many disparate views on solutions remain prevalent in the House of Commons.
"This caucus will help parliamentarians better understand the causes and the scope of poverty in Canada," remarked co-chair Michael Chong. "It's also a forum for us to discuss different solutions and approaches to reduce poverty."
Offering hope for progress on poverty at the federal government level, the caucus is a strong step in the right direction, and has been formed independently by concerned government members. Meetings of the caucus will officially begin in the fall, and all parliamentarians are welcome. Recruits should bring a sense of justice, an open mind, and a desire to offer Canadians a life free from poverty.