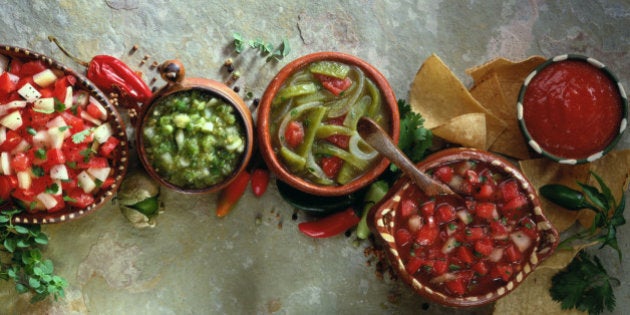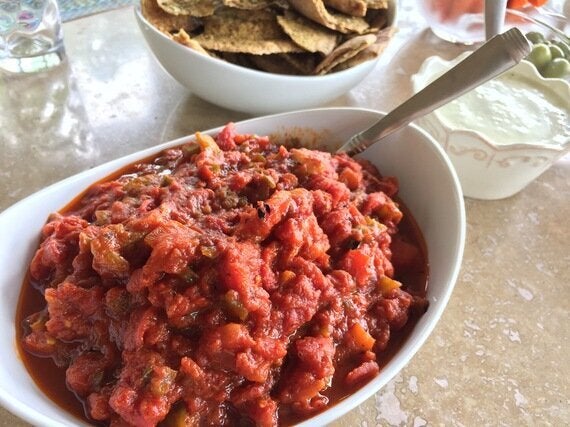 When I first made Matbucha, I had no idea what it was, or how to serve it. So I served it warm. Oops.
This dip-dish of tomatoes and roasted bell peppers seasoned with garlic, is traditionally served cold alongside other Israeli appetizers, and is actually considered a salad. Although I would use that term very loosely, as the finished dish is more of a salsa, and warm pieces of bread or pita are the ideal vessel for transferring the ruby substance to the mouth. It's long cooking time allows the juices to cook way down, offering up a rich, almost sticky, sweet finish.
Anyway, I was tasked to create my version of the recipe while working up in Canada for a family this summer, and I think the final version was a success. They seemed to love it! It takes some time to cook, but the preparation is simple and the final product well worth the wait.
So maybe the next time you are expecting company, maybe try this recipe on for size. Serve with a platter of hummus, crudités, olives, and some pitas toasted with olive oil and Za'atar (a time honoured spice blend beloved throughout the Middle East consisting of a mix of herbs, toasted sesame seeds and sumac). I have tossed in my recipe for hummus too, just in case you are really feeling me. Use cooked chickpeas or try sprouting some raw ones for extra nutritional punch!
2 sweet bell peppers
1 medium jalapeño, seeded & minced
10 large roma tomatoes peeled and diced
1 clove garlic, minced
1 1/2 tablespoon agave syrup
1 teaspoon red chili pepper flakes (or more to taste)
1/2 teaspoon sea salt
1/2 cup extra virgin olive oil
1 generous tablespoon paprika
Roast the bell peppers. I like to do them right over the flame. Seed the peppers and peel off the charred skin. Chop.
In a medium saucepan, combine diced tomatoes, roasted bell peppers, minced jalapeño, garlic, sugar, chili pepper flakes, and salt. Bring to a simmer over medium high heat.
Reduce heat to medium low and simmer, stirring often. Cook for about 45 min.
In a small bowl, whisk together olive oil and paprika. Add the oil mixture into the Matbucha pan and stir. Cook for about 30 minutes more, stirring every 5 minutes.
Best served at room temperature or chilled with lots of bread for sopping.
2 cups cooked chickpeas
¼ cup fresh lemon juice
1/4 cup fresh orange juice
¼ cup Tahini
1-2 cloves garlic minced
¼ -1/2 cup olive oil
1 teaspoon salt
Fresh parsley and paprika for serving
In food processor, add the juices, tahini, garlic and lemon. Blending well.
Add in the chickpeas and salt, plus 1/4 cup olive oil to start, blending until desired consistency is reached. You may add more oil is necessary.
Follow HuffPost Canada Blogs on Facebook