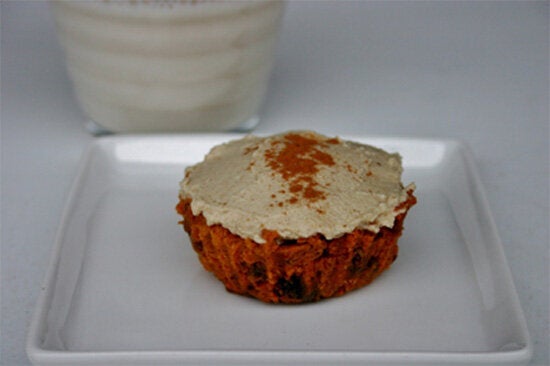 A friend of mine believed that it was always time for a sweet indulgence, so much so that she actually had the saying "Life is short, eat dessert first," tattooed on her forearm. Amazing, right?
I don't really have much of a sweet tooth myself these days, but when I teach my food workshops, I like to welcome my guests with a sweet introduction to class by offering up a decadent treat to kick things off. The following recipe is one that I have shared at my "Raw Harvest" MAP Wellness workshop a couple of times this Fall to great success and rave reviews. The best part? These cupcakes are totally raw, vegan, and gluten free!
Raw Carrot Cake Cupcakes with Cashew Crème Cheese Frosting

1 C walnuts

1 C dates

¼ C shredded coconut

2 C carrot pulp from juicing OR grated raw carrots*

3 t pumpkin pie spice

pinch sea salt

3/4 cup raisins

* be sure to squeeze out any excess water if you use shredded carrot; you can use a cheesecloth or paper towels!

1. Process dates and walnuts in a food processor until well combined and broken down.

2. Add in your coconut, spice, and salt and process until it forms a nice dough.

3. Add in the raisins and pulse to combine.

4. I like to press the dough into cupcake liners. Once distributed into individual cakes, refrigerate or freeze for keeping.

Cashew Crème Cheese Frosting

1 C cashews, soaked for at least an hour

7 pitted dates, soaked with the cashews

1 t vanilla extract

1 t cinnamon

1 t lemon juice

Pinch sea salt

Water

Agave syrup to taste

1. Rinse cashews and dates. Add to food processor with vanilla, cinnamon, lemon juice & salt. Process until well combined.

2. With processor still running, begin pouring in water very slowly, until desired frosting consistency is reached. Add in agave to taste if not quite sweet enough.

3. Frost your cakes!

This frosting freezes quite well.