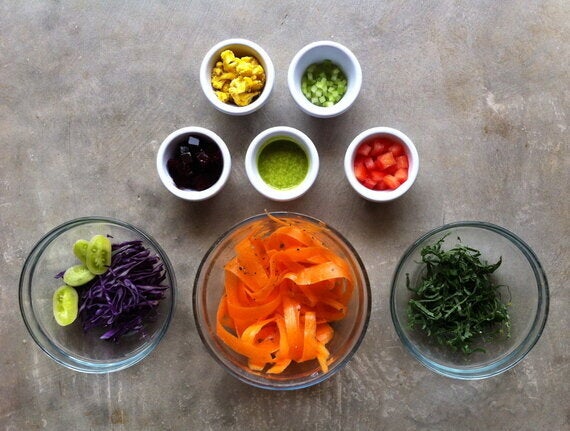 Who says summer is over? While, in reality, there are only a few days left in the season, that's no reason to stop enjoying salads. What with mother nature's fall bounty only just beginning to bloom, I think it's prime time to squeeze in a few more meals of plant-powered proportions!
OK, so maybe I am a bit tunnel-visioned right now as I move into the second month of my six month Plant-based Chef Certification Course with Rouxbe Cooking School, and have been thinking culinary creation 24/7. But not being a classically trained chef, I have been having a ball exploring and experimenting over the last few weeks, and man oh man is it nice to feel inspired once again.
My latest project for the course was a "Black Box Assignment" (yes, like on one of those Food Network reality shows!). My "required ingredients" were: leafy green, starchy veg, and two proper knife cuts, all combined into a dish that would showcase the techniques and lessons I have learned thus far. Well, I had long been contemplating (contemplating, ahem, see what I did there?) designing a dish that contains all the colours of the seven main chakras as per yogic tradition/belief. And wouldn't you know it, when I decided to tackle this black box task at home, I just so happened to have all the shades accounted for in my refrigerator. So that is a big part of my inspiration, but also that I wanted to keep it raw, as that is also a big area of focus for me in my life and work.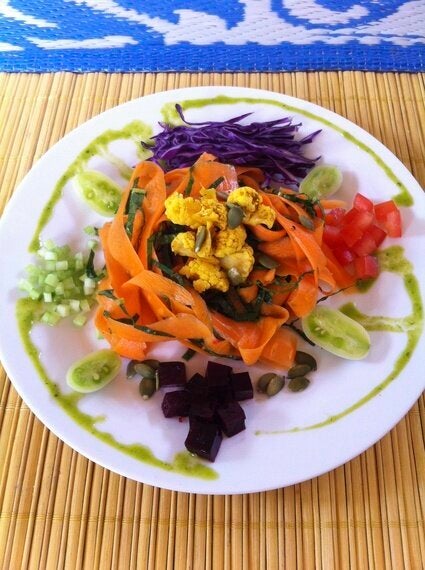 Clean, fresh, and uncomplicated, my Chakra Salad was a happy combination, that I have to say was quite for trip for my taste buds, with all five tastes well accounted for: Sweet (beet/carrot), Sour (turmeric fermented cauliflower), Bitter (kale), Salt (sea salt), Umami (cauliflower).
1 medium carrot, made into noodles via a simple vegetable peeler (option to use a Spiralizer machine)
1 tablespoon fresh lemon juice
1 small stalk celery, brunoise (or diced as you like)
¼ tomato, concasse (or diced as you like)
¼ cup purple cabbage, shredded finely
2 tablespoon fresh non GMO corn kernels (I used a bit of my raw turmeric fermented cauliflower for my "yellow" component
1 tablespoon raw pepitas (pumpkin seeds)
In a medium bowl, add the carrot noodles, lemon, olive oil and salt. Massage to coat and let marinade for 10 minutes to soften.
Arrange all ingredients on white plate. Drizzle with Green Goddess Dressing
6 tablespoons apple cider vinegar
Blend all ingredients in a high-speed blender for four minutes until smooth and creamy.