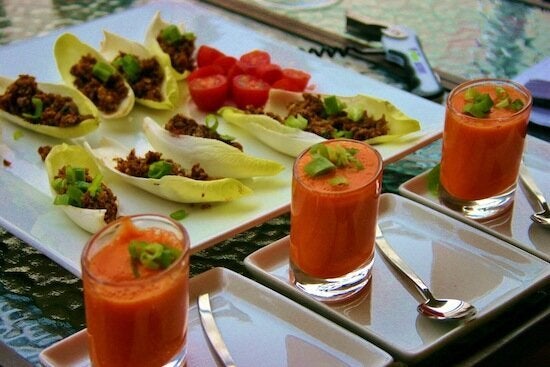 This past weekend I spent the evening hours hanging out on my 17th floor balcony listening the the sprinkle of yet another rainy summer Sunday, while sampling wines and sharing plates of my raw food recipes with sommelier Erin Henderson of The Wine Sisters.
A lot of people assume that healthy eating and wine consumption are mutually exclusive. But that's not the case as far as I am concerned. I have long enjoyed a good glass of vino with dinner, have been a wine club member, and can while away hours wandering through the vast selection of champagnes at the Summerhill LCBO, reading the labels like they are good books.
Yes, raw food and wine can go together, and they do so with all the depth and clarity you get from more classic tasting pairs like wine and cheese! This is why MAP Wellness and the The Wine Sisters have paired up to offer "Entertaining in the Raw," an exclusive culinary event on July 23! Here, we are offering up a slew of quick to assemble raw food snacks perfect for summertime gatherings (no cooking required!) and the red and whites to match. And as a sneak preview, I wanted to offer up this sleek, simple, and sommelier-approved soup recipe, that pairs sublimely with a cool Chardonnay.
Cool Carrot Soup

6 carrots
1 green onion
1 large green apple
1 red pepper
1 t cinnamon
1 t cumin
1 small knob fresh ginger
water for blending

Add all ingredients to a high powered blender, and process until smooth and creamy. Top with sliced green onion.