Shutterstock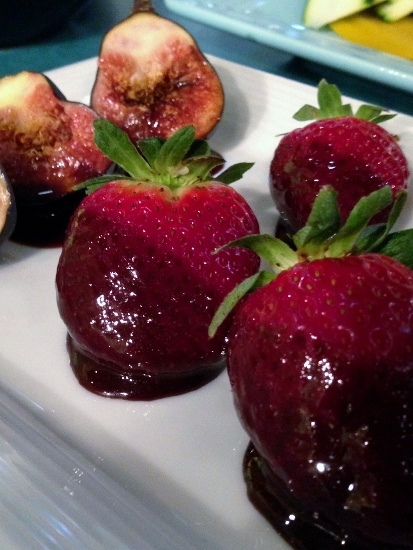 Sexy & Silky Raw Vegan Chocolate Sauce
Did you catch my segment on Global's The Morning Show on Valentine's day? We were talking chocolate. The drug of the amorous, common place Valentine's surprise, and oft considered sinful snack fave by many. My love. In my world however, it is for any time. That is why I am sharing this super simple, super luscious recipe now. Perfect for creating chocolate covered figs, strawberries dipped in silky cacao creaminess, or eaten off a spoon. Any way you slice it, this is damn good, at any time. Make it, love it, share it (or not). CAUTION: consumption could constitute foreplay.
3/4 C agave syrup


3/4 C raw cacao powder


2 t vanilla


3/4 C coconut oil, warmed just enough to liquefy




Blend cacao, vanilla & agave in Blentec or other high powered blender.




Slowly drizzle in oil as the blender is running on LOW.




Slowly add in warm water until desired thickness is reached.




Store at room temperature.
Yearning for more chocolate recipe lovin'? Sign up for my MAP Wellness"Sexy Choco-Raw" culinary workshop on May 12th & learn plenty more chocolately dishes including my Chocolate Chia Pudding, Peanut Butter Balls, & Raw Mole Sauce!