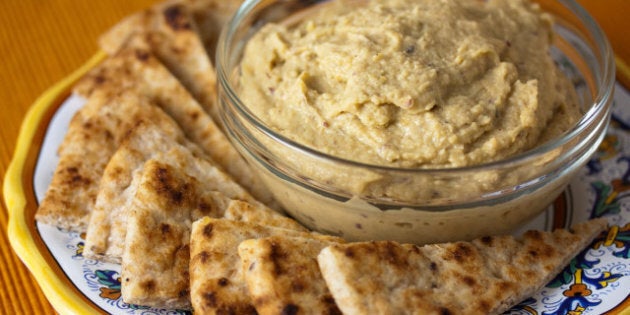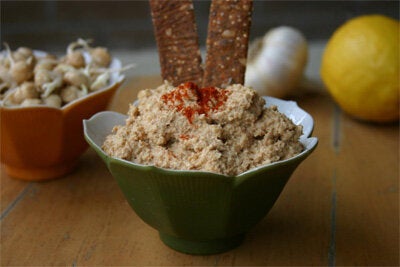 I love sprouting garbanzo beans! Ever since I tried it at home for the first time and met great success, it has become an almost weekly habit in my kitchen. I giggle a little when I remember one of the first rounds I brought to life, and the fear it had instilled in me.
You see, that early batch was a lively bunch, and the snap, crackle and pop of the wee sprouts bursting from within the chickpea's exterior wall had me padding through my apartment in the middle of the night convinced there was some sort of intruder in my home. But luckily, it was no burglar, just the sweet sound of germination, water bringing to life the dormant enzymes within the walls of humble hummus-base.
How do I sprout? Well for chickpeas, I simply soak the dried beans overnight in a bowl with enough water to cover them by a few inches. In the morning, I transfer the beans to a mesh colander, rinsing them well, and then for the next few days, I rinse them well in the morning, and then again at night with fresh water.
Within a day or two, the little sprouts begin to grow. Sprouted chickpeas are raw, so this is an easy way to hop onto the raw food wagon, and a delicious way to incorporate some raw protein and fibre into your diet every day! Try this twist on your standard appetizer of hummus for a delicious and crowd-pleasing recipe to introduce these raw beans to your brood this holiday season.
Ingredients

2 C sprouted chickpeas (mine had tails about ¾ inch in length)

2 T tahini (sesame butter)

1/3 C extra virgin olive oil

1 lrg clove garlic

1 T fresh lemon juice

1/2 t sea salt

1/2 t sweet paprika

1 T tamari or soy sauce

Directions

Add all ingredients to bowl of your food processor. Process on low until well incorporated and smooth. You will need to scrape down the sides of the bowl with a spatula from time to time.

Enjoy with your fave crackers, bread, or fresh crudité! Stores well in the refrigerator for up to a week.