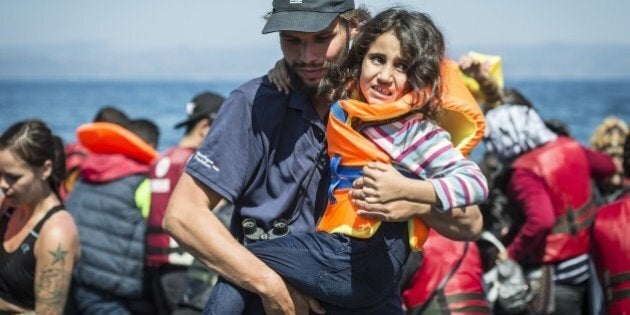 Like most people this summer, I was deeply affected by the photo of Alan Kurdi, the small Syrian boy who drowned off the coast of Turkey. That's why when my grandmother passed away recently, leaving me a small amount of money, I decided to go to Lesbos, Greece to help with the thousands of people flooding the island who are seeking refuge in Europe.
Of course, I was hesitant at first. I mean, what on earth was I going to do? I had NO idea where to go. I joined a Facebook page and the only thing that was useful was a map of the island with some tiny points on it with names I didn't recognize. Nonetheless, when I arrived on the island, I got a hotel, rented a car and then I resolved to just go out and see if I could help.
I expected to be handing out sandwiches. I'd signed up to clean a beach. But that's not what happened. And I'm actually not going to tell anyone here what did. If you want a better account than what I could describe, you should check this.
All I know is that it was very bad. At times I was totally terrified, and mostly it felt like the most logical thing to do was to walk away. But I didn't. Neither did a small handful of people. And from me, to the other volunteers, to the staff at the UNHCR, to all the people who needed to be processed and registered -- we had no choice but to keep going in the face of an overwhelming tragedy unfolding in front of our eyes. Mainly, we failed. But we all did something greater than that, too. Something far more important: we all tried.
After I left Greece, I had people ask me what it was like, or how they could do it themselves. I told everyone how they could, and word began to spread. But on Friday, after we all learned of the horrible things happening in Paris, I felt those questions dry up.
Personally, I don't think it was out of irrational fear or racism. I just think everyone was really, really sad. I know I felt that way. Tired, too. And very frustrated. But, you know what I didn't feel? Powerless. Because I learned that even in the face of great tragedy, you can find a way -- as long as you try.
Although the situation in Lesbos was dire, what was amazing to me is that we didn't have to wait for anyone's permission to keep going. All we had to do was try to be strong (I will share this here: I actually walked away on several occasions, until I eventually calmed down enough to turn back). And despite the shouting and crying and fires and torrential rain happening all around us, we managed to get a little girl a really great winter jacket that she desperately needed. And I told her she had to wear it all the way to Germany for me and never take it off because she'd get cold (I really hope she is there in Germany, somewhere, with this really awesome pink fleece Gore-Tex jacket keeping her warm against the weather).
And we managed to get someone who had broken his leg into some shelter and see a doctor. And we visited the children who had been separated from their families and sang songs to them in the pouring rain, and told them to be good and be patient -- and they were.
All these little things happened -- so little they were almost imperceptible. But, put together, they made a difference and if everyone had just walked away completely, it would have been so much worse. It would have been over. And that's how it will be if we shut our hearts and minds because of the tragedy that happened in Paris and that's happening all the time in Syria, Iraq and Afghanistan.
So, this is my big ask of everyone: please. Please try. Try to keep an open heart in the face of this very awful thing, and keep going. With compassion. With an open mind.
I know -- it's not easy. The situation seems so impossibly complicated it sometimes feels alienating and exhausting. On top of that, there is A LOT of fear-mongering going on. And it is, in fact, terrifying. Even if you can tune all that out, there is just so much pain -- on all sides of this story -- and so much blame as well.
Don't think I haven't cried. Don't think I haven't felt unsure. I have felt sadness and anger and great uncertainty, in fact. Because what really sucks is that having an open heart, or an open mind won't stop bad things from happening. And I'm so sorry for that, too. But what I know for sure is that if we remain hurt or scared or closed off, we will lose the most important thing: our most amazing, powerful freedom to reach out and keep going.
What I learned in Lesbos is that we cannot lose our right to trust ourselves, and the world, too. It is the most precious and powerful gift we have because it's the thing that allows us to keep going and make a difference. There are millions of people fleeing their homes to try to take a chance and continue a new life for themselves elsewhere. The numbers are unprecedented, and it's undoubtedly a deeply complicated situation. But as a French friend recently told me -- we, as a society, have the ability to figure out complicated things. We have done it before, and we can do it again.
So, please everyone. Let's try.
Writers note: If you are unsure how you can help with the refugee crisis, consider signing this petition to bring Syrians to Canada. There are also hundreds of amazing, independent organizations helping in Greece and beyond. Here's a starting point in terms of helping them. For more information you can follow Human Rights Watch on Facebook.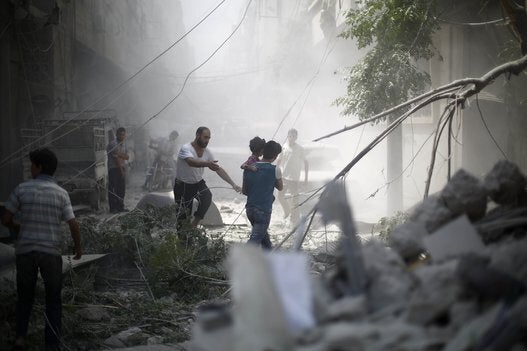 The Syrian Refugee Crisis In Numbers