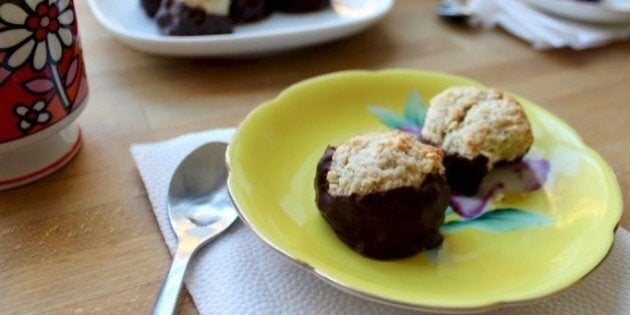 I'm over the nut balls. There, I said it. I know I have made a few in my day, but I am grateful that none found their way into my cookbook, and I am pretty sure I will never again eat a nut ball and declare it delicious. This doesn't make me a bad nutritionist. This just makes me honest.
You know what I am referring to, right? Those "raw energy balls" that nutritionists love to make that are mostly dates blended with a variety of nuts and seeds, with some raw chocolate thrown in for good measure? Only under very hangry circumstances can I see myself eating a nut ball.
I needed another option. I wanted a really awesome grab-and-go snack that is delicious, not a nut ball and can also stabilize blood sugar and ease hunger. This is the magic combo. And so I began experimenting with some classic nutrient-packed ingredients and then did something I rarely do: I added a protein powder to the mix. The key was to make a fibre-rich, protein-rich and fat-rich recipe: the trifecta of a power snack.
And delicious. It had to be delicious.
And so, I landed at a chocolate dipped, vanilla macaroon.
I have never before attempted to combine a protein powder into a baked good and I have to tell you, I hit a homerun on my first try.
The addition of protein is as fancy as we're getting here, making this recipe as simple as it gets.
I used basic everyday baking ingredients including unsweetened shredded coconut, vanilla extract, maple syrup and coconut oil, and then a new and extra special chocolate blend (recipe below for both!).
It doesn't get much simpler than this.
You can also choose to stop after the balls are rolled and just put those right in the fridge to enjoy raw. The options are there for you.
Aside from how beautiful and delicious these look (and they go great with a cup of tea!), they fulfill what I was after. The coconut provides that heaping dose of fibre along with the fat to fuel the nervous system. We have the added bonus of the fat from the coconut oil and cashew butter in the chocolate dip and of course, our protein powder fills that need. And so there you go! The UnDiet way to satisfy those cravings and if you want to make this nut-free, you can omit the cashew butter from the chocolate or swap for sunbutter.
Protein Powered Chocolate Dipped Macaroons
3 cups unsweetened shredded coconut
1 tsp vanilla extract
1 serving* Natural or Vanilla Protein Powder
3 Tbsp coconut oil
1-2 Tbsp maple syrup
50g unsweetened organic/fair trade baker's chocolate
2 Tbsp cashew butter
1-2 Tbsp honey (or maple syrup if you want to keep them vegan- taste for sweetness)
1 Tbsp coconut oil
Preheat oven to 350 degrees Celsius.
Place all macaroon ingredients except maple syrup in the food processor and mix until evenly blended. Add honey/maple syrup 1/2 Tbsp at a time until desired sweetness is achieved. You may need to stop and scrape down the sides as you mix.
On a parchment lined cookie sheet, roll out about 1 1/2 Tbsp of the mix into tight balls. Gently place on cookie sheet.
Bake for 8 minutes until lightly browned. Place in fridge to cool.
While the balls are cooling, over low heat, melt together the chocolate, cashew butter, honey and coconut oil.
Remove macaroons from fridge and one at a time, dip the bottom half into the melted chocolate. Place back on parchment. Once all macaroons have been dipped, put back in the fridge to set.
Serve slightly chilled. Can keep in the fridge, in a sealed container for one week.