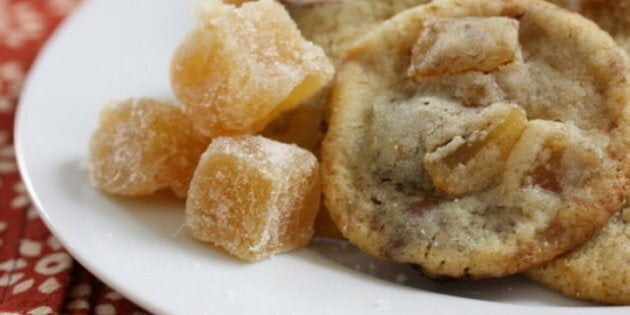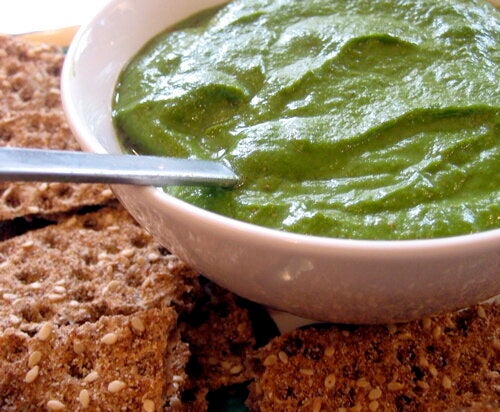 The windchill has set in and it is that time of year again when our calendars fill with the fun (and not-so-fun) holiday soirées. We have the work functions, the friend functions, the family functions and then all those we get dragged to as someone's date. 'Tis the season of holiday cheer and much temptation.
Allow me to be your healthy cooking life saver as the holiday party season descends. There are easy ways to make it through the season without needing to buy new jeans one size up come January -- and to do so without feeling totally deprived.
Nobody wants to be that weird kid at birthday parties who packs a rice cake sandwich. We also don't want to be that person at grown-up fêtes sipping on ice water and munching celery.
Here are my top 10 tips (plus three recipes!) to help you stick to your health goals through the holiday season.
Holiday Party Survival Guide
Drinking Is Optional! Cranberry and soda is delicious. We obsess over calories and how carbs and proteins have four calories per gram and fat has nine. Well, alcohol has seven calories per gram and will also spike your blood sugar, dehydrate you, and put your body into a slower metabolic mode. If you're going to drink, have two glasses of water for every alcoholic bevy and skip over the fluorescent-coloured holiday-themed drinks.
Pre-Party Snacking: Eat a small healthy snack before the party so you don't arrive famished.
Get a plate! Take assorted appetizers onto your plate instead of grazing; this way you can keep track of what you're eating and not let your bouche get overly amused.
PotLuck Prepared: Bring a dish to a potluck that could serve as your entire healthy meal. It is guaranteed there will be a dessert you can eat, so bring a healthy, whole dish that everyone can enjoy.
Speak Up: Don't be shy about asking what something is, or asking for your dish to be plain. Sauces and dressings can sneak up on you. A wedge of lemon is almost always available and goes well with a little olive oil and sprinkle of sea salt.
Easy on the Dessert: You can have dessert, of course, but choose wisely. Two slivers of cheese cake make up a whole piece. Keep to the lighter desserts: fruit and cookies, or a small slice of the heavier one you want to try.
Sharing Is Caring: Find someone to split a larger dessert with.
Hydration Time: We lose a lot of water through talking and also with rich foods and alcohol. Make sure you come to the party well hydrated, sip water through the event and rehydrate after. You'll feel so much better for it and it will also keep you from having that post afternoon party slump/nap.
Keep a Strong Mentality Avoid thinking Avoid the "but it's the holidays!!" Every action has a reaction and a result. Will your actions this holiday season produce the results you're after? That's what I thought!
Careful of Canoodling: Germs do spread and during the holiday season, our immune systems get a little weakened. Keep your hands washed and away from the face while cavorting about.
Rest: Get as much rest as you can between late nights out. Take a few sleep-ins and nights in. Being well rested helps us to make smarter food choices and also lessens sugar cravings. A good night's rest - or 20-minute cat-nap - goes a long way to keeping us on top of our holiday party game and our long-term health goals.
Happy Holiday Party Platter
Toss your favourite crackers and veggies on a plate and serve them up with this trio of dips.
1/4 cup tahini or olive oil (or blend of olive oil and flax oil)
1 teaspoon Celtic sea salt or Himalayan rock salt
1 1/2 teaspoons ground cumin
1 1-inch fresh ginger root, grated
1 bunch coriander, leaves and stems, washed and spun dry
1 1-inch fresh ginger root, chopped coarse
2 cloves garlic, peeled and chopped coarse
1 teaspoon toasted sesame oil
1 Tbs olive oil or flax oil
1/3 cup almonds or almond butter (or organic peanut butter)
2 teaspoons soya sauce or tamari
1 1/2 Tsp cayenne or hot chili pepper (to taste)
Ring My Bell Pepper Pesto
3 bell peppers (red, orange or yellow will do fine)
3 cloves of garlic (with peel on)
1 teaspoon Balsamic Vinegar
2 teaspoons dried basil (or 1/4 cup fresh)
1/4- 1/2 teaspoon sea salt (or to taste)
1. Process all zucchini avocado hummus ingredients in food processor or hand-held blender. If consistency is too thick, add some water. If serving as a dip, pour some olive oil on top and sprinkle with some paprika, cumin, and chopped parsley.
2. Place all cilantro pesto ingredients in food processor and process for 30 seconds. Scrape sides and process again. Dilute with water if too thick. Serve with rice or buckwheat noodles, with chicken breasts or spread thick on toasted bread and sardines.
3. Preheat oven to 400° F. Slice bell peppers in quarters and slice zucchini lengthwise into quarters.
4. Place peppers, zucchini and whole cloves of garlic onto roasting pan or pizza pan (preferably a pizza pan with holes). Roast for about 30 minutes or until peel starts to separate from peppers.
5. While veggies are roasting, lightly toast pine nuts in a pan over low to medium heat. Once slightly browned, move from heat and allow to cool.
6. Remove peppers from oven and allow to cool slightly. You may remove peel from red pepper but it is not necessary.
7. Throw all ingredients into food processor or vitamix and blend away. Taste for deliciousness and add more salt and/or olive oil until desired taste and consistency is achieved.