Getty Images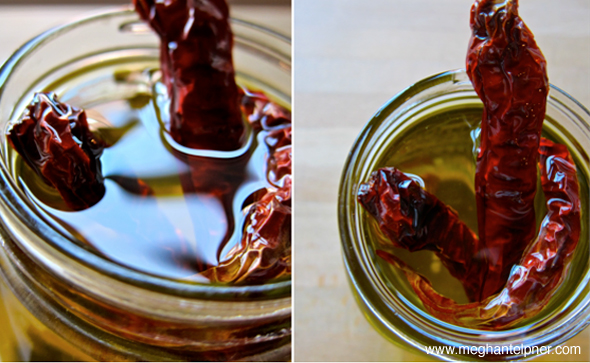 One of my fave ways to keep the blood flowing is with a little spice. I like the kind of spice that brings out the flavour in food instead of scalding your tongue and making you sweat like a two-ton turkey in a Georgian heat wave. And my secret weapon is a little zinged-up, cold-pressed olive oil.
This goodness is so easy to make!
Make Your Own Chili Oil
Crush 3-4 dried chili peppers and add to 1/2 litre mason jar.
Fill with cold-pressed olive oil.
Store in a cool dark place for four to six weeks, shaking once/week.
The longer you store it, the hotter it will be. I did see several recipes that involve cooking the oil, but for health benefits, I like to keep it raw. Add this to salad dressings, marinades or drizzle over your fave gluten-free pizza.
And if you're feeling bunged up, a tablespoon or three of this magic will get all moving well. Very well!
What was my latest chili inspired creation? These! Chili Spiced Cheeseless Cheesy Kale Chips.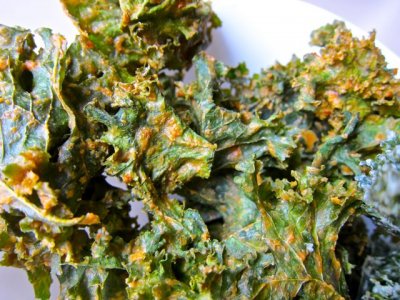 Spicy Nacho Cheeseless Cheesy Kale Chips
Ingredients (4 servings)
1 Head of Kale
2 Tbs apple cider vinegar
1/2 cup raw cashews
Pinch of sea salt
2 Tbs chili oil or cayenne to taste
2 Tbs water (or 1/4 cup if using chili oil)
Instructions
Place all marinade ingredients in a blender or food processor and process until smooth.
Add water as needed just in order to blend. Remember, you will be drying this out again after so you want to avoid doing this as much as you can.
With your hands, mix the kale together the marinade, massaging gently.
Transfer to dehydrator rack or parchment-lined baking sheet
Stick in your dehydrator on medium-high setting or in your oven on its lowest temperature with the oven door left slightly open
In the dehydrator it will take about four to five hours for them to reach the perfect crunchiness. Drying times will vary in an oven.