Mel Rothenburger
George Whitely wore a plastic hat and spoke very deliberately. Each day, he would put on his hat and his rumpled old raincoat and leave our offices at 309 Tranquille Road. I seldom knew where he was going but a few hours later he'd be back with a half-dozen good stories. I really liked that guy.
A lot of good people passed through here -- it was an interesting place.
I started working at the paper right after the August long weekend in 1970. One of my first assignments was to talk to a woman who'd been bitten by a spider.
Brian Newman worked in the "back shop," where the pages were pasted together. He'd walk into the newsroom every day and proclaim, "If we all work together, we can get this paper out!"
Neat people showed up in the lobby day after day. The archangel Michael wanted me to help him spread the word. He was dressed in white. I invited him to write a letter to the editor.
One summer I asked for three months off so I could go back to university to finish my degree. Harry Francis, the publisher and majority shareholder, told me no problem. And he paid me full-time wages while I was gone. I talked to Harry just the other day, after the announcement was made about the closure.
When I decided to run for mayor in 1999, I asked publisher Dale Brin for a leave of absence. He didn't hesitate. When I wanted to run for a second term, he said do it. Dale believed businesses should encourage their employees to serve the community.
We had a litany of good publishers. Gerry Haslam, Bryson Stone, Brian Butters, Tim Shoults. When Al McNair took over, he hung a sign in the boardroom that said, "Attitude is everything." There's an urban legend that Rolf Timmermans used to make us turn in our pencil stubs to prove we needed new pencils. I'm pretty sure it's more than a legend.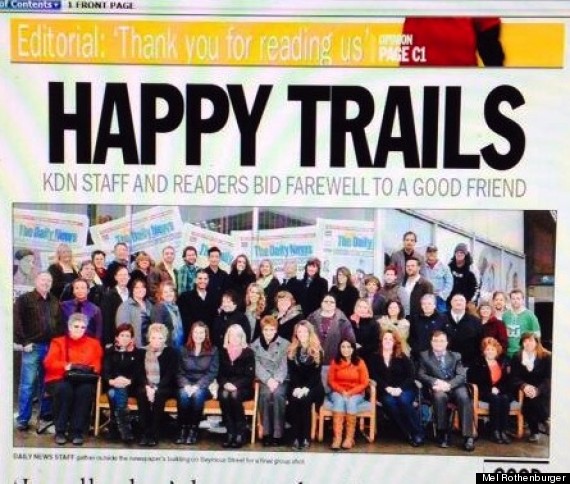 I hired a lot of people; fired a few. One of them was a great reporter and a great writer but he kept disappearing from work to do his laundry and other personal chores without telling me. When I told him to clear out his desk, he laughed and told me he deserved it.
When Cliff Branchflower was mayor of Kamloops, I asked him to write a weekly column. Nobody used home computers then. He typed it out and hand-delivered it himself to my office each week. When Jim Walsh was mayor, he sometimes brought us donuts.
Chuck Bishop did a cartoon strip on local issues called Super Mayor, about a caped hero who flew around fixing things. It was hugely popular.
The best columnist we ever had was Bert Barrett, who'd written for Ma Murray's famous Bridge River-Lillooet News before we snagged him. His style was salty, honest and funny as hell.
In 1986, we covered the visit by Prince Charles and Princess Diana with military precision, timing everything minute to minute, with three elaborate contingency plans. We didn't publish Saturdays in those days so we put out a special edition and had the press rolling an hour and 15 minutes after the royal couple left town. No cell phones, no e-mail, no computer pagination, just pay phones, film and good journalism.
We didn't do everything right. We ran a front-page headline that was supposed to say, "Public hearing called." Whoever typed it accidently left out the "l" in public.
After we ran a story on the B.C. Provincial Winter Fair in September 1997 I sent out a memo: "(1) A bull and a heifer are not the same thing. They aren't even the same sex. (2) when you have a photo of a girl and a bull, it's not necessary to point out that the girl is the one on the right."
When we moved from what is now the BCLC building to Seymour Street, we did it on a weekend and didn't skip a single edition. We took out the front windows to get the presses into the building, and for a few days it was pretty chaotic. Reporters got used to having to talk on the phone with forklifts making a racket right beside their desks.
Many colleagues are gone now. Lee Fraser, Heidi Candido, Georgie Pringle, Pete Nadeau, Chubb Fraser, Ron Cruise, Cyril Black. Cyril was an ad salesman. When we got our first computers, he had some problems making the adjustment but he was a good sport. Whenever somebody asked him for some information, he'd promise to get right on it and, affecting a snooty accent, he'd say, "We're on computer, you know."
Lots of people have spent most of their working lives at the paper. It's part of them.
Newspaper owners must think about these things, about the magnitude of what they're doing when they close down a paper.
This newspaper isn't the first to close. Prince Rupert and Nelson lost their dailies not so long ago. This isn't even the first time it's happened in Kamloops -- The Sentinel shut its doors in 1987, though it was no longer a daily by then.
We used to go for beers with the Sentinel crew every once in awhile. They thought the Sentinel would last forever.
We thought The Daily News would, too.
This was first published in the Kamloops Daily News and The Armchair Mayor.