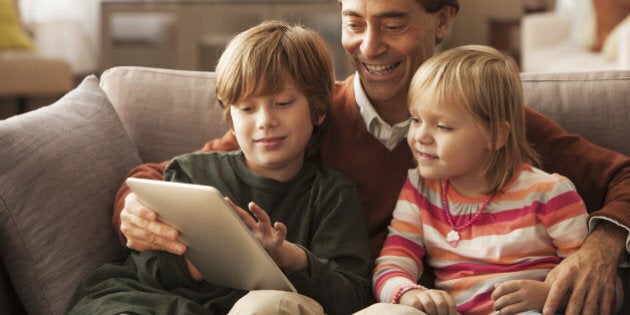 We often use the excuse that dads are hard to buy for because they have it all. What we really should be saying is dad already has all the ties, dress socks and cologne a man can take, thanks to our gifts of Father's Day past.
To help show dad he's truly number one, here are six tech spins on classic Father's Day gifts.
Sure, a wrist watch is a thoughtful gift; dad can tell time, and well...that's about it. So how about a smart watch that not only tells time but can receive texts and email notifications, let you answer calls and take photos right from your wrist? It can help dad monitor his workouts too.
If dad is serious about getting in shape, a fitness band can also track his daily activities such as calories burned, steps taken and even sleep! Plus with a water-resistant design, he can wear it while exercising, even shower with it on, making it the ultimate motivation to workout.
2. Cases that serve to protect and capture memories
For the dad who likes to play rough outdoors, you could get him a pair of work socks or a hat to protect him from the sun. But he might be more grateful for a case that will keep his phone safe from the elements. Not just any old case will do. An outdoorsy dad needs a case that's so strong he can accidentally drop it in a muddy puddle, or back his car over it and dust it off like nothing happened. Hey, it happens more than you think. I like to call these cases "man proof," but technically speaking, they're waterproof, crush proof, dust proof and drop proof. Looks like dad may have met his match, next to mom, of course.
Maybe your dad is a "shutterbug." In that case, he may like something that protects his device and turns it into a full-functioning camera. Tapping the screen to take a picture can often cause the camera to shake and your photos to blur. But with a case that has dedicated shutter and zoom buttons, he can easily take photos on his smartphone that are clear and in focus. Plus, the dedicated wrist strap will keep his phone close by, so he's ready to capture every moment in an instant.
3. A library in your pocket
Rather than getting dad a subscription to one of his favourite magazines, consider an e-reader that can give dad access to thousands of magazines, newspapers and books right in the palm of his hand. Specialized e-ink displays offer paper-like reading without glare, which is handy for reading outdoors in direct sunlight.
If he's looking for a little bit more, a tablet can also satisfy his reading needs, plus help him work smarter and play harder on the go. Some tablets come with optional keyboard accessories that instantly turn your tablet into a full-functioning laptop. And no matter where Dad logs on, at his desk or at a seat at the airport, the multi-position kickstand will help him get the most comfortable viewing angle. Your dad also use a pen accessory for easy touchscreen navigation like a mouse. He can also switch seamlessly between touch, pen, mouse, and keyboard or lose the keyboard altogether and put pen to screen to quickly jot down notes.
Dad might still be in a love affair with his old stereo, and those mix CDs you make him probably keep him content while he's at home, but it's time to free dad's listening experience and take the dance party on the road with a Bluetooth speaker. If he already has a smartphone, laptop, tablet or MP3 player, he can easily add his favourite songs to his mobile devices, sync them with his Bluetooth speaker, and wirelessly stream his tunes wherever he goes. Many of the latest speakers are the size of a smartphone and are water resistant, packing huge sound in a small body that's perfect for the cottage or the beach.
5. Take the show on the road
Instead of some flashy car seat covers or retro dice to deck out dad's ride, get him something fun and practical like a dash cam. He can mount the camera on his windshield and use the Full HD 1080p video recorder to capture his drive from his point of view during family road trips or monitor his children's driving activities when they borrow the car. With the built-in G-sensor, a dash cam becomes your eye witness at the scene of an accident. The camera detects impact and automatically saves a clip of the incident as well as before and after so you have a record of the event.
6.High-definition entertainment
If you've been adding to dad's sports memorabilia collection for years, time to switch the channel and give him something that he can use to experience his favourite sports in the comfort of his couch. I'm talking about a big screen HDTV. With the newest standard in high-definition 4K, dad can enjoy his favourite sports, movies and shows in four times the resolution of traditional full HD so he feels like he's part of the action. Throw in a wireless pair of headphones and dad can catch all the action even late at night without disturbing the rest of the household.
So this year when you're shopping for dad and about to reach for that combo-pack of socks or a nose hair trimmer, consider this: where there's a tacky gift, there's a fun, techy gift that will really show Dad how much you care.