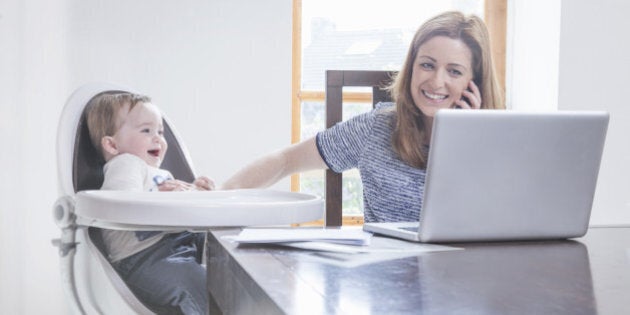 Many online business models are perfect for working from home in Canada. However, parents of young children have unique challenges that can make it less feasible. Choosing the right home-based business can mean the difference between success and failure (and your sanity or insanity).
Chances are, your biggest challenge is time. In addition to there not being enough hours in the day, it's also difficult to stick to a schedule. You'll need an online business with flexible, part-time hours when your children are young. That usually means avoiding anything that requires working for someone else, like Virtual Assistant (VA) services or consulting.
My "baby" is now in university, but I worked online for most of his childhood. I've found the following six Internet businesses to be the most practical and lucrative options for myself and fellow work-at-home parents.
1. Freelance Content Writing
Content is king online and many companies are practically begging for it. A quick search for "freelance writing jobs Canada" or "content writing Canada" returns countless opportunities. Set up a simple website and focus on promoting your personal brand.
In Canada, there are many websites, social media posts and videos that need a French version. Network with web designers and suggest mutual referrals, or you can even offer them a commission if they refer clients to you. You'll often find opportunities on LinkedIn and Craig's List.
3. Start a Blog (But Not Just Any Blog)
Lucrative blogging has a learning curve but you don't have to learn it all at once. The most important thing you need in the beginning is a popular, yet original, niche. You don't want to start out with a topic that's insanely saturated, like your average "mommy blog." You will be much more successful if you dig a niche out of a broader topic that interests you. Once you're established, you can do quite well with sponsorship from individual companies and affiliate marketing. Check your local library for the book, ProBlogger: Secrets for Blogging Your Way to a Six-Figure Income by Darren Rowse and Chris Garrett. Some parts are a bit dated now, but it's still the best book I've ever read on the topic.
Affiliate programs allow you to advertise for a company and earn a percentage of the sales you generate for them. More Canadian companies are offering affiliate programs every day. To make a decent amount of money with affiliate marketing, you'll need a website/blog. This will be your home base for everything, from building a mailing list to social media promotion.
Virtually everyone has a high level of expertise on one topic or another. Create and sell information products online, such as courses, white papers, reports or even an eBook. There are no shipping headaches and the entire world is your market.
There are several ways to sell products online that don't require you to fill half of your home with inventory. In fact, one option doesn't require any inventory at all!
Drop shipping allows you to sell products without inventory. You make arrangements with a wholesale supplier or manufacturer to sell their products direct online. You can offer these products on your own website, via online auctions like eBay.ca, or through a sellers' market like Amazon.ca. The supplier takes care of the inventory and shipping on your behalf. The customer price minus the wholesale cost equals your profit. "Drop Shipping for Canadian Sellers" provides additional information and a list of Canadian-friendly suppliers.
Auctions and online marketplaces are the perfect way to dip your toe into online business. While we don't have as many options as American sellers, there are several online marketplaces for Canadian sellers.
Open an online store to sell products or services. Selling products will, of course, require you to purchase or produce inventory. Start with a few products or your own creations and let the sales pay for your expansion. Don't go crazy and stock 5,000 of each item, start small to test the market. Think outside the box and fill any product voids you find in Canada.
You'll find more information about these options online, but I also recommend a trip to the library. Most local libraries have a good selection of books about home-based business and online business. Books allow you to learn a process from start to finish, as opposed to picking up bits and pieces around the Internet. Check for children's events being held by your library to keep the kids amused while you look around, or check out books through their website.
One of the best parts of of starting an online business is it can grow with your children. As they get older, you'll have more time to focus on your work. If nothing else, the skills you'll learn along the way will look great on your resume if you decide to head back into the workforce.
Follow HuffPost Canada Blogs on Facebook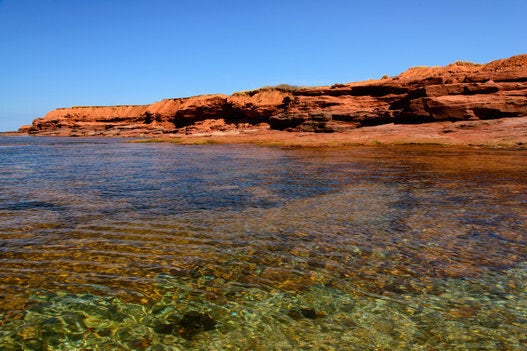 5 Provinces With Best Work-Life Balance For Parents