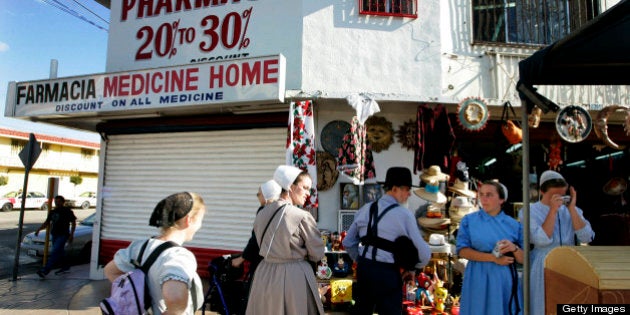 I never could have imagined that the Paska recipe my husband's Russian-Mennonite grandmother gifted me in 1978 would be the beginning of many years of gifting it in various ways. She could have never guessed that her simple gift might help feed orphans in her native Ukraine, or provide clean drinking water for children in Kenya.
Over many years, I had been asked for this recipe for traditional Mennonite Easter bread hundreds of times and eventually I decided to share it publicly online in 2008. It never occurred to me that the recipe should be hidden, or, sold for profit since it was given to me out of love of family and the passing along of our heritage. There was such strong interest and response to that recipe that the dream to begin a blog, sharing Mennonite heritage recipes was born. Others with the same passion to share family favourites joined me, and we became "Mennonite Girls Can Cook."
The Mennonite Girls Can Cook blog that began simply as a way to share recipes has become 10 women who blog with a purpose, using our resources to help needy people around the world. The 10 of us decided early on that any profit the blog might generate would be given to extend the hospitality, and extend our tables to others who needed nourishment.
When Herald Press approached us with a book deal we set to work in our kitchens, developing the vaguely-described heritage recipes from our mothers into concise, detailed explanations and learned how to become food stylists and photographers, creating a practical and beautiful cookbook. Our first book released in the spring of 2011, Mennonite Girls Can Cook, became a Canadian bestseller within months, and our goal to use our royalties to build a greenhouse in the Ukraine, the land our ancestors left during times of revolution, was realized. In the fall of 2012, the children at the Good Shepherd Shelter ate fresh cucumbers and green beans, which would never have been possible before the greenhouse was built.
While writing the first book we started dreaming of creating a second beautiful cook book celebrating life's most special occasions. The recipes and stories shared by the 10 of us include memories of childhood celebrations, of new births, and even comfort in times of grief and loss. We chose to include menus for blessing the bride and menus of what we would serve for family dinners and milestone celebrations. Our new book, Celebrations is releasing in May 2013.
This new book also gave us a chance to select a new charity and project that we would give 100 per cent of our royalties to, benefiting those who desperately need what we often take for granted. Judy Wiebe, one of the authors, had visited a school in Kenya where they were implementing the WASH program (Water Sanitation and Hygiene) and noticed that the children who were given access to clean water and education surrounding hygiene were healthier and able to attend school more regularly. These children then took what they learned back home to their families, and they too began benefiting from the WASH program. With this in mind, we chose to work with the Mennonite Central Committee and the WASH program. We are thrilled that our book royalties will allow many more Solar Water Disinfection bottles to be purchased, and more sanitation stands to be made. Today, it is estimated that 6,000 children die every day in Kenya of water-sanitation related causes. Our hope is that through sharing our heritage recipes and stories, we might help to change that number.
The greenhouse project and water sanitation program are simple concepts, to meet the needs of others, and we Mennonite Girls can't help but think that our mothers and grandmothers would be glad to know that their everyday recipes, including Paska, Mennonite Easter bread has made them possible.