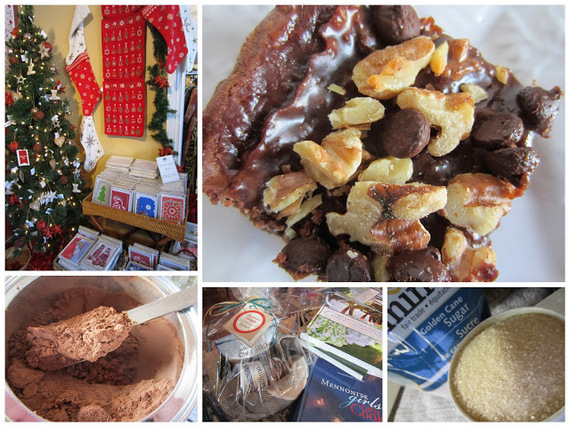 We have been enjoying our visits to various Ten Thousand Village stores across Canada since our new book Celebrations was published in April. (check the link for purchasing online)
Our most recent signing was in Calgary Alberta and we enjoyed seeing all the fair trade Christmas decorations throughout the store. Besides many gift ideas, the store was loaded with gift wrapping ideas, Christmas cards, garlands, ornaments and also...food! I wanted to highlight an idea for you today.
You might want to consider ordering a gift bundle for someone and have it shipped.
Check this link for many options.
Today I am featuring some of their fair trade baking essentials in a recipe.
They had a beautiful hand made basket with tea towel and wooden spoon paired with Organic Cane Sugar and Organic Cocoa Powder. Attached to the basket was a recipe adapted from our website and so I thought I would share another version of that with you today.
1 cup butter
2 cups Camino Organic Sugar
4 heaping tablespoons Camino Cocoa Powder
4 eggs, slightly beaten
1 cup flour
1 teaspoon vanilla
1 cup chopped nuts
Icing
2 cups icing sugar
4 tablespoons melted butter
2 tablespoons Camino Cocoa Powder
about 2 tablespoons boiling water (you may need a bit more to make a spreadable icing)
2 teaspoons vanilla
Topping
1 cup Camino Chocolate Chips
1 cup chopped nuts
Cream together butter, sugar and cocoa.
Add beaten eggs and vanilla and beat until smooth. Add flour and fold in nuts.
Bake in a greased 9 X 13 pan for about 35 - 40 minutes. Expect the top to look slightly under-baked. It will fall in the centre. The brownies should be moist in the centre.
Beat together icing while the brownies are baking and smooth over brownies as soon as they come out of the oven.
Sprinkle with chopped nuts and chocolate chips and return to the oven about one minute or until the chocolate chips begin to melt.
Allow to cool and then refrigerate to help set the brownies for cutting.
For more tasty recipes, please visit www.mennonitegirlscancook.ca