I rode my motorcycle from Los Angeles to Calgary - I had four days off and didn't know when the next chunk of free time was going to be. The bike had been living in LA, and because summer was coming to Calgary it seemed like a good idea to bring it home. I flew to LAX Monday morning on West Jet and after running a couple errands I was on the highway headed for Vegas.
I'll preface this story by saying that in no way was I prepared for this journey.
Evening one of the ride was a good reminder of what a bike with no faring (wind deflector or windshield) feels like on the highway. The wind doesn't let up. I was also dealing with my usual "Hey I'm back in the western US" In-N-Out Burger cravings. Eating In-N-Out numerous times and driving a motorcycle for 6 hours at night isn't necessarily a good idea. Night one I checked into my less than ideal (shitty) off-strip casino hotel and passed out.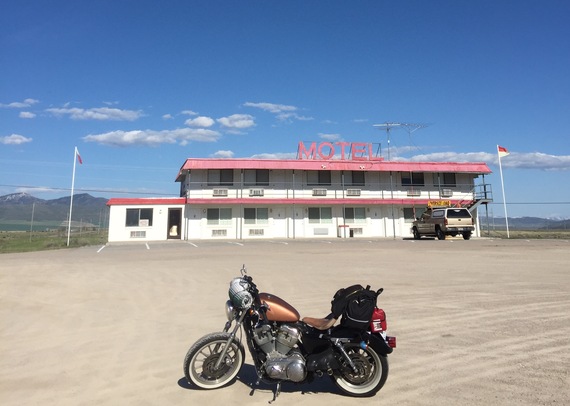 On the second day I debated leaving the bike at Macarran airport.
Instead I hit the Whole Foods, by hit I do not mean rob, I was just using the word 'hit' as a synonym for visited or stopped-in. I figured that the day's ride was going to be longer so I stocked up on juice, water, almond butter, fruit and granola bars. The menu doesn't sound stereotypical for the highway on a Harley, but it did wonders compared to my previous day's In-N-Out problem.
For the first two hours of the second day's ride I did not regret my decision to press on.
Then came the rain. I'll make reference here again to the fact that I was not prepared. The rain jacket kept me moderately dry on top; the jeans on bottom invited the water in like an old friend. I was able to get out of the rain long enough to consult the map, put a garbage bag over my bags and began down the only detour I had planned for the trip. Bryce Canyon was incredible. I had decided to take the two extra hours to check it out. The rain was relentless. I pulled into a diner parking lot and parked myself in a booth next to the most wonderful couple in America (Sorry Donald and Melania). The waitress came to take my order (fish and chips and coffee) (the couple was having the same menu selection). We started chatting. They had been married 53 years, had 3 kids, 16 grandkids and 3 great grandkids. From the sounds of it they'd built and led a life of love and hard work in Nashville, TN.
They paid for my dinner, the waitress insisted I have some pie on the house as well.
I continued on to visit the Canyon, and after drying off again at a fireplace in the park lodge I started making my way back to the interstate. By this point I had been traveling for 11 hours and had gotten about 3 hours closer to my destination. I started to worry that I wouldn't make it back on time.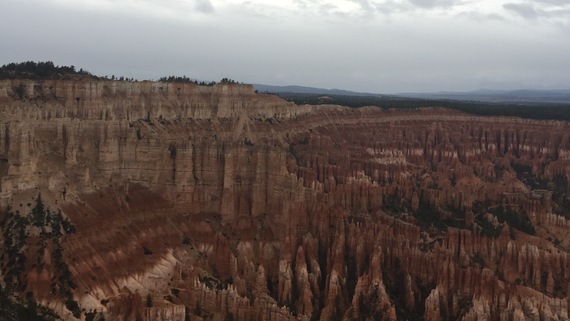 I ghost rode the bike into the parking lot at the Comfort inn in Beaver, UT. My boots made those water-filled squishing noises. I had bagged my feet inside the boots at the lodge and the result was me essentially carrying my feet around like two new goldfish from a pet store.
The hotel room became a drying rack.
I can't tell you how slowly I poked my head out of the door the next morning. If it was raining again I had decided that I would just live in Beaver. Thankfully, It was a bluebird day.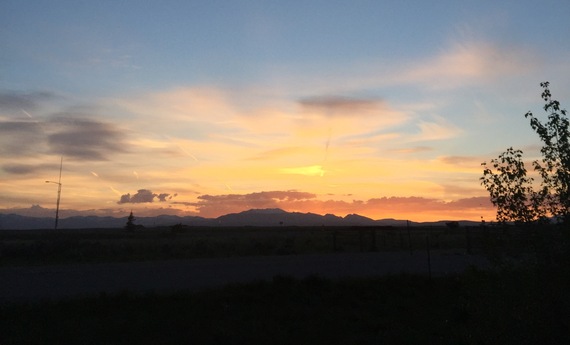 Now I had to start making up time. Four hours into the third day I came across my next dilemma - while traveling 80 miles an hour my shifter fell off. The bike was stuck in fifth gear. I had two choices: pull over or drive in fifth until I ran out of gas.
Within ten minutes of being on the side of the road a stranger named Noah picked me up on the side of the road. He was moving his family to a new town. We loaded the bike up and drove to a nearby Harley dealership. I thanked Noah only to be out thanked by him for offering an opportunity to help. Harley had me back on the road within a couple hours and it was a bluebird, incident-free ride to Canada.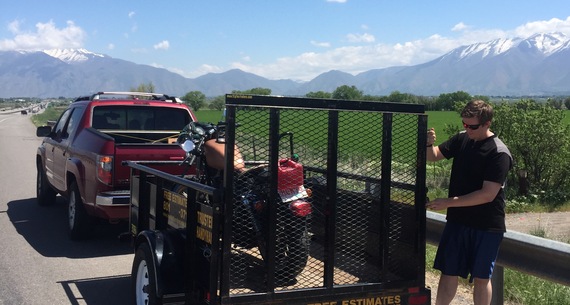 The ride was a rewarding experience.
It reminded me about people. I have a tendency to always meet incredible, kind and giving people. It doesn't matter what city or country. It also reminded me that often the 'good stuff' lies beyond doors you didn't know existed. I've lived a life of being open and trusting in the outcome. I've been rewarded for that numerous times.
I met my manager Ryan by playing a small, last minute show in LA. My producer Brian invited a guy named Mark to the show, Mark liked the love song, Mark took me to meet the owners of a label, and they decided to sign me. Ryan and I met during the signing process and have worked together for 5 years.
I met Andrew (Alec) because I had a thing for the movie Drumline. I was working at a call center at the time. I wanted to record marching drums on the record I was making (this is mbf ep) and before long a session was set up. A call center colleague of mine also played marching drums and set the whole thing up. Andrew was one of the drummers that he invited to play. I ran into Andy weeks later at the U of C and within a couple days he was drumming with us. We're now in our tenth year of sharing the stage, and we'll celebrate by playing with the Calgary Philharmonic Orchestra in November. Andrew will be conducting the orchestra. I hope we go fishing to celebrate.
I started a business with a few people last year. Simply put it plants trees for individuals - enabling them to take matters into their own hands and clean up after their daily impact. The trees also provide air and no matter what your stance is on climate change we can agree that trees are pretty great. My business partner Ryan and I met because an amazing drunk guy at Communitea in Canmore asked me to play his wedding in Mexico. I agreed. Never pass up on a good story. Stephen (drunk guy/academic/scientist) and Sarah are incredible people. Their wedding was beautiful. Months later I was sitting at Monogram in Calgary and the photographer from the Mexican wedding was meeting a gentleman named Ryan, she put him onto our music, he and I chatted and in chatting found out that he had a love for entrepreneurship. I told him about an idea that I thought of in Milwaukee while on tour with Michael Franti. Slowly, over the course of months, TreeEra came to be.
I'm not sure where any of these roads will lead. I will of course continue to stay open, trusting that the result is often better than I could have imagined.
I'm not an advocate for lack of preparation; I've got a good friend teaching me how to do that a little better these days. I am however an advocate for preparing oneself to be open to the unpredictable, guarantee-free, open road ahead.
Safe travels!