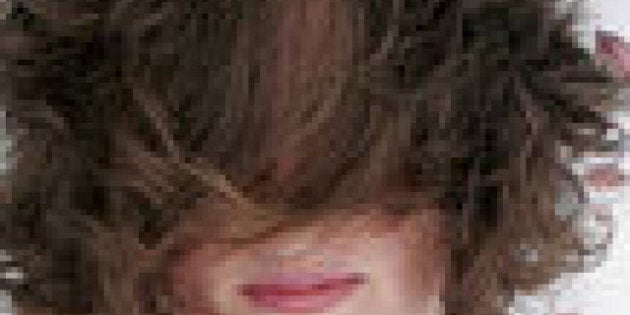 Inside the lithe figure and nimble fingers of a classically trained pianist, there's a rock 'n' roll guitar goddess wailing to get out.
Now, Kathryn Calder is getting her chance. Have guitar, will travel. Sure, the underrated player of Immacuate Machine and the New Pornographers will bring the keyboards along to maintain her artistic integrity. But Canada's latest indie darling is daring to reveal another side of herself.
That's what a risk-taking, breathtaking new venture will do for you. Calder's sophomore release, Bright and Vivid (File Under: Music) officially drops today (Oct. 25). Two days later in at the Biltmore Cabaret in Vancouver, British Columbia, she'll embark on a two-month North American tour to promote it.
The record includes quiet, introspective moments and Calder's ethereal imagery that were constant elements on her solo debut, 2010's Are You My Mother? But Bright and Vivid ups the ante, starting with some unconventional song structures.
It also is filled with pounding drums, thumping bass lines, surging power chords and other bursts of electronic energy that seem so out of character for a calm, warm woman who does mellow so well.
While primarily offering her light, lovely vocals and dense synths throughout Bright and Vivid, Calder also adds cello, vibes, electronic drums, baritone guitar, piano, organ and... that brazen electric guitar. Listen to the most explosive cut, "New Frame of Mind," and try -- just try -- to get the final line out of your mind.
So, Kathryn Calder, how did you get to be so brave?
"Well, I love the electric guitar, how it looks," Calder said last week, calling from a ferry that was taking the scenic route she knows so well from her home in Victoria to Vancouver. "And seeing people like St. Vincent live, you know, Annie (Clark) play live. It's pretty inspiring because she's really quite the guitar player. I've always got that in the back of mind. It's like, OK, maybe one day I could be St. Vincent on the guitar."
Already showing touches of St. Vincent's sound ("Five More Years" is one shining example), it's not inconceivable, considering Calder's work ethic, creative mind, alternative attitude and an inspirational support supergroup that always has her back.
Beginning her professional music career as a teenager, Calder joined the New Pornographers -- one of the most influential and innovative pop-rock acts of the 21st century -- in 2005 at the age of 23. She also kept honing her skills while writing three songs a record as a member of the Victoria-based Immaculate Machine until a life-changing event took her down a different path.
Saying she wanted to try and do her own thing as a solo performer, Calder was encouraged to take that plunge by her terminally ill mother, Lynn Calder, who was diagnosed with Lou Gehrig's disease.
"I decided that if there was ever a time where it was time for me to make a solo record, it was (then)," Calder said, looking back to 2008. "Because she was always so supportive of my musical endeavors and she would always do things like, she'd make her own mixed CD of my songs from all the different bands and she'd put them on a mixed CD and give them away to her friends. She was trying to make my solo record out of all of my projects that I was in, which I thought was pretty huge. I mean very embarrassing at the time, of course. But when you look back, of course it was adorable.
"So I thought, OK, well you know what, like I'm ready. And I have to do this now so that she can at least hear it. So that was the real motivation behind it. And I'm glad I had that motivation because you never know. You have all these dreams you'd think you'd like to do in your life, and sometimes you don't have the right push to get it done. But that was a pretty strong motivator for me."
While she took about a year to record in between tour stops, Are You My Mother? was made in her family home on a shoestring budget with producer Colin Stewart. During that time, Calder was able to take care of her mother and, at the same time, receive direction from her No. 1 fan, a lifelong teacher who used to play jazz and classical piano.
"It was a great experience," Calder recalled. "I liked having her around. I would bring mixes into the bedroom and go, 'OK, well, what do you think?' And she'd go, 'Umm, yeah, really good. I wish those vocals would be louder.' I'd go, 'Oh, Mom, the vocals are supposed to be quiet. It's a rock song.' "
With its high ceiling and wood floors, the living room turned out to be the perfect recording studio, "Although I think by the 10th take of drums... she might have been questioning the solo record," Calder said, laughing.
When it was completed, Lynn Calder listened to Are You My Mother? everyday, even during her final months at Victoria Hospice, making sure to tell the nurses or other visitors, "Oh, this is Kathryn, she's a singer." Asked what her mother, who died at age 59 on July 30, 2009, in Victoria, would think about Bright and Vivid, Kathryn Calder was quick to reply.
"She probably would have told me to turn up the vocals on the new one, too."
Calder, who dedicated Bright and Vivid to her parents (her father Stu died last year), added, "I'm sure she would have been very supportive. I don't know if this one's nearly as mom-friendly as the last one.... There are definitely songs that could have been on Are You My Mother? as well that are on the new record," citing the dreamy "Turn a Light On" and "Younger Than We've Ever Been."
With Kathryn sharing the family home now with her brother Stephen and his family, Calder recorded Bright and Vivid in the living room of her upstairs apartment. "I would have done it in the (downstairs) living room, but my brother is a little different than my mother... Between him and his family -- I'm not sure they would have been as excited about having me record in the living room."
So even if Calder didn't exactly feel the brotherly love, she thinks other listeners will appreciate the extra layers and more complex instrumentation on Bright and Vivid, the title representing a change in sound and "something positive" while she moves forward.
"Hopefully, it's not too alienating for people who are fans of the first record," she said, sounding more optimistic than concerned. "Because that's not what I'm going for. I wasn't going for alienation. I was just going for different, you know?"
Although the albums were released in consecutive years, Calder doesn't want to leave the impression that she's that prolific. She actually started writing Bright and Vivid long before her first solo project was released, so "I won't have another record ready next year. I can't be the Beatles here," she joked.
Yet there never seems to be a dull moment for the youngest member of the New Pornographers, all of whom find time to work on their own side projects. Referencing keyboard cohort Blaine Thurier's ability as a filmmaker, she highly recommended 2009's A Gun to the Head, which he wrote and directed. "That kind of thing is really neat when you have a bunch of personalities in the band and they each do their own thing and everybody is different," Calder said.
Comparing the shared show-of-support experience to summer camp, Calder said, "When I made Are You My Mother? I was really aware that it had to be at a certain level because I was going to be immediately compared to those guys in the group."
All of her bandmates gave her "tons of encouragement" to pursue a solo career, including the incomparable Neko Case (who sang on Are You My Mother?) and fearless frontman Carl Newman, who also happens to be her uncle. (Lynn Calder was adopted as a baby but later found her birth family that included Newman.)
While she has soaked up the knowledge and inspiration, feeling somewhat like a kid sister in her own extended family, the 29-year-old Calder wanted it to be "influential in my own way."
"I'm certainly not making mini-New Pornographers pop or anything like that because I wouldn't be able to, because I'm not Carl," she added with a laugh. "But I do like the same kinds of music and the same melodies and that kind of poppy... I like pop music."
Bringing her ideas and sharing production duties with Stewart, Calder also enlisted the help of friends and other musical connections. The rhythm section of Stefan Bozenich (bass) and Marek Tyler (drums) will join her on tour. Lane Arndt contributed most of the guitar work, and guest appearances included: Superchunk's Jon Wurster, drums on "Walking in My Sleep"; Ladyhawk's Darcy Hancock, electric guitars on primo cuts "All the Things" and "New Frame of Mind"; and Paul Rigby from Case's band, on steel pedal, mandolin and electric guitar.
Some of the acoustic/electric guitar duties on tour will be handled by Victoria resident Ryan Beattie (Himalayan Bear), but Calder is looking forward to playing that instrument on the road after using it primarily for songwriting in the past.
"Actually, most of it was just needing a second guitar but not being able to afford another guitar player," she said. "You know, it's like all practical. It was easier for me to learn the guitar than to find somebody who could play both the guitar and the keyboards and sing and be available.
"So it was only until I started having to do live shows that I've really actually been serious about learning how to play the guitar so that I sound good."
And, at the same time, look so cool doing it.
Photos courtesy of Kathryn Calder.
See the video for "Who Are You" from Kathryn Calder's Bright and Vivid: