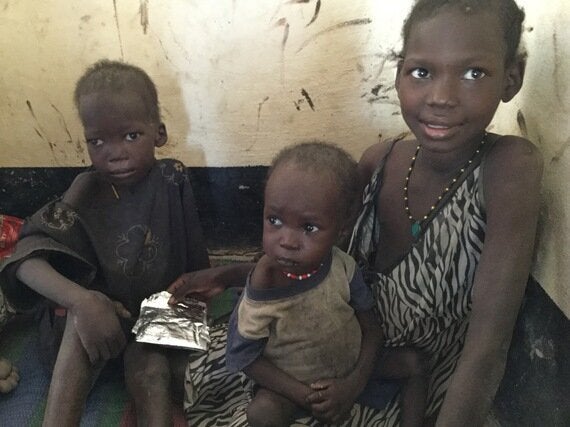 A young girl cares for her two severely malnourished siblings at the looted hospital in Rubkona. It has been been put partially back in action by UNICEF and partners. Credit: Michael Bociurkiw
I mentally headlined her story as "The Child With No Dreams."
For well over a decade of working in some of the world's worst conflicts and disasters -- Gaza, norther Nigeria, Pakistan -- I've met many children severely scarred by unspeakable violence and abrupt displacement.
As the world's youngest country, South Sudan, marks the third year of a vicious civil war, I am learning the heart-wrenching stories of some of the 200,000 civilians who have sought shelter in UN-protected camps. I'm here to learn about the impact of the conflict, especially on children.
It is in one of these camps -- Benitu, in the far northern reaches of the country -- where I met Cecilia, 17.
I knew from the dark, hollow look in her eyes that she'd just been to hell and back. Just 48 hours after the completion after a harrowing three-day walk from her destroyed village to the sprawling UN safe haven known as the Benitu Protection of Civilians site in Unity State -- one of five so-called PoCs in the country -- she was clearly still re-living the horrors of seeing her home and village destroyed by vicious armed men. As if that weren't enough she said her family was robbed of everything during the flight to safety, stripped of any last iota of dignity.
"When they find you, they'll kill you. They don't care about you," Cecilia, who was writing exams for her last year of primary school, said as she sat in a dark and quiet corner of a school in Benitu.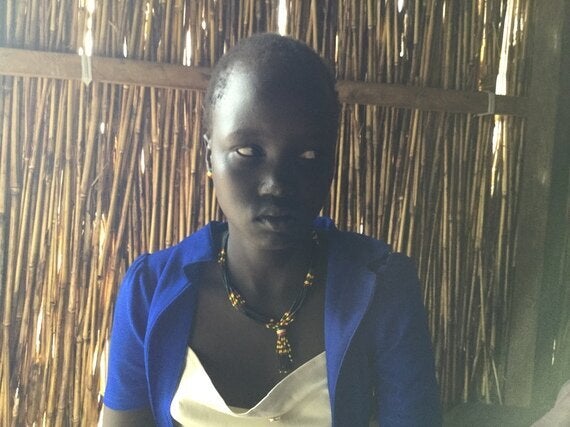 Cecilia pondering her future at the Benitu camp in South Sudan's Unity State. Credit: Michael Bociurkiw
What to make of the world's youngest nation which on Dec. 15 marked the third anniversary of the outbreak of a deadly civil war that has displaced more than three million South Sudanese and stalled economic activity to almost zero. Aid experts say that less than five per cent of arable land in the country is being worked; inflation has soared to 830 per cent; and, incredibly, there's no mains electricity in the capital, Juba. A just-completed IMF mission to the country found foreign reserves almost entirely depleted, partially as a result of a 15-month shut-down of oil production.
Looking beyond the heavily-fortified walls of the Benitu camp the prospects for peace look very bleak indeed.
Over the course of the past week I've met many children like Cecilia. She dreams of becoming a teacher but has no idea how to come up with the funds to continue her education outside of the country. Even here under UN protection, she tells me that she feels unsafe as a young woman, especially after dark. The sadness and emptiness on her face is haunting, deflating.
We need to help them to become children again. You look into their eyes and you don't see that innocence...just loneliness, UNICEF South Sudan chief of field office and veteran development professional, Mustapha Ben Messaoud, told me.
UNICEF estimates there are almost 900,000 children in South Sudan in need of psychosocial assistance yet the programme remains chronically under-funded. Ben Messaoud correctly points out that if these invisible scars aren't dealt with now, they'll follow the kids into adulthood, with devastating consequences.
The agency is also helping to reunite former child soldiers with their families; it estimates some 17,000 have been recruited -- with 1,300 abducted and put into uniform this year alone. Some are re-recruited, even after being placed into safe havens.
Looking beyond the heavily-fortified walls of the Benitu camp the prospects for peace look very bleak indeed. With a peace agreement between President of South Sudan Salva Kiir and his former deputy, exiled rebel leader Riek Machar, in tatters, there's no sign of an end to the human slaughter which has claimed, by some estimates, as many as 50,000 lives over three years. Grave violations, including killing, forced recruitment of children, sexual assault, attacks on schools and abductions are continuously reported in all parts of the country.
On a trip earlier this week to nearby Rubkona, next to the Benitu camp, the once-vibrant town has been burnt to the ground, with few people and signs of mass graves. Invading forces couldn't even resist looting the local hospital, destroying its four ambulances and leaving the maternity ward in ruins.
It is hard to imagine things getting worse.
Aid officials cite the northern region of Bahr el Ghazal, which has stayed mostly peaceful, on the verge of famine. Rising levels of hunger there have forced people to now make their way to Darfur, the region in Sudan made famous by actor George Clooney and which has faced famine in 2004. So far more than one million South Sudanese have fled to neighbouring countries. Aid officials say they expect things to get worse before they get better.
It is hard to imagine things getting worse. Aid workers continue to get expelled and in July a UN warehouse in Juba was looted of $3-million of pre-positioned supplies. A third of schools in the country are out of action, says UN OCHA.
Ruling South Sudan officials seem to believe civilians face no threat, that reports of ethnic-based violence is simple criminality, and that people should return home. The deputy governor of Unity State told me as much earlier this week -- going so far as to say the safe haven camps should be emptied and the UN should wind down its work.
One of the most poignant messages I heard during my visit to Benitu was from Nyajany Khan Ruot, a 28 -year-old mother who on Friday was reunified with three of her children who'd been missing since the start of the conflict. The reunion was the result of painstaking family tracing work done by UNICEF and its partners.
My message to the world is that war is bad. It separates children from their parents and they learn many bad habits along the way unless one parent is with them. Children are meant to be with their parents. In South Sudan there are so many children on their own.
Nyajany has one more child separated -- one among about 9,000 others in South Sudan who are apart from their parents.
Said Nyajany: "When I finished kissing my three children for the first time in three years my attention will then turn to my last child, who is still missing and is even further away."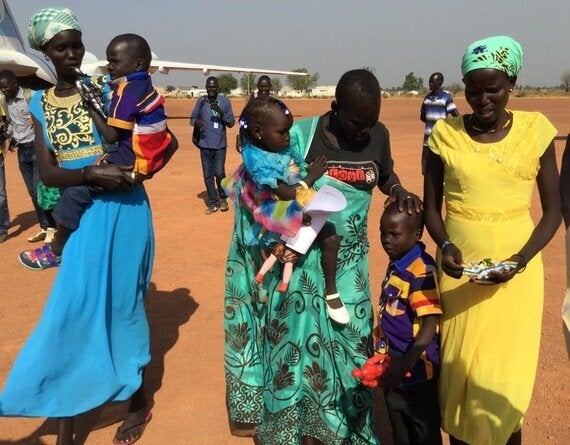 Nyajany Khan Ruot being reunited with her three children at Rubkona airport. Credit: Michael Bociurkiw
Follow HuffPost Canada Blogs on Facebook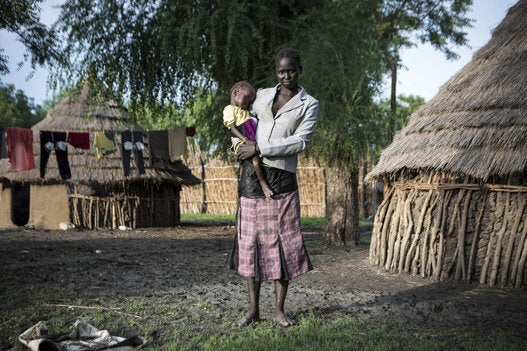 Save The Children South Sudan