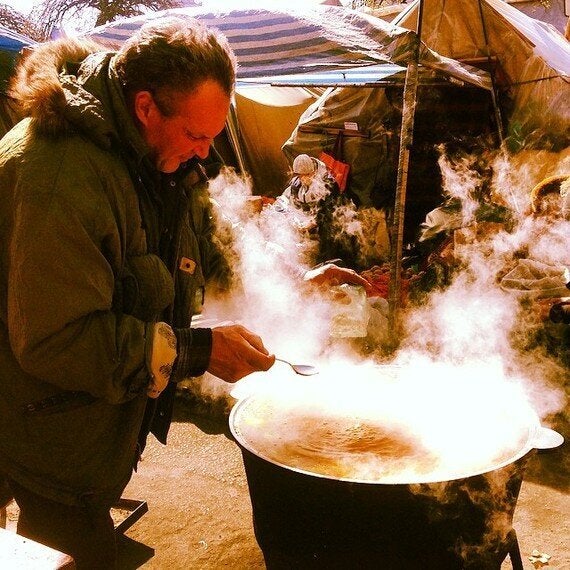 A Maidan activist prepares soup for people lined up in the city center. Credit: M. Bociurkiw
In a few weeks time Ukrainian voters will be going to the polls to elect a new president to replace Viktor Yanukovych, who fled the country for the safety of Russia amid a Tahrir Square-style, people power uprising.
Yanukovych and his corrupt cronies left behind a country in shambles. Despite the appointment of some very qualified technocrats to the interim government led by Arseniy Yatsenyuk it is not clear whether even they can nudge the country away from the precipice. The Cabinet of Ministers has no lack of urgent agenda items to deal with. Several pitfalls lie ahead:
A staggering debt: The IMF is considering a bailout package of around 13.5 billion but this will come with painful conditions including cutting energy subsidies for domestic consumers, slashing public service costs and fighting corruption. (Reducing public service wage costs is in itself a daunting task: the urbane Economy Minister, Pavlo Sheremeta, said he inherited a 1300-strong staff, when he only needs just 200).
Dealing with a hostile Russia: with tens of thousands of troops on its borders Russia seems poised for an invasion. NATO says the troop strength is sufficient to take large swaths of eastern Ukraine in a matter of days. Even with no invasion, the psychological impact has scared the living daylights out of the business community. "It's difficult to persuade foreign investors that everything's OK in your country when thousands of Russian troops and hundreds of tanks are on Ukraine's borders," Yatsenyuk told business leaders.
A possible humanitarian crisis: already at least 3000 people (mostly of Tartar ethnicity) have fled Crimea after Russian unilaterally annexed the peninsula last month. In the very likely event that harassment against minority Tartars and Ukrainian-language speakers increases that number could swell into the tens of thousands.
The elections could be seen by Moscow and its backers in Ukraine as a chance to destabilize the situation. If a pro-western candidate makes it past the first round on May 25 that could be reason enough for Russia to engineer the installation of a suitable replacement, even by force. (Kyiv is rife with rumours of a back-room deal between Russian President Vladimir Putin and former Prime Minister Yulia Tymoshenko, which would see the former political prisoner parachuted into the Presidency in exchange for a withdrawal from Crimea).
In coming weeks decisions will need to be taken on the fate of Maidan -- the large protest site located in central Kyiv. Aside from disrupting normal life, the area has hundreds of activists that reportedly have access to arms. Coming up with a plan that gives the various Maidan factions a sense of inclusiveness is also crucial.
The good news is that the front-runner in the polls is a business-savvy politician that probably has what it takes to drag Ukraine out of its current difficulties. Billionaire Petro Poroshenko has built a successful business empire and is as comfortable on the Maidan stage addressing the concerns of ultra right-wing nationalists as he is deflecting tough questions in interview torture chambers such as BBC's HARDtalk. In fact, Poroshenko supported Maidan and maintained a visible presence throughout the several months uprising. he is backed by former world boxing champ Vitaliy Klitschko, who as part of a political deal with Poroshenko, will run for Kyiv city mayor.
To be sure, what Ukraine needs at the moment above all is a national healer who can take the country out of the pain of Maidan. With at least 100 killed, some 200 still missing, an ex-President on the run and billions of dollars of public money unaccounted for, the terms of reference for the new president will be daunting -- to say the least. Someone like Poroshenko will also need to reassure voters in the Russian-speaking eastern and southern regions that they need not fear dilution of their rights,
That's why, even though the bullets have stopped flying, the apprehension on the street is palpable. Said one entrepreneur: "Ukrainians are fatigued after two revolutions. If things don't start to work here many of us will leave. Many of us feel that way -- that this is Ukraine's last chance."
But maybe in the end Ukraine's future will not be dependent on elected tycoons, boxing stars or a woman in a trademark braid with ties to Putin. Rather on the new generation of Ukrainians who I've witnessed in recent weeks helping to shape a savvy image of Ukraine. Young, energetic professionals who are working for western companies, building their own start-ups or volunteering day-after-day at initiatives such as the Ukraine Crisis Media Centre in Kyiv. It's these types of bright lights that should give the world confidence in Ukraine in the post-Yanukovych, post-Orange Revolution era.