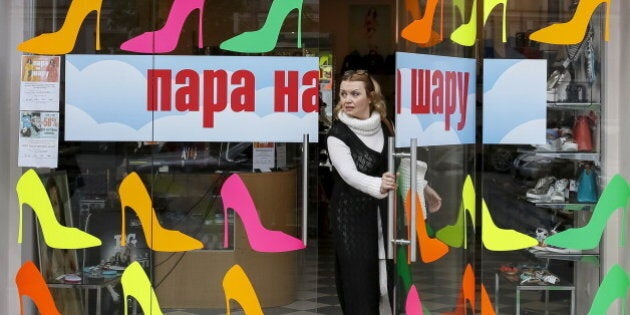 Ukraine is open for business.
That's the new rallying cry of Ukrainian officials as they hit the road pitching the country's most promising sectors: agriculture, technology, fashion and tourism. Although the country has yet to get on the radar screens of business leaders and investors, it is off to a fairly decent start with the Canada Ukraine Business Forum held in Toronto on June 20.
To be sure it is refreshing to see young, articulate, bright and English-speaking Ukrainian officials as the enthusiastic sales people for a new Ukraine. What a change from the dour faces of the former regime of the disgraced President Viktor Yanukovich. At the same time it would have been nice to see more businesses represented at the forum and to hear more success stories. Business sells business best -- not government folks.
On the face of it, Ukrainian officials are putting forth a good sales pitch: they sell themselves as pro-western and pro-business in a country which has a 99.7 per cent literacy rate and is just a two-day truck drive from most EU hubs. While the introduction of badly needed reforms have been stalled under the administration of Petro Poroshenko, some have gone through. For example, payroll taxes have been slashed and an electronic public procurement system has been introduced.
Officials are rightly keen to play down the impact of the conflict in the East, which has robbed the country of about 20 per cent of its economy and ruined key infrastructure in the industrial heartland of the Donbas. This is key as many people, taking their cues from mainstream media, perceive Ukraine as a country on fire and mired in the conflict with pro-Russian rebels.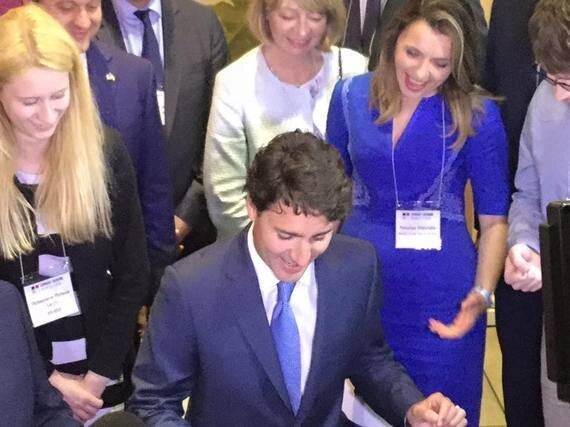 Canadian PM Justin Trudeau test-driving a made-in-Ukraine interactive table with Deputy Trade Minister Nataliya Mykolska (R) (Photo: M. Bociurkiw)
The results of the Brexit vote notwithstanding, Ukrainian officials say companies that set up in Ukraine can take advantage of EU economic convergence -- meaning that wealthy European markets can be tapped by using Ukraine as a low-cost base for things like manufacturing and software development.
To be sure, Ukrainian trade and investment officials have a long way to go to convince investors and major business to take an interest in the country. They would be well advised to pay a visit to Singapore, which describes itself as "the world's easiest place to do business." The city-state's savvy Economic Development Board develops long-term strategies to position the country and to maintain its competitiveness. One-stop-shop portals such as Contact Singapore make it easy for businesses to set up on the island.
Singapore has what Ukraine sorely lacks: inter-agency cooperation to make businesses grow. I know for a fact that Ukrainian ministries hardly speak to each other and rarely act in unison.
While Ukrainian officials like to trumpet the fact that the country has 170,000 kilometres of roadways, many key roads (i.e. Zaporizhia to Mariupol) are in disgraceful shape -- the result of sheer neglect. By one estimate, Ukrainian roadways need US$40 billion in investment over the next decade. Poor infrastructure is one of the key reasons that something like 20 per cent of all grain production is lost on its way to market.
"Ukraine is changing and these changes are very dramatic for business." - Yuliya Kovaliv, Ukraine Deputy Minister for Economic Development and Trade
On a deeper level, Ukraine is still grappling with the ugly "C" word -- corruption. It is still deep-rooted and widespread. The departure from government of key pro-western reformers -- such as former finance minister Natalie Jaresko and former deputy health minister Ihor Perehinets -- are cause for worry.
Even Odessa governor Mikhail Saakashvili says he is being blocked on many levels in his bid to root out corruption in his Oblast. Speaking recently to the Guardian, the former Georgian president lambasted Poroshenko. "Now he's brought in a government which has not got any vision of reforms at all," he said. He referred to the new government, which has no foreign technocrats like Jaresko, as "a bunch of mediocre people."
I don't consider the officials who represented Ukraine at the business forum as mediocre whatsoever, but I did expect them to have better answers for some of the main concerns of foreign businesses operating in Ukraine.
One of the things business is averse to is risk -- and Ukraine, if it really aspires to become a new investment destination, needs to bend over backwards to create an attractive environment. Ukrainian trade and investment officials need to sound less defensive and be better prepared to give solid answers to tough questions. As one former Silicon Valley engineer told me: "Business guys love confidence."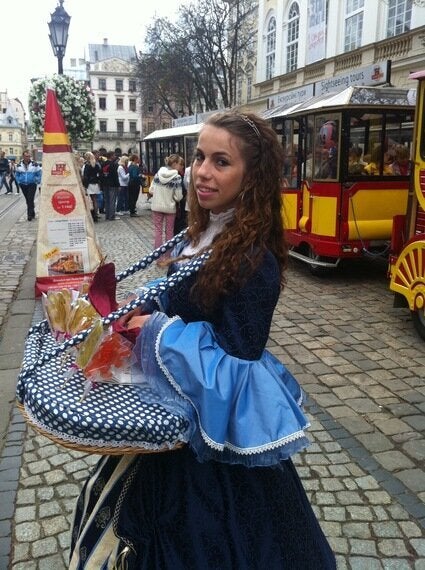 A young lady sells sweets in Lviv's main square. Tourism is one of the best-performing sectors in western Ukraine. (Photo: M. Bociurkiw)
For one, Poroshenko needs to fast-track judicial reform to bring rule-of-law standards up to Western levels. There are too many judges and far too many prosecutors clogging up the system and draining government coffers.
Second, red tape needs to be cut dramatically. Even though Ukrainian official say it now takes two days to open a business in the country, I've yet to meet anyone who has received such velvet glove treatment.
Third, Ukrainian ambassadors need extra resources and people to promote Ukraine in places like Silicon Valley, Bay Street and in SW1. Semi-autonomous trade promotion offices in key centres offer amazing pay-back for little money.
Finally, as I politely told a technology panel at the business forum, trusted surrogates or influencers are needed to sell the Ukraine story -- titans such as Steve Wozniak, John Chambers, Mary Meeker and Eric Schmidt.
There is no dispute: Ukraine's got talent and I saw plenty of it on display in Toronto this week, from the state-of-the-art, interactive dining table produced by Interactive Restaurant Technology to firms such as SoftServe, Ciklum and Mirasoft doing research and making breakthroughs.
I just hope that the government can get its act together to retain this talent, create an enabling environment for them to prosper and sweep out corruption and red tape.
Follow HuffPost Canada Blogs on Facebook