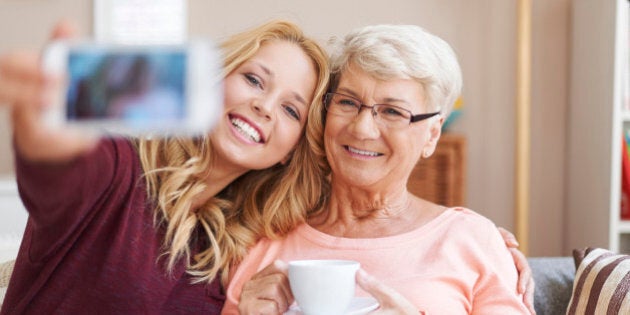 This Valentine's Day, why not spend time showing love to those who might need it the most?
February 14 conjures up images of hearts, chocolates and little jewelry boxes presented over candlelit dinners. We think of partners and spouses. But the love we focus on this February can ignore other fulfilling relationships in our lives. Broadening your "love scope" this Valentine's Day to include parents and grandparents could be the most rewarding decision you make.
Elderly parents and grandparents can often find the holiday depressing, especially if they are isolated from loved ones. Widowers are especially at risk and it's not hard to imagine why. Envision spending 50 years sharing your life with another and then all of a sudden you're alone.
A recent study by researchers at the University of California, San Francisco identified loneliness as a major contributor in elder decline and was associated with a higher mortality rate. The study included 1,600 adults, averaging 71 years old. Nearly 23 per cent of lonely participants passed away within six years of the study, as opposed to only 14 per cent of those that reported adequate companionship.
Going out of your way to make a loved one in your life feel extra special, especially our grandparents, parents, aunts and uncles that may be single living on their own, may be the greatest gift you can give them. And there are many easy things you can do this Valentine's Day to make it special for that exceptional senior in your Life.
You cannot properly celebrate without some homemade treats! Now is the perfect opportunity to learn your family's secret cookie recipe, or to introduce them to your own specialty.
Get family together to watch a favourite movie or have an afternoon tea party. Get some "love teas" from your local tea shop and throw on a classic to pleasantly pass an afternoon. Also a perfect chance to enjoy the freshly baked goodies you made earlier.
Play some themed bingo! There are lots of Valentine's themed bingo sheets available online. Dust off your favourite dabber and connect those cupids and teddy bears.
Something as simple as ordering flowers or a gift box to a senior's home will go a long way to showing them you care.
Photos are a great way to reminisce on the positives of the family's history. Get that family photo finally framed, or assemble a scrap book. These are easy for you but will be cherished by them. Take it one step further and capture a photo with them on Valentine's Day. Then, send them a framed copy of it in the following days. This is a great way to remind them of the love they felt in future years too. To add a modern spin on it, load family photos onto a digital picture frame. There's a greater volume of photos without taking up more space.
When all else fails, give them a card. While homemade cards demonstrate a greater effort, it's the message inside that will touch their hearts. Sit down and write them a heartfelt note, describing just how much you care about them and love them.
Check out these links for more ideas:
So this February 14, be sure to enjoy your hearts, chocolates and little jewelry boxes presented over candlelit dinners. But also don't forget to spare some time for that senior who means the most. There are lots of fun, simple, and meaningful ways to show them you care!
Follow HuffPost Canada Blogs on Facebook