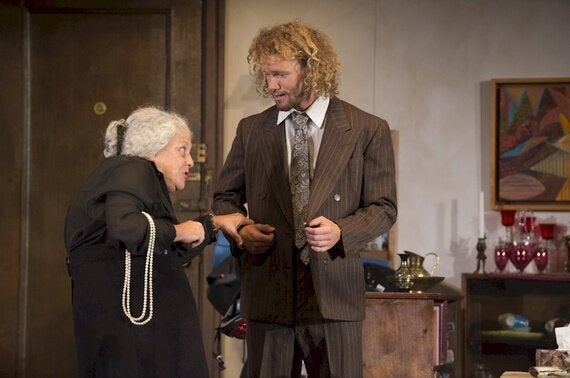 Nicola Cavendish and Nathan Barrett in "4000 Miles." (Photo: David Cooper)
The new Arts Club production "4000 Miles" is inoffensive, irrelevant, and trite. This much-produced American comedy from 2011 provides warm reassurance that familial love is good. Intended to warm the heart with warm humour, it inadvertently challenges us to care about the obnoxious protagonist. But a lack of story is the play's greatest weakness.
What could be more charming than a story about a grandma (Nicola Cavendish) and her grandson Leo (Nathan Barrett) who love each other? The play is a lot of noise with no particular point. Grandma is old and (cliché alert) feisty, and her adult grandson is a bored self-absorbed child of affluent parents who has (cliché alert) gone searching for himself. He's chosen to search on a cross-country bicycle trip.
His elderly grandmother (the magnificent Cavendish kills in the role) lives independently in Manhattan. She's surprised to receive a visit from her 20-something grandson who, Grandma knows, disappeared a few days earlier. He's not been in touch with his worried family at all, back in St. Paul. He is, after all, in the midst of a cross-country bicycle trip.
Why did he stop communicating with the family? Wait for it. The answer to that question is, unfortunately, the play's explosive climax.
As Grandma and grandson develop some knowledge of each other's lives, we receive tiny bits of information about Leo's recent adventure. These revelations are the bulk of the drama, with each revelation intended to pull this empty play forward.
Grandma learns to accept her grandson (though she already accepts him...) and Leo learns his Grandma is pretty cool: she was a communist back when that was trendy, she can talk frankly about sex, and she even smokes up with him. Grandma's openness passes for most of this comedy's comedy.
The writing is so weak; playwright Amy Herzog even turns her climactic scene of bloody death into a joke that doesn't fly. You can almost feel her panic as she struggles (and fails) to express a darkly comic yet dramatically overwhelming moment. Leo, you see, reveals why he has been riding without contacting his family. The revelation is disappointing. It's a long walk to this anticlimax about which I will say only this: dead chickens?
Cavendish provides one of those precise, perfect performances audiences have grown to expect from her. The woman who toured as Shirley Valentine for years, and who has taken many comic and classic roles in her career, is on top of her game.
The way Cavendish plays this tough, opinionated, and lonely woman is a treat to watch and any performance this good deserves an audience. Cavendish is one of those few actors who can command a stage by mere presence. A consummate stage performer, Cavendish exemplifies how even a small gesture or quick facial expression can deepen a character.
Leo (Barrett) never gets off the ground as a character. He's self-important and obnoxious and we never like him. This may be the script, but it may also be Roy Surette's direction. Some of the staging just seems wrong. Why doesn't Leo get angry when his visiting girlfriend dumps him? The dialogue cries out for crying.
Herzog relies too much on jokes about hearing aids and dentures. She presents a grandma and grandson who love each other and end up loving each other. She forgot to write a play.
"4000 Miles" by Amy Herzog, directed by Roy Surette, at The Arts Club Stanley Industrial Alliance Stage until Oct. 12. Buy tickets here.