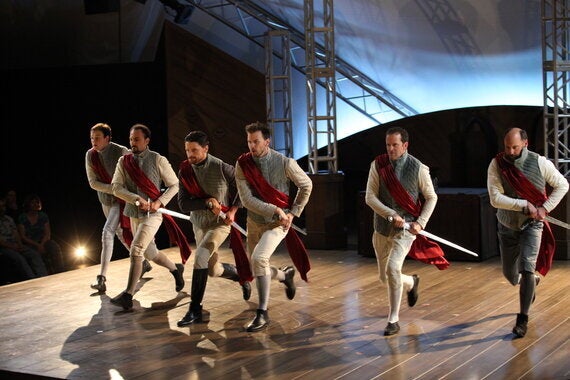 The Roman army prepares for battle (Photo credit: David Blue)
"Cymbeline," one of Shakespeare's most maligned and ignored plays, has been transformed into a very good dark comedy by director Anita Rochon for Bard on the Beach.
The play has too many plot lines and insufficient character development; it's a challenge for any director. But Rochon's inspired approach is a great success. She exploits the play's weaknesses and makes them strengths. She turns her seven actors into a full cast of 18 using a scheme so clever and funny it occasionally upstages Shakespeare himself. And that's a good thing.
Too much happens in Shakespeare's play. A taste: forbidden romance, poison, war, cross-dressing, a ruinous second marriage, a foolish King (Cymbeline), duplicity, death, and a wedding. It seems to be Shakespeare's ill-advised late-career retrospective of his narrative devices. Rochon chooses not to disguise this flaw with a super serious take on the material. Instead, she lets the play hang itself.
Where the plot gets ridiculous, she allows us to smile. There are bits of over-the-top acting to signal the audience that Rochon too thinks this is all a bit much. Some serious drama is played straight, though. We're allowed to care for the main characters, the young lovers Posthumus (Anton Lipovetsky) and Imogen (Rachel Cairns).
To use a small cast for the 18 roles, Rochon treats her seven actors as an ambitious theatre troupe. The group is costumed in very basic, matching off-white clothing. As the narrative begins, the troupe is gathered in an open, upstage dressing room. The actors change costumes and characters in this upstage space in full view of the audience as the story unfolds.
Costume designer Mara Gottler adds small bits of clothing such as a skirt, a sash, and a shroud to the basic costume to indicate the role the actor has assumed. This donning and discarding of character becomes part of the show's entertainment: one moment Shawn Macdonald (in a fine performance) is the skirted Queen, and the next moment a tunic-clad rustic. For the sword fighting battle scene (well choreographed by Nicholas Harrison), Rochon has the same actors play both the Romans and the Britons. The quick character changes are evocative of an improvisational comedy show, a strength of this "Cymbeline."
Surprisingly, this audacious director has little experience with Shakespeare. According to program notes, Rochon is involved mostly with collective creations, including her work with The Chop, a small local company. A graduate of the National Theatre School's directing program, Rochon's future with Shakespeare and Bard looks bright.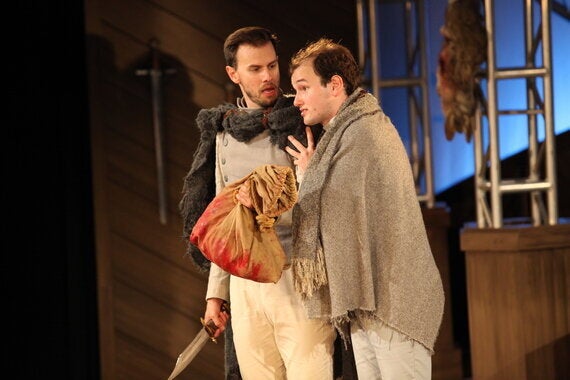 Benjamin Elliott and Anton Lipovetsky as the rustic brothers (Photo credit: David Blue)
Excellent acting is vital to this production's success. The show's star is Lipovetsky as the naïve Posthumus, the conniving Cloten, and the winsome Arviragus. Lipovetsky's character changes exemplify the success of Rochon's idea. In one sequence, Cloten (Lipovetsky) and Guiderius (Benjamin Elliott) engage in a sword fight that continues offstage. When Guiderius returns to the stage with Cloten's head in a bag, Arviragus (a recostumed Lipovetsky) steps onto the stage to learn of Cloten's demise. This is not only careful staging, it is a bit of the dark humour Rochon executes so well. In the play's final sequence, Lipovetsky plays two characters that are onstage at the same time. The onstage shifting is so funny and distracting it (mercifully) upstages Shakespeare's perfunctory denouement.
The cast features many fine performances, including Gerry Mackay as Cymbeline, Macdonald as the Queen and the rustic dad, and Elliott in roles that include a rustic brother and a snooty doctor. Bob Frazer is excellent as Iachimo, the play's villain whose arrogance and duplicity earn our enmity. He is also good as the belligerent emissary from Rome who confronts the King and threatens him with war. Anousha Alamian is good in the small role of Posthmus' loyal attendant. Finally, Cairns is excellent as Imogen, a tough-minded, clever young woman who risks her life for love. She is the touching core of this wonderful theatrical enterprise.
"Cymbeline" by William Shakespeare, directed by Anita Rochon, is at Bard on the Beach Shakespeare Festival in Vanier Park in Vancouver until Sept. 17. Buy tickets here.