The action of Shakespeare's "The Tempest" is controlled by Shakespeare's most powerful character, Prospero. The magician and deposed Duke of Milan controls himself and his island prison, his daughter, the other characters, and the elements themselves.
When he creates a storm that destroys a ship and brings his enemies and usurper to his island, Prospero is not looking for vengeance. He wants only to restore order. He's a human with self-control, a god without ego, a humble and wise wizard. Managing his well-earned anger, Prospero brings reason to his emotion and rises above the violence with which his usurping brother has treated him.
The role is monumental. The character brims with emotions including love, rage, disappointment, and sadness. He is old and nearing his death and so thoughts turn there as well. Bringing these varied character qualities together is a titanic task. Actors dream of someday playing Prospero. It's too bad, then, that the current Bard on the Beach lacks an adequate Prospero.
Allan Morgan's portrayal is tentative. His Prospero seems shy. Morgan seems to cower beneath the role, never fully inhabiting it. His voice lacks confidence. This is a meek and gentle magician, a follower. It's all wrong. Morgan hasn't the stature for the role. A good character actor, he fails to command the stage as arguably Shakespeare's most powerful character.
The speeches pour from Morgan's mouth as unintelligible garble. He does not enunciate well nor does he communicate well. It's not enough that an actor understand a speech written in Shakespeare's tangled syntax and extended metaphors. The actor must communicate it and neither Morgan nor most of his fellow performers manage the speeches.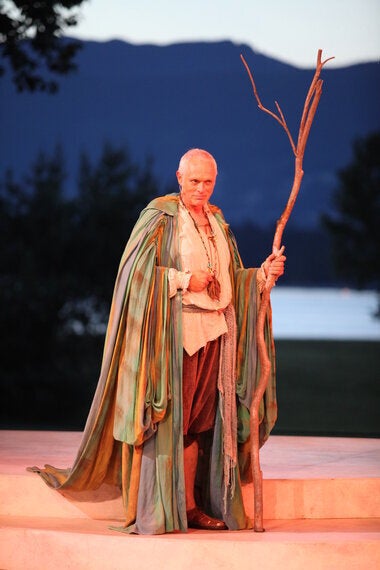 Allan Morgan as Prospero, the magician. (Photo Credit: David Blue)
The only actors at home in Shakespeare's verse are Scott Bellis and Bernard Cuffling in small roles, and Jennifer Lines as Ariel, in one of the play's largest roles. Lines' Ariel is very good. She is a genuine jewel in this production, demonstrating her character's devotion to Prospero, her master, and a longing to be free of his endless demands. She bridles at his continued control and performs her assigned tasks grudgingly. This Ariel is intelligent, resigned to service but full of hope.
Director Meg Roe succeeds with the play's overall shape but her actors don't measure up to her ambition. The royal castaways and their retinues, in particular, provide mainly flat performances. On the positive side, most actors are beautifully costumed in ostentatious 18th-century royal wear by designer Christine Reimer.
Miranda (Lili Beaudoin), as Prospero's besotted daughter, and Ferdinand (Daniel Doheny), as her suitor, are played as bland place-holders. They hold hands, swoon, moon (in the polite sense), and crave a kiss. The romance is perfunctory, performances the same. As the play's romantic subplot, a treatment of first love and love at first sight, it should be much more: a celebration of innocence in the face of so much court cruelty and deception.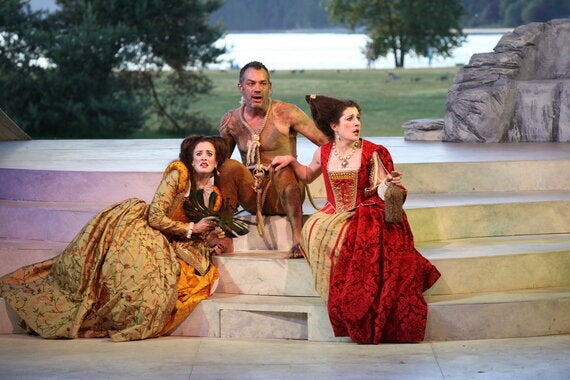 Luisa Jojic as Trincula, Todd Thomson as Caliban, and Naomi Wright as Stephana. (Photo Credit: David Blue)
The comic subplot is the outstanding element of this production and its success makes the balance of the production palatable. Stephana (Naomi Wright) and Trincula (Luisa Jojic) are ladies of the court, washed up on a desolate little part of the island where they gather themselves and regard their new, rugged surroundings with horror, still wearing the elaborate 18th-century ball gowns (think Cinderella's step-sisters) that somehow survived the shipwreck.
Purists will complain that these roles are written for men and they will be factually correct. They will complain that gender shifting subverts Shakespeare's intention and they will be quite wrong. The shift proves inspired. The ladies of the court encounter Caliban, Prospero's disgruntled prisoner, and together the inept three plan Prospero's assassination.
The female comedy team that emerges combines verbal assaults on one another, the progressive effects of excessive drinking, and a lot of physical comedy that involves much falling down. Think Lucy and Ethel, or Edina and Patsy.
The dresses look absurd in this rugged environment and take a beating that challenges the women's fundamental sense of class superiority. Once again, the essential costuming comes from Christine Reimer. These self-absorbed and drunken women are an endless frustration to Calilban, their humourless co-conspirator well played by Todd Thomson. Performances here are well directed by Roe.
"The Tempest" by William Shakespeare, directed by Meg Roe, at Bard on the Beach Shakespeare Festival at Vanier Park, Vancouver, until Sept. 20. Buy tickets here.