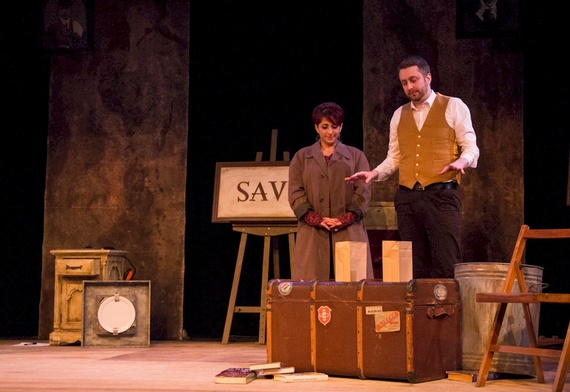 Rob Drummond in "Bullet Catch" and an audience volunteer (photo credit: Megan Verhey)
"Bullet Catch" is a magic show that will delight you with illusions and charm you with the magician's easy rapport with the audience. It centers around magician Rob Drummond and the legendary Bullet Catch trick, which has claimed lives since it was invented in 1613. In the trick, the magician invites an audience member to shoot him in the mouth from across the stage. He will catch the bullet in his teeth.
Drummond also wrote and co-directed this Vancouver PuSh Festival participant from Glasgow. It has toured the world to sold-out houses, according to Arts Club media material. The show is wholly entertaining and unforgettable. An important element of the performance is the historical stories he (and his assistant) tell of the "dangerous" trick. The play is inspired (we're told) by William Henderson, a magician who died attempting the trick in 1912.
An audience volunteer (Katey on opening night) takes the stage as the show begins, and spends the entire performance there. Sometimes she assists with an illusion, sometimes she reads from a card in monologue about magic's history, sometimes she answers very personal questions and Drummond must guess her thoughts. At other times, she is asked if she will shoot him at the show's conclusion. She will not promise that last element of the performance, but also does not refuse. Instead, she suggests they take the show one step at a time.
Katey shows a distinct lack of inhibition. Is she a plant? Well, that is always possible. But the show would work, I think, if she really were an eager volunteer. In the end, it doesn't matter. The show is not about the tricks, but about a growing rapport between Katey and Drummond, and a simultaneous rapport between the two and their audience.
We see some mind-reading at the start of the show, and later a small table rises and floats in the air. We learn more about Henderson (the failed magician) and Drummond tells us that some people still wonder if his death was really a suicide. This is pretty heavy, but Drummond is full of charm and always returns levity to the performance. He is very likeable, even ad-libbing on occasion.
We're told of the planned finale when the show begins, and spend the balance of the evening wondering if Drummond will survive. We worry. Of course it is an illusion. We realize (perhaps) during the performance that it is not possible that a Katey will shoot a real bullet at the actor's face. Still, we buy into the drama, a testament to Drummond's skill as an actor.
The finale is full of surprises I'll not reveal here. I'll only say the play is more sophisticated than it appears, and Drummond is a fine writer as well as a good magician. Well directed by Drummond and David Overend of Glasgow's Arches Theatre.
"PostSecret: The Show" also opened last week. Created by four artists, including locals TJ Dawe (director) and Kahlil Ashanti (actor), it is a stunning stage adaptation of the popular website. With the website (and postcards), individuals have been disclosing secrets to Frank Warren since 2004.
Participants are invited to post a secret they have never shared with anyone. As Warren, the Maryland artist who conceived the project, writes in his program note, the "performance is a love letter to PostSecret."
Director Dawe, in his program note, tells us the show's text is almost entirely taken from submissions to the site or directly to Warren by postcard. The concept, that it is therapeutic to reveal secrets -- even anonymously to strangers -- is fascinating. Indeed, one section of the show is devoted to secrets that focus on suicide. This is a serious topic, but it's one that fits a show that is both hilarious and touching. The show itself raises money for suicide prevention. The house program provides phone numbers for local crisis lines.
The project began in 2004 when artist Frank Warren invited people to send him anonymous postcards with secrets written on them. He then posted them as part of a gallery exhibit, but the postcards kept coming.
Part of the show is video in which the texts of secrets are creatively designed for reading. More secrets are recited by a group of three talented actors, Ashanti, Ming Hudson, and Nicolle Nattrass. The show's final thoughts, not to be revealed here, are truly enlightening.
The show is very good. Not a drama or comedy, it's a conceptual piece that owes a great deal to the artistic team, guided by director Dawe and inspired by the important work of Warren. Dawe is best known to audiences for his Fringe shows, including the recent "Medicine," which also had a run at the Firehall.
Dawe trusts his material and is rewarded with a very intimate, touching production. Before the show and at intermission, audience members are invited to write a secret on one of the postcards provided in the lobby. These contributions may be read aloud after intermission, or during a subsequent performance. All are anonymous. This means that in the second half of the show we may hear a secret that belongs to a member of our own audience. An exciting notion.
What you need to know:
"Bullet Catch," by Rob Drummond, directed by Drummond and David Overend, part of Vancouver's PuSH International Performing Arts Festival, produced by Glasgow's Arches theatre, at the Arts Club Revue Stage until Feb. 7. Buy tickets here.
"PostSecret: The Show," created by Frank Warrren, TJ Dawe, Kahlil Ashanti, and Justin Sudds, directed by TJ Dawe, at the Firehall Arts Centre until Feb. 7. Buy tickets here.