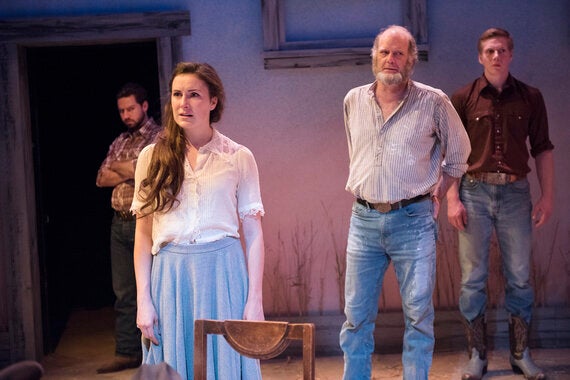 Kenton Klassen, Pippa Johnstone, Andrew Wheeler, Ryan Scramstad (Photo credit: Emily Cooper)
There is something wrong with "The Rainmaker" production at Pacific Theatre.
N. Richard Nash's play (1954) presents us with a family somewhere in the American Midwest during the depression. The ranch family is suffering tremendously from a drought. The cattle are dying and the heat is unbearable. In addition to the parched land is the drought in daughter Lizzie's romantic life. Her father and brothers worry she will never get married. Why? Because she is plain.
Lizzie is the key character in the story and is well played by Pippa Johnstone. She provides one of the two good performances in this production. We believe she is ashamed of her looks and her life, that she lacks confidence outside of the home she keeps for her brothers and father, and that she feels socially hopeless.
When her father points out that she's too serious a girl to get a date, she play-acts how the foolish girls behave around men. It's a funny scene but is steeped in pathos. Lizzie is jokingly performing the flirtatious man-seeking she could never endure in public. Johnstone gives us a serious, unhappy Lizzie who wishes her family would just shut up about her likely "spinsterhood." She shows us a character who resents the imagery (the drought) that the play uses thematically to reflect her state.
Trouble is, Johnstone is just too young and too pretty to give us a plausible Lizzie. So though the performance is excellent, the visual creates confusion for the audience and undercuts the theme of the play. Lizzie needs be in her 30s for the family to be in such a panic. Katharine Hepburn was in her 40s when she played the film role in 1956. As it stands, this Lizzie makes the family look a bit crazy for treating her like she may be on her way to being an "old maid." She looks like a debutante.
Andrew Wheeler is excellent as H.C., the father. Wheeler brings his character's years of world weariness to the role. He's seen droughts before and knows they always end. His cattle are dying, but he takes it in stride while his less experienced children worry. Wheeler plays a slow walking, slow talking rancher. His beard, haggard face, old cowboy hat, and boots speak to a life of hard work. And his love for his children -- even for the annoying Noah (Kenton Klassen) -- is obvious.
The brothers and one of the police officers seem like theatre students in their earnest, rather simplistic portrayals of complex characters. Not amateur, just in over their heads.
Directing is another key problem. Not only is Ron Reed's casting wrong, but thematically and dramatically his production suffers.
The key to "The Rainmaker" is the arrival of Starbuck, a con man who claims he can make it rain in 24 hours if he receives $100 up front. H.C. and his son Jim (Ryan Scramstad) are eager to pay the ma evenn though his promise is so ludicrous. H.C. is an intelligent man. Jim is a little daft, but he is not completely stupid. The production is missing something here: desperation.
We need real desperation on the part of H.C. We need him to be so desperate to return health to this ranch and to his family, so weakened by the heat, that he can entertain this absurd proposal. Director Reed (Pacific Theatre's artistic director) needed to show us more suffering and more heat-addled thinking for this dramatic sequence (which leads to the play's climax) to be plausible.
Also mishandled is Robert Salvador as Starbuck. He needs to be less cartoonish. From the moment he arrives at the house he behaves like a conniving rip-off artist. We need a softened con artist, one who is better at drawing the family into a well rehearsed con that can give hope to hopeless -- but intelligent -- people.
The play itself is interesting enough, and the characters strong enough, to sustain our interest for more than two hours. It premiered in 1954 with Geraldine Page as Lizzie and received a Broadway revival in 1999 with Woody Harrelson as Starbuck. As an exercise for young actors, this production probably works well. As a coherent piece of drama, not so much.
"The Rainmaker" written by N. Richard Nash, directed by Ron Reed, runs at Pacific Theatre in Vancouver until Nov. 1. Buy tickets.