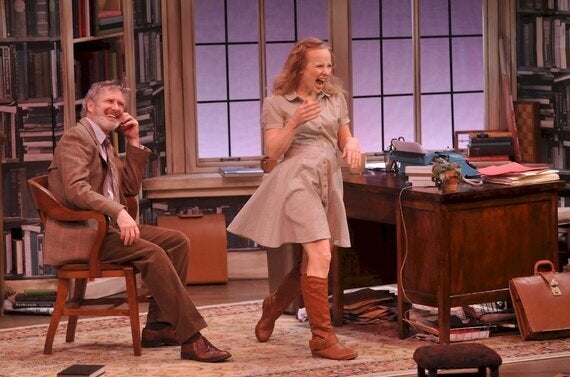 Scott Bellis and Holly Lewis (Photo credit: Murray Mitchell)
"Educating Rita" is the stage version of the well-known 1983 film starring Michael Caine and Julie Walters. Anyone who enjoyed that film will like this production on the Arts Club's Granville Island stage. Good performances and a remarkable set by Drew Facey provide an entertaining treatment of a pretty ordinary play.
Rita (Holly Lewis), a hairdresser, aspires to join the world of those she considers her social and intellectual superiors. To better herself and climb the social ladder, she registers for an English literature class at the local university. Her professor is Frank (Scott Bellis), a burnt out alcoholic who hates his job. He doesn't have the patience to teach anyone. Over the course of one year, mutual dependence grows and conflicts inevitably occur.
Directed by Sarah Rodgers, the premise of the play is well explored and the characterizations are mainly well developed. If the story itself is contrived, Rodgers gives it some edge by focusing on the two colorful characters. She brings them to life with imaginative blocking and excellent comic timing.
Bellis shows a delightful level of personal misery that changes as he grows increasingly charmed and enlivened by his unlikely student. He clearly demonstrates Frank's (subdued) joy as his love of literature is rekindled and his dormant flirtation skills reawakened. We wonder if the connection will turn romantic, a not-too-subtle subtext that keeps us guessing right up to the end. Bellis shows us Frank's emotional confusion.
This production has some problems. At the start, Lewis is too relaxed. After all, she's in the office of a total stranger, and even the most extroverted person (which Rita may be) will show some intimidation in the presence of person she considers her social and intellectual superior. Lewis needs to slow down a bit, which includes her line delivery. By racing through the text (a director's choice), combined with a too-thick Liverpudlian accent, we are often left baffled by incomprehensible language. The comedy is properly timed, but much of the humour falls flat because the punchlines are indecipherable.
The script's main weakness is the portrayal of Rita's disillusionment. Her discovery that all is not perfect in the world of young intellectuals feels like the playwright's afterthought. This plot element evolves too quickly and feels implausible. And that's too bad, because the sequence is thematically essential.
Facey's set surrounds the playing space with mountains of books, some real and some painted onto the scenery. It's as if Frank is protected by his walls of words -- but is also drowning in them. The effect is overwhelming and an excellent depiction of Frank's inner life.
Rita is at first overwhelmed by the towering sculptures, but over time becomes increasingly comfortable in the environment. As she grows familiar with literature, though, the books no longer intimidate her.
Educating Rita by Willy Russell, directed by Sarah Rodgers, at the Arts Club on Granville Island, Vancouvver, until October 25. Buy tickets.