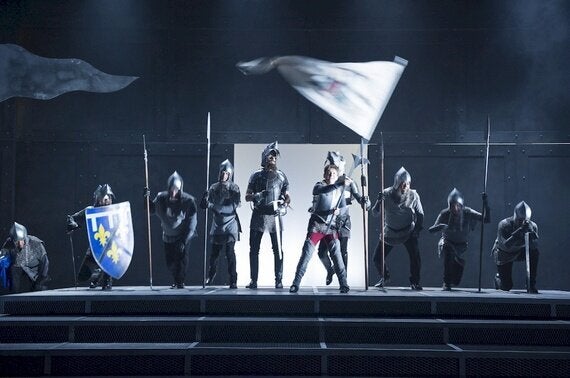 The cast of Saint Joan (photo credit: David Cooper).
Bernard Shaw is a chatty playwright. That is, his characters talk a lot, making points that are intellectual, thoughtful, funny, and often times boring. Many people hate Shaw because they find his work too self-righteous, didactic, and dull. Shaw can be hard to love.
Still, he wrote some very good plays. Think "Arms and the Man," "Mrs. Warren's Profession," "Pygmalion." All funny and provocative even if you disagree with the playwright. "Saint Joan," a late play (1923, when much of his work was done before the First World War), is not funny. It is deadly serious and therein lies the special challenge of the fine play. How do you take a bunch of Medieval bureaucrats and enliven them to the point where their chatter about Joan is interesting, even compelling, even dramatic?
The shear theatricality and a couple of performances are the great successes of the new Arts Club production. The first act ends with the storming of Orleans. Actors race from the stage, up the aisles of the Stanley Theatre, and climb a ladder to the balcony where Joan stands triumphant. Blackout. Those who will call this anti-intellectual and anti-Shavian are likely correct. It is also a great theatrical moment that establishes Joan's power in battle and ability to win respect. Director Kim Collier has carefully conceived and choreographed a vital dramatic moment. Set designer Pam Johnson has dressed the event well.
Johnson has provided an intriguing and unusual set. Levels of the stage are built up like a wedding cake. The top layer (we discover) has the ability to spin completely around, horizontally. This is used to establish a change in scene, but more importantly, it spins during Joan's trial. Against the intellectual banter of the debate, the scenery itself is subverting the scene and drawing our attention to how circular the arguments are. If the movement upstages the scene, so be it. It gives us a sense that things are spinning out of control, and that's exactly what's happening.
But "Saint Joan" needs much more than special effects to work. The trick, as with any play, is to make the characters live. No matter that their personas are indistinct in the text and their conversation often repetitive or irrelevant. The director must give them life: make each character an individual, make the scenes sing so that the language comes not from the mouth of Shaw (heaven forbid), but from the mouths of unique personalities, and make the arguments reflections of character rather than mere elements of Shaw's argument.
That's where this Arts Club production really falls apart. Collier has allowed it to be beige rather than lifting it off the page. As characters drone, you kind of wish they'd get on with the execution That's too bad, because these characters are pompous, confused, small-minded, irreligious hypocrites. They are prepared to let Joan burn because secular law and religious dogma force their hands. Also, they disdain Joan for being a heretical sinner and because she makes them look stupid. There's a lot for a director and actors to work with.
Shaw has a lot to say here about religion, politics, power, individuality, and fear, but it all remains a monotonous ruin. Characters do not live, and so the production does not live.
Meg Roe, as Joan (and directed by Collier), has the energy but not the innocence the role demands. She has some of the character's frustration, but not the mystical quality. She comes off not as a confident prophet but only as a verbose teenager: a precocious girl who won't shut up. She doesn't capture our imaginations and win our sympathy. This Joan has little depth and so has trouble making us care.
And we have to care for Joan for this challenging drama to function.
That's too bad for good actors including Dean Paul Gibson as Warwick. He excels with the complicated language and is the best character actor in the production. He is a slow-moving, powerful figure. His pronouncements and carriage are reminiscent of Richard Burton.
Gerard Plunkett provides an excellent performance as Chaplain DeStogumber. In the final scene, he angrily demands Joan's execution, but when he returns to the stage after the death he is defeated and distraught and regretful and altered. "O God, take away this sight from me! O Christ, deliver me from this fire that is consuming me!" he calls out, bringing the play to a satisfying conclusion. Kevin MacDonald is very good in the role of Ladvenu.
"Saint Joan," written by George Bernard Shaw and directed by Kim Collier, is at the Arts Club Stanley Industrial Alliance Stage in Vancouver until Nov. 23. Buy tickets here.