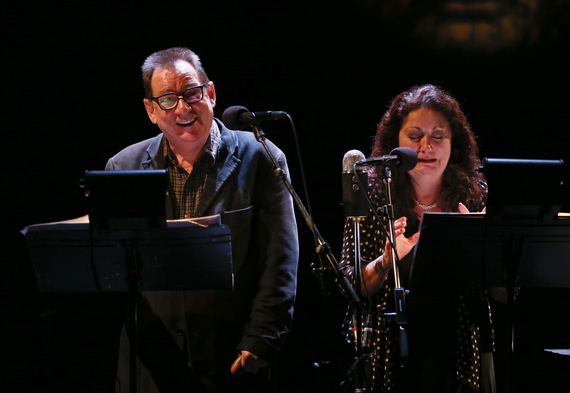 William Samples and Lee Van Paassen star in "All That Fall" (Photo credit: Tim Matheson)
Elderly Maddy Rooney departs her rural home for a long walk that will take her to the end of the play. It's a journey that carries her on a round trip to the train station and home again. Thematically the journey is much more linear: from meaningless life to meaningless death.
Maddy is miserable and she hates her life. She shares her misery and unwelcome cynicism with the fellow villagers she encounters on her way to town. She'll meet her husband's commuter train, as it's his birthday and she wants to surprise him.
This is Samuel Beckett's "All That Fall," a 1957 radio drama staged by Vancouver's vital Blackbird Theatre. It's an extraordinary production that renders a deceptively simple narrative with a sophistication that makes this an important show. The cast of five is excellent. Director Duncan Fraser carefully draws out the several layers of meaning that lie beneath the primary story. The closer we pay attention, the more we understand. Fraser manages to marry the comedy and misery in a show that rejects easy explanations.
Prospective audience members who (rightfully) fear the often baffling playwright, fear not. This play is accessible and entertaining. There is no Godot. Director Fraser has set this radio play in a 1950s BBC recording studio. The audience is watching the drama as if enacted by a team of radio actors. A row of microphones is the second most prominent element of the stage design (Marti Wright). A giant portrait of Beckett overlooks the action. This is one of Fraser's few mistakes. Big Scary Beckett overwhelms the whole enterprise and is an unnecessary distraction.
The play opens with the song of a mooing cow. Welcome to rural Ireland. Chickens are a constant aural presence.
Lee Van Paassen is Maddy Rooney. She gives a superb performance that engages and challenges us. Her Maddy is an angry woman steeped in misery with a ribald sense of humor and a dream of love. This performance gives us keen insight into a character full of contradictions. Why the walk to the station to surprise the dreadful Dan? Maddy is trapped in an unhappy marriage but Van Paassen manages to portray her internal contradictions and ultimately makes sense of them. Maddy needs Dan. People need each other. Life needs death.
One scene is a comedic gem. Mr. Slocum (Adam Henderson) offers Maddy a car ride to the station and she accepts. The ensuing scene, where Slocum helps Maddy squeeze into his auto, is simply hilarious. Van Paassen presents a character who speaks with a light-hearted vulgarity despite her dominant mood. Sound effects (by Chris Cutress and Scott Zechner) are essential to the comedy.
At the station a local boy leads Maddy's blind husband, Dan (William Samples), to her. His train is five minutes late and Maddy wants to know why. He pleads ignorance. Samples shows us a man frustrated and annoyed by the question. He is an angry and impatient man. Is he hiding something?
Samples' Dan is quiet and hateful with notes of emotional weakness and easy cruelty. As the two walk home in the rainstorm their marriage seems to be heading downhill. He asks Maddy if she has ever wanted to kill a child. Samples is chilling. Maddy and Dan, we've been told, lost their infant daughter, Minnie, decades earlier. The two continue to walk and Maddy asks Dan to hold her tighter. The actors show us the desperate clinging as the two stand side by side before us, demonstrating mutual need. Together, they are a barricade against loneliness. They may even share love. Surprise.
Actors Leanna Brodie and Gerard Plunkett are very good in smaller roles.
Blackbird has produced a marvelous, provocative piece of work. This is an artistic triumph for the director, Duncan Fraser, and a showcase for excellent acting.
"All That Fall," by Samuel Beckett, directed by Duncan Fraser, produced by Blackbird Theatre, at the Cultch in Vancouver until Jan. 24. Buy tickets here.