The nine-year-old boy was covered with tears and sweat when his mother finally found him. He had been missing for hours, and his family feared that they would never see him again. But after many hours of looking they discovered Sayan, reeling, shaking and wandering amidst the rubble.
Sayan is one of thousands of Nepalese children coping with untold trauma since Saturday's earthquake. There's no question that some of their needs are physical ones like food, water and shelter. But because of their young age, children can be affected by disasters like earthquakes far more deeply than most adults.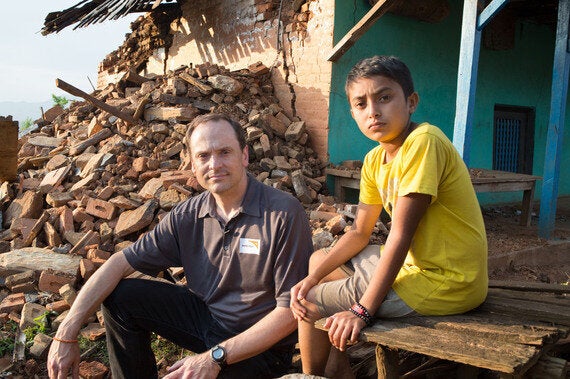 World Vision Canada's incoming president Michael Messenger is on the ground in Nepal, meeting with children like Manoj who survived Saturday's devastating earthquake.
"I don't have the confidence to even go and see my house, imagining the destruction I have seen in front of my eyes," says Sayan's adolescent sister, Sandhya. "But there is so much disturbance here in the tent with too many people inside it that I have not been able to sleep well."
Whether they live in the capital, Kathmandu, or remote communities like Deurali -- which the World Vision team reached yesterday after a half-day's travel on foot -- children's needs are both urgent and complex.
That's why, as we respond with urgent care for survivors, World Vision has opened one of our child-friendly spaces. As we've learned in countless emergency situations overseas, nightmares, withdrawal, and the debilitating fear can be common amongst children. They need stability, predictability, and a chance to relax and play. In a child-friendly space, children are encouraged to draw what they've experienced. Trained counsellors are available to listen, and provide counselling if needed. When they're ready, children can participate in games and songs.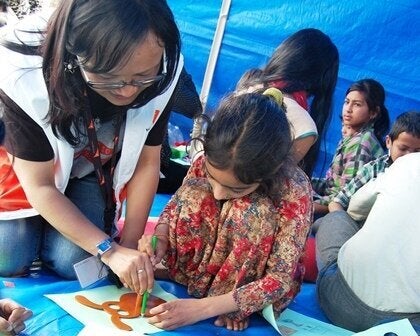 Children get a chance to play and draw in a World Vision child-friendly space, with counsellors on hand if they need to talk.
The unique nature of children's needs is just one thing to consider during a huge emergency response like this one whether you're on the ground in the rubble, or at home in Canada, considering ways to help.
Here are five other things to remember when you respond to overseas tragedies:
Impersonal as it might feel, cash donations are always best. Many generous hearts have been moved by the rising death toll here in Nepal, and the massive needs of the survivors. Thank you for caring, and for wanting to help. Food and clothing donations sent independently from Canada can clog up what one of my Nepalese colleagues called "a three-inch supply line, when a 30-foot one is needed." And while volunteers can help, it's best to do this from Canada, raising awareness of the tragedy and funds for the survivors, rather than travelling to the field oneself. Aid workers on the ground here in Nepal must focus on the needs of those survivors, rather than coordinating even the best-hearted volunteers.
Even in life-and-death situations, disaster response can take time. There's a tendency to assume that lack of money is the only roadblock in emergency response. But natural disasters are, by their very nature, complex. Many factors can delay progress more than anyone would like, including damaged airports, seaports and roads, limited infrastructure in a poor country, or even the presence of aid organizations that aren't part of the overall, coordinated effort. Don't get discouraged if you donate, then continue to see troubling news stories about people in need. Aid is getting through.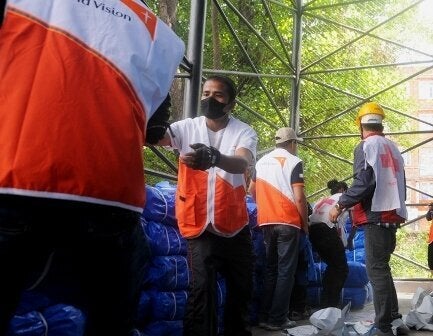 World Vision volunteers unload relief supplies destined for survivors. In one mountain village we visited, our aid was the first they had seen after four days of waiting.
Relief efforts are often better organized than they might seem from a distance. It's all a matter of working together, as part of a coordinated response effort. World Vision Canada is taking care to work closely with a network of reputable aid organizations, as well as the United Nations, the Nepali government and local authorities, to make sure that resources aren't duplicated and help is delivered as quickly as possible. This is especially important in disasters, which are by their very nature chaotic.
Rebuilding must happen over time--not all at once. Helping people is not about spending all the donations as quickly as possible. It's true that time is of the essence in rescue efforts involving the distribution of food, water, shelter and medical care. But experienced agencies know that it takes at least three to five years to help countries re-establish themselves, as homes, schools, roads and water sources are rebuilt, and livelihoods resurrected. World Vision and others must plan carefully, if we're to meet both the present and future needs of a recovering community.
Your help is critical for children and families in Nepal. The Government of Canada is matching donations until May 25, meaning anything you give will double in size. Whether your gift feeds a hungry family in Nepal, rebuilds the home of children like Sayan and Sandhya, staffs a child-friendly space so traumatized children can get counselling, or helps a parent re-establish their livelihood, your gift will help in a very personal way.
Nepal's Miraculous Survivors