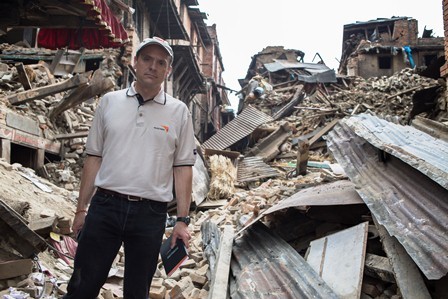 Michael Messenger is preparing to assume the role of president of World Vision Canada. He has just returned from Nepal, where he spent six days meeting with survivors of the recent earthquake.
If you've followed recent news coverage of the Nepal earthquake aftermath, you'll have learned several things. There's a bottleneck in aid delivery, meaning that thousands of people have been delayed in receiving emergency relief. Paradoxically, you may also have heard accounts of life "returning to normal" in some areas, with all gas stations open in one city last Friday. One bakery was even selling fresh croissants as usual.
Having just returned from a week in Nepal, I want to be frank about two things. First, aid agencies including World Vision are intensely frustrated about the logistical challenges. We recognize that there's just one runway in the Kathmandu airport, and that any government would have difficulty coping with a natural disaster of this size and scope. But knowing these things -- and the fact that we've reached more than 10,000 people so far -- doesn't remove the pain of meeting cold, hungry families for whom we don't yet have provisions.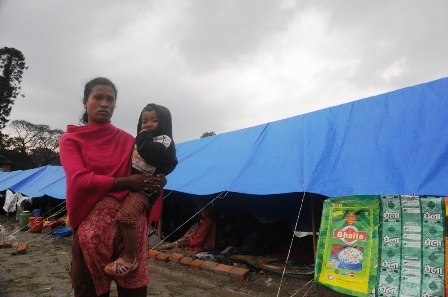 Second, life in Nepal is nowhere near returning to normal, and will not be for many years to come. If your house and place of business had crumbled to the ground, and you were sleeping under a tent in the local park, croissants and gasoline wouldn't mean much -- especially if your children were coping with emotional distress like the children in Nepal.
When I met 13-year-old Rambhakta in Bhaktapour a few days ago, he told me he was dreading going back to school. It wasn't about disliking his teacher, or hoping to avoid fractions. Ram's afraid to find out which of his friends won't be returning to school because they died in the earthquake.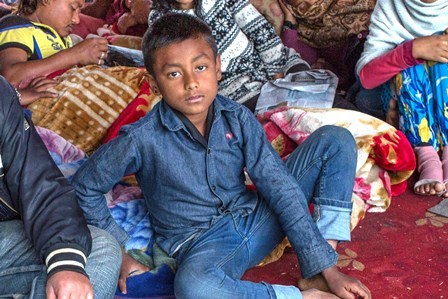 The relief phase of the Nepal response is likely to be lengthy, even after goods are released for distribution. Aid groups are working together in organized clusters, each focusing on an aspect of relief such as food, shelter or water -- as we did after the 2010 Haiti earthquake. Even so, Nepal's geography and limited infrastructure mean relief supplies will need to be flown or hand-carried to many communities in remote mountain regions. Time is of the essence, not only to provide life-saving food and shelter, but also to support families as they plan for the future. Many need seeds to begin planting this year's crop in just a few weeks. Missing that window could mean an extra year of emergency aid.
The recovery phase, when organizations like World Vision shift from aid delivery to helping people rebuild their lives, will take years longer. Nepal's tourism industry is on its knees as potential visitors postpone their dreamt-of trips to climb Mount Everest. In towns and villages across the country, businesses have been flattened. One report says that 5,000 schools have been destroyed.
This brings me to Nepal's children -- the thousands of girls and boys who need care that goes beyond simple food, water and shelter. There's no doubt that 13-year-old Ram would be comforted by a full belly and a warm place to sleep. But a tarpaulin won't keep out the nightmares that may plague him in the weeks and months to come.
Children like Ram need psychosocial support to deal with the emotional challenge of what's happened to their world, including the discovery that many of the people they love have died. That's why World Vision is moving quickly to set up as many of our child-friendly spaces as possible, providing safe places for children to rest, play and receive counselling.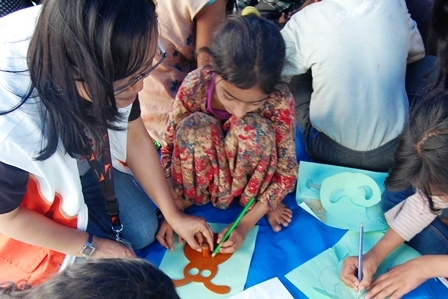 There will be many opportunities for families and communities to heal and rebuild together, as we've seen in other countries. Eighteen months after Typhoon Haiyan in the Philippines, we have a vision of what's possible when aid agencies listen carefully to the needs of the people, and respond creatively. Our cash-for-work program there has provided employment for parents as they've rebuilt their local school or community centre, or cleared and replanted destroyed farmland. New memories are being created. Hope that refused to die in the aftermath is starting to sprout up again.
The path to recovery in Nepal is likely to be long, winding and precarious. But if children like Rambhakta can find the courage to face each day ahead of them, we can't let emotions like frustration, impatience or discouragement keep us back. We will walk beside them.
To learn more or donate to the Nepal relief and recovery effort, visit worldvision.ca
ALSO ON HUFFPOST:
Thousands In Nepal Mourn Earthquake Victims