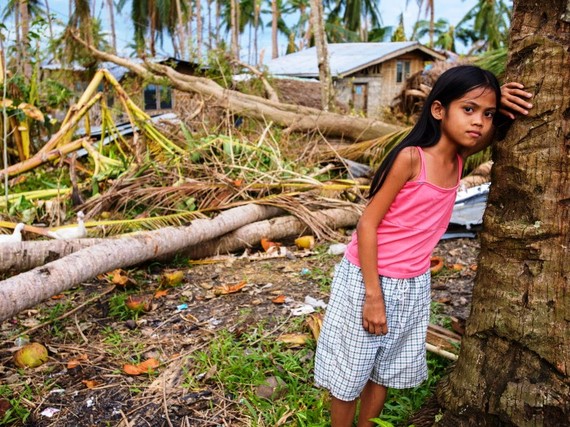 Nine-year-old Baby Claire outside her flattened home last November.
I arrived in the Philippines shortly after Typhoon Haiyan tore through the country last November. In my 15 years with World Vision, I have never personally witnessed such devastation. It didn't seem possible that a single storm could have done so much damage so quickly, showing no mercy for even the youngest and most vulnerable people.
Walking through the flattened villages, I couldn't believe that anyone could feel a sense of hope for the future. Dealing with just one of these things - trees falling on my house, the death of a close family member, or the collapse of my workplace or my children's school - would have been overwhelming back in Canada.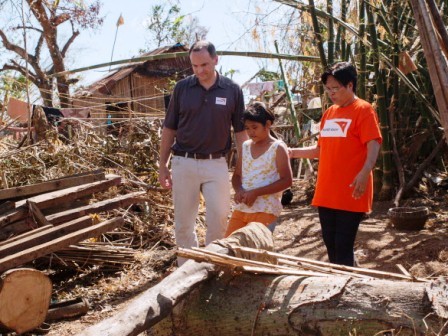 Michael surveys the damage to 10-year-old Rona's neighbourhood, near the city of Iloilo.
Yet I was taken aback by a remarkable sense of hope, even from the families who had lost so many things at once. They showed an almost unbelievable resilience. Combine that with my certainty that aid was going to get through, and I became more and more sure that, with a little help, these families could rebuild their lives.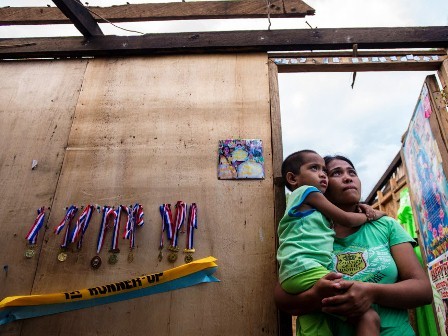 Baby Claire's medals on the wall of her roofless home.
So many of the children we met were focused on getting back to school. A colleague met nine-year-old Baby Claire, who carefully retrieved her school medals from the debris of her house. She hung them on the wall - almost as though she were planting a stake in the future. I watched children lay out their school books to dry in the sun. There was no sense of when their schools would be rebuilt, but they wanted to be ready when the doors opened.
Three months down the road, I'm still amazed by the stories from the Philippines. It's clear that donations have made a significant difference, and I want Canadians to know that their gifts saved children's lives. Because caring people around the world picked up the phone or clicked on a web site, World Vision and other organizations were able to get lifesaving supplies like food, water and shelter to people in desperate need.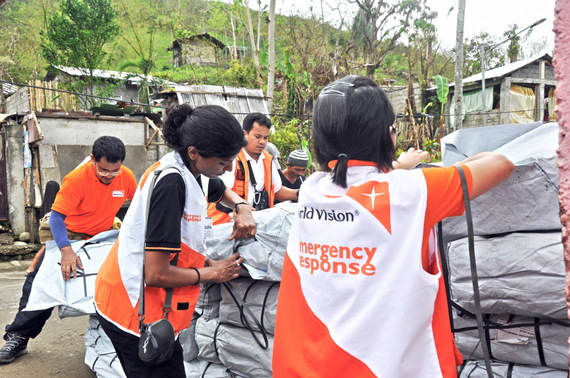 World Vision teams unload shelter kits for families whose homes were destroyed.
I also want donors to know that their gifts are still giving. Children who were shattered emotionally and psychologically by the terror of the typhoon, the deaths of loved ones and the loss of everything familiar are gradually reclaiming their childhoods. That's partly because of the Child Friendly Spaces Canadians helped provide -- safe havens sent up in tents or community centres. Here, children can play, join in with musical programs led by our staff, or continue with their schoolwork.
A Child Friendly Space becomes a temporary learning centre. Routine and normalcy are critical in helping children heal.
The Child Friendly Spaces are about more than just keeping schoolwork on track. Many girls and boys are dealing with deep sorrow, and recurrent nightmares. But sitting quietly with these children, looking at the pictures they have drawn and gently drawing them into conversation, our trained staff provide the counseling that helps children heal. This doesn't happen in just one visit, but over time, children are learning to be kids again.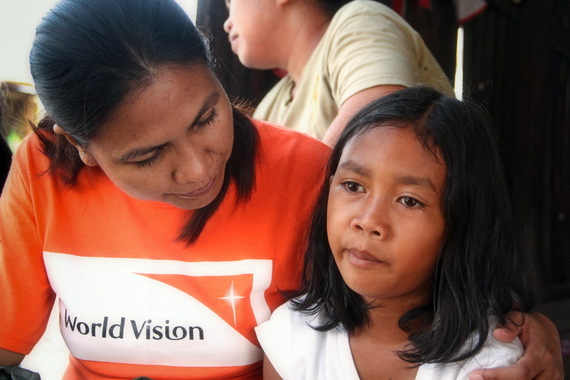 A ten-year-old girl cries while remembering her family huddled in a mango tree during the typhoon.
Here's a sense of how many children Canadians have helped reach through these Child Friendly Spaces:
59 Child Friendly Spaces are up and running throughout the Philippines
20,352 children have visited these spaces over the past three months
Canadians are also helping ensure children and their families don't go hungry, thirsty or sleep out in the open. A child's healing and well-being is about more than just a safe place to play during the day. We know the importance of a warm, dry place to sleep, and a pot of nourishing food bubbling on the stove or fire at day's end. Chances to gather around with family members, share the day's stories, and talk about the future.
Here's how donations from Canadians and others have brought vital assistance to needy families in the Philippines over the past three months:
663,265 people received relief goods, including shelter supplies and hygiene kits
4,894 metric tons of rice was delivered
46,831 families now have access to clean water, hygiene and sanitation
51,252 families received items like blankets and pots and pans
12,712 families were given shelter kits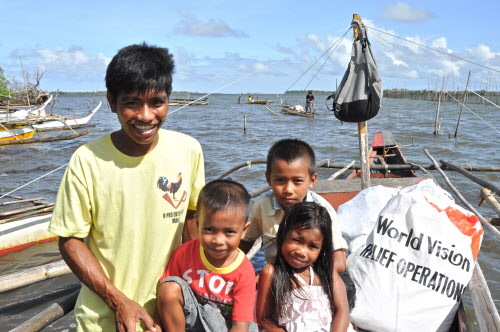 Families from far-flung islands travel home with relief supplies such as cooking sets, hygiene kits, blankets and mosquito nets.
As the months progress, we'll be helping families rebuild their communities in a way that will last. We're working around the clock, along with the Philippine government and other NGOs, to carefully assess the long-term needs for each community. We want to make sure Canadians' donations are used in the most effective way possible, and this means having a good game plan from the start.
The stories from the Philippines haven't come to an end, not by a long shot. We'll keep updating you on our web site about the ways Canadians' gifts are making a difference for families and children. You can also follow along by visiting the World Vision Philippines Facebook page.
If you've already made a donation to the Philippines relief effort, thank you. It's getting there, and it's making a difference.
Two-year old Jake's mom says he's smiling again, thanks to regular meals and playtime in a nearby Child Friendly Space.