The weather's been absolutely beautiful in many parts of Alberta lately, but what's the good in it if you can't safely leave the house?
A daily cycle of thaw and freeze has left sidewalks and pathways in Calgary covered in thick sheets of ice - ice so smooth you could skate on it...but forget about walking.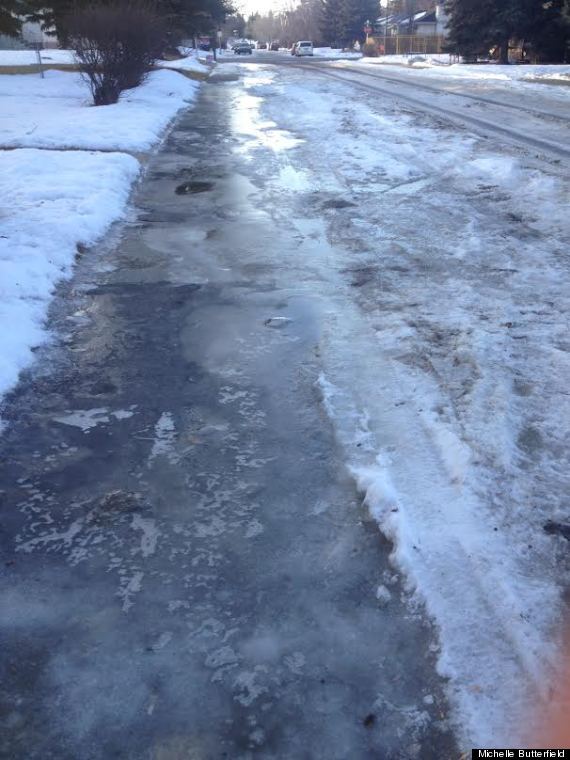 And, apparently, it's not just my clumsy self having a hard time. According to Metro Calgary 30 people fell on icy sidewalks over the weekend and required medical attention for their injuries. Furthermore, officials told Metro is was a combination of public and private property where these injuries occured, meaning the city can't keep up with their own bylaw of keeping sidewalks clear, let alone homeowners.
So, I've taken to walking in the deep snow ruts formed by cars on the streets of my neighbourhood. Snow and ice clearing in Calgary has failed miserably this winter and while I've tried to be patient, it's hard not to get fed up. But I'm certainly not alone.
Last Wednesday the city was inundated with 8,793 snow and ice complaints - an average of 100 calls every 15 minutes. On a normal day, they usually receive 1,200 calls. Coun. Diane Colley-Urquhart expressed her frustration, too, telling the Calgary Sun the city needs to do a better job of snow and ice removal.
Edmonton residents, too, are struggling to keep their walks clear, and the Edmonton Sun reports stores couldn't keep their shelves stocked with salt and sand over the weekend.
Until spring sets in and I am assured safe footing, I've decided that there are several (painful and/or uncomfortable) things I'd rather do than venture out onto the sidewalks of Calgary. Check them out in the slideshow and share your snow clearing horror stories with me in the comments below.
Things I'd Rather Do Than Navigate Calgary Sidewalks
Like this article? Follow our Facebook page

Or follow us on Twitter