I love social media. As a recording artist it's a wonderful way to stay connected to the fans. I remember a time when I use to sit in the back of my tour bus and hand write letters back to the fans. I've always enjoyed that connection and social media for me allows the connections to be more immediate and more often. As a songwriter I simply share my own experiences through songs that I write and when I hear back from people about how they can connect to the story in the song and perhaps they share how it inspired them and it often in turn inspires me.
I joined social media about five years ago and what it has shown me is how supportive a fan is and how important music is in their lives and I hear about it everyday. Communicating on twitter in 140 characters can be challenging but it will sharpen your writing skills.
I'm often asked why I chose @thewrightmusic as my twitter handle and the truth of the matter is it was chosen because Michelle Wright was not available. This is often a fall back position for me to have a little fun with the name "Wright." How can you blame me?
Here are a few of my first tweets: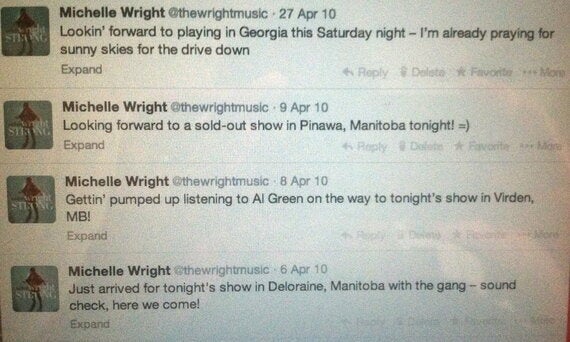 Here are a few of my most recent tweets: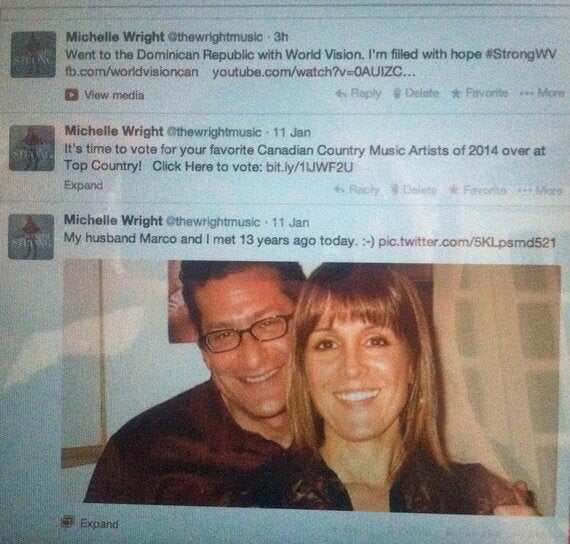 So my first new act of 2014 will be on the stage of social media. On Jan 23 at 9 p.m. EST I am going to do my first twitter chat @thewrightmusic Lots to talk about from my recent trip to the Dominican Republic with World Vision to the release of my new album Strong and the next single and what I'm looking forward to in 2014. Come join me.