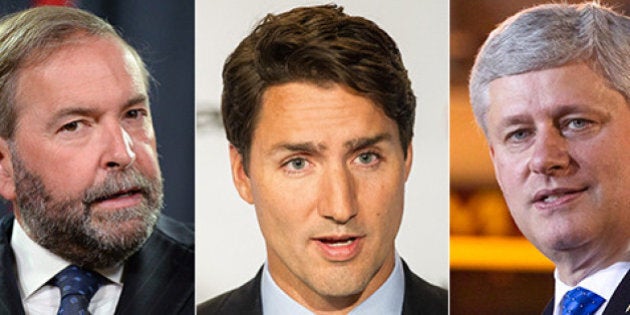 Tom Robinson and I are two long-time Montreal-based office co-workers. As you might deduce from the names, Mr. Robinson is Anglophone while I, Miguel Tremblay, am Francophone. Aside from sharing an office, we enjoy nothing more than a good discussion on an interesting topic.
We often share ideas and conversation topics based on what we read, be it books, magazines or newspaper articles. Based on our specific backgrounds (Tom has family elsewhere in Canada, while mine is located in Quebec), we tend to be aware of different political issues, especially when we compare the news coverage.
In fact, I read Le Devoir newspaper daily, while Robinson is an avid Montreal Gazette reader. During a previous election campaign, we became interested in the different ways in which the francophone and anglophone media cover elections. So we decided to share occasional articles from our respective newspapers. It was useful for me to have Tom, since I could learn about what anglos are thinking and reading and, on the contrary Tom could learn about Quebec's francophone media coverage.
While we share an office, we don't share the same political leanings, as I am an sovereignist, and Tom is a federalist. However, the political discussions remain civil, never heated. We have a great deal of respect for each other and we don't try to convince each other of our political views, but try to understand our different points of view.
Before the current federal election was kicked off, we both decided that we would take the concept up a notch, by sharing a news article in our specific language, but this time on a daily basis. The goal was to explore how different groups receive and interpret election-related news. We called the project "One election, two solitudes" and created a Facebook page and a Twitter account where we post the articles.
One month into the campaign, we feel the project is already helping us notice differences in election coverage. We feel that language and independence issues are where there is the biggest media divide. Satire also differs in each language. The French [political] humour is more cynical. It's more ironic on the English side, more British I would say. Moreover, there is more coverage of the Bloc Québécois in the French language newspaper, than there is in English media, even if we restrict that to the Gazette. Curiously, our project has received more attention from the Anglo-Québec media than from the francophone and we have been interviewed on both CBC Radio One and on CJAD, but none on the Francophone side. However, we still hope to have some Francophone coverage later on in this longest election campaign since Confederation.
Despite kicking off the project for personal curiosity and to encourage Anglophones and Francophones to learn from each other, there is an additional factor keeping us posting throughout the long election campaign: it would be a fantastic outcome if we could encourage people to gain a new perspective and maybe even get them to vote if they don't normally do so.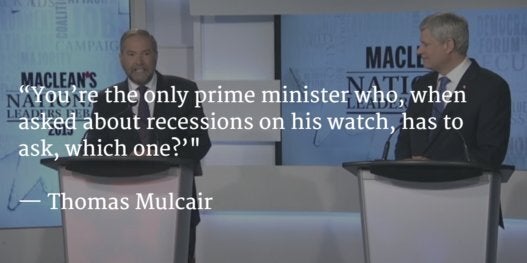 Best Quotes From Maclean's Canada Election Leaders' Debate