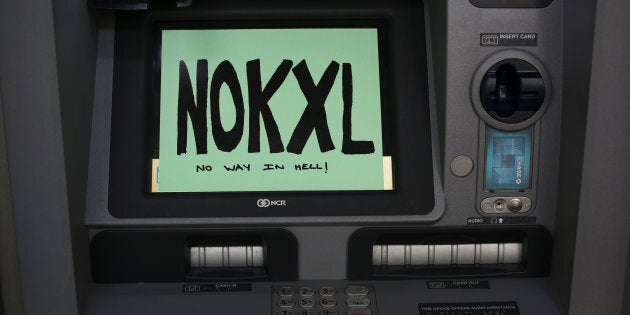 As the price of oil continues to stagger and the growth of renewables picks up pace all around the world, it's hard to understand why our governments are still pushing oil pipelines — but here we are.
Despite all the promises from Canada's yoga-planking prime minister, Justin Trudeau, both he and the disaster that is Trump are slithering forward with three new pipelines to carry oil from Alberta's oilsands to the U.S.A. or the Salish Seas.
These three dirty pipelines are Kinder Morgan's Trans Mountain expansion, TransCanada's Keystone XL (KXL), and Enbridge Line 3. If built, they would threaten drinking water and the Pacific Ocean, trample Indigenous rights, and spell disaster for the climate. It's for these reasons (and more) that people are rising up to stop them.
Led by Indigenous nations across Turtle Island (North America), this movement of everyday people concerned about health, safety and our shared future is utilizing four main tactics to stop these pipelines.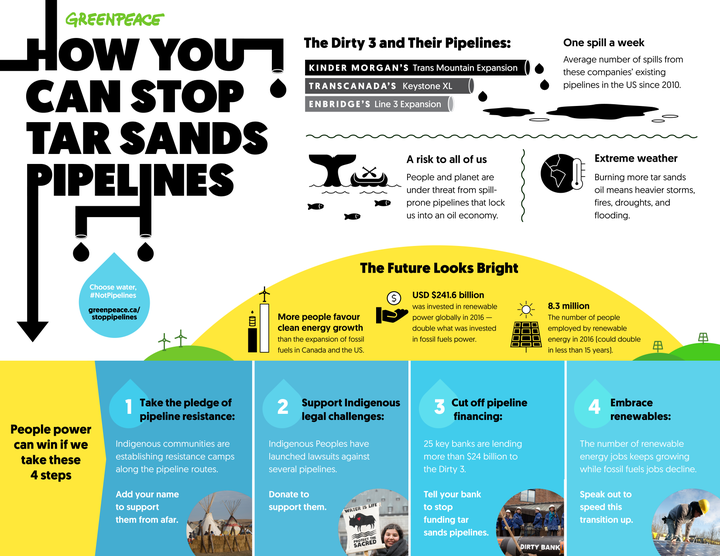 Indigenous communities and allies are confronting these dirty pipelines directly on the land.
Along the Kinder Morgan pipeline route, Secwepemc Land Defenders are building tiny houses, equipping them with solar panels, and putting them right in the pipeline's path through their territory. These Tiny House Warriors aim to build 10 tiny homes (three have already been built) to send Kinder Morgan the message that they aren't wanted or allowed on Secwepemc territory.
More on the Tiny House Warriors:
In Nebraska, farmers are building solar arrays, solar barns, and partnering with Indigenous tribes to plant sacred Ponca corn — all in KXL's path. The arrays are already up and running, producing clean energy and bringing more hope than TransCanada's dirty pipeline will ever bring to Nebraska.
To confront Enbridge, "a protest camp resembling the early days of Standing Rock" has taken form in Minnesota. Makwa Camp started in August on an Indigenous reservation outside of Duluth. It has grown significantly in recent weeks amid nearby regulatory hearings over the Line 3 pipeline. Hundreds of people are now thought to be staying at the camp.
Oppose pipelines in court
Indigenous nations and allied groups are also confronting pipelines in court.
Kinder Morgan's pipeline faces 19 legal challenges. The arguments being heard range from the impact the pipeline would have on endangered southern resident orca whales (likely leading to their extinction), to the lack of safety measures in place to protect residents in Burnaby, B.C. from a large-scale disaster at Kinder Morgan's tank farm, to Cold Water First Nation not wanting to risk their main water supply so Canada can ship more dirty oil to a global market.
On both the Line 3 and KXL routes, lawsuits have also been launched and further and legal challenges are waiting in the wings. Neither pipeline has a legal route forward and it will likely be quite a while (if ever) before they get one.
Take the fight to the people bankrolling the destruction
There are 25 key financial institutions that are the primary sources of credit to the three companies threatening to build new oilsands pipelines. These include nine Canadian banks and a host of U.S. and international banks.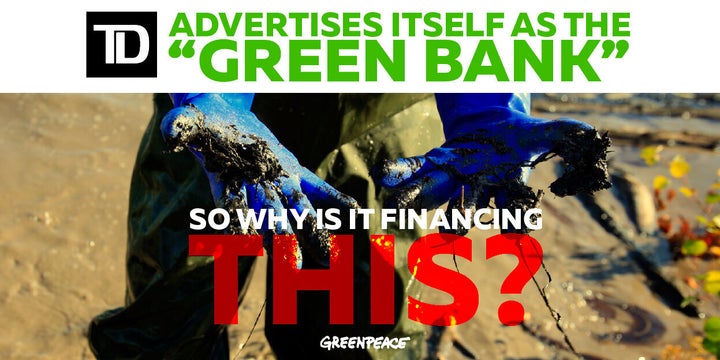 Already, organizations like Greenpeace are trying to cut off financial ties to these destructive pipelines by pushing these banks to get on the right side of history and pull their pipeline funding.
Just recently, an Indigenous-led coalition of organizations led international days of protest against institutions bankrolling pipelines. Mazaska Talks (Mazaska: the Lakota word for money), spurred more than 50 actions at banks across the U.S. and Canada, along with dozens more in cities around the world.
Banks are already starting to take notice. Last month, the eighth-largest bank in the world, BNP Paribas, announced that it will no longer finance "pipelines that primarily carry oil and gas from shale and/or oil from tar sands," and will sever "business relations with companies that derive the majority of their revenue from these activities." This follows a similar announcement by Dutch bank ING and Sweden's largest pension fund, AP7.
Usher in the age of renewables
As resistance continues on the land, in the court and at banks around the world, renewables are taking hold all over the planet.
In addition to all that, auto manufacturers including General Motors and Toyota have committed to phasing out the combustion engine and pledged to go 100-per-cent electric. Entire countries like India, France, Britain, and Norway have made commitments to do the same.
The writing's on the wall: the age of renewables is almost here. It's up to us to speed its arrival and hold off dangerous projects that would send us in the opposite direction until it arrives.
Together, we can turn the tide on oilsands pipelines and usher in renewable energy systems that work for our communities and our environment. By standing with Indigenous defenders on the land, in the courts and at the banks, we will win.