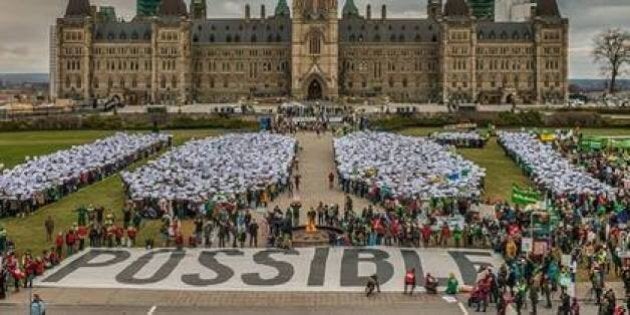 Today was a beautiful day.
All around the world people took to the streets to help give the earth a voice.
From Mumbai to Australia, London to Berlin, Ottawa to Vancouver millions danced, sang, and marched to push our world's elected leaders, currently in Paris for COP21, to increase their ambition, listen to the science and the voices of those most impacted, and lead the world out of climate chaos.
Today I was one of those millions. I marched in Ottawa in a sea of 25,000 in the largest climate rally in Ottawa's history. It was a beautiful day. People young and old joining together. First Nations, Metis and Inuit peoples from territories near and far sang and drummed and lead the way.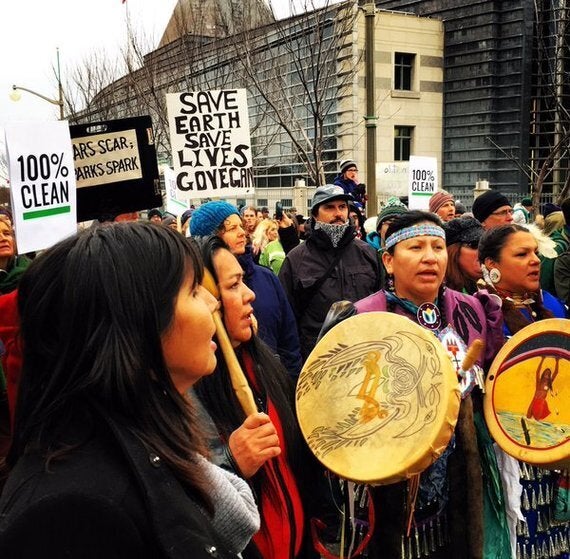 We came together to push for solutions. To push for pathways out of the chaos that can not only save the planet but address our systemic economic and social inequalities as well.
We have the technology, we know a 100% renewable energy future is not just 100% necessary but 100% possible as well. All over the world solutions are being implemented. Whole cities, states, provinces and countries are on the road to 100% renewable energy. Some have already completely greened their electricity grids, others are rapidly moving their transportation fleets.
The only thing preventing a speedier uptake are the powerful fossil fuel interests that are pushing the other way.
We used to think these companies were unstoppable but over the last few years we changed that story. Because of people powered fights like Keystone, Enbridge and the rise of the push for Indigenous Rights we have learned that we can go up against the biggest of foes and we can win. We found that we are the doers of the impossible and that we could help be the unstoppable force the world so desperately needs.
Our biggest challenge is still before us. We have won many wars but the planet still rests on the brink. So we must continue to work to keep the fossil fuels in the ground, to stop the pipelines and refineries, and to speed the solutions.
Today I think the world let us know that all around the planet people are ready for that fight. We have allies in the millions. There are people pushing with us that we will never meet but they push with us nevertheless. That's the beautiful strength of this movement.
Our new government should take note. 100% renewables is 100% possible and nothing less will do.