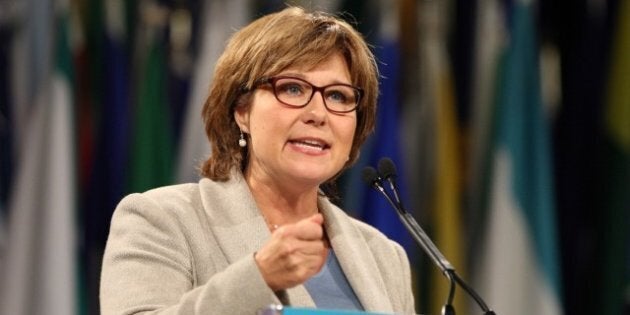 Last Friday evening, Sharon White, the BC Liberal Party's good-natured volunteer president, was smiling like a kid who just got a new bicycle for Christmas. The first full day of the 2012 B.C. Liberal convention (tagged #BCL12 on Twitter) was at an end, and she was standing in the foyer of a social gathering just outside the host venue in Whistler. This was the first convention organized completely under her watch, and she had not anticipated the overwhelmingly positive reaction from party members after an unscripted open mic event took place on the convention floor.
The giddiness felt by White and other party members was not necessarily reflected in the media's coverage though. All of B.C.'s top political TV and newspaper reporters and pundits were in attendance, though some admitted to me they were there to observe a party in its death throes. Instead they witnessed hundreds of delegates -- and the politicians they support -- who were unabashedly upbeat.
Pollsters and pundits have written off the re-election fortunes of Premier Christy Clark and her B.C. Liberal government. Yet inside the standing-room only ballroom at the Fairmont Chateau Whister the enthusiasm for Clark and her team was palpable. There was no comparison to the party's last convention in May 2011, where the ranks were visibly exhausted after a four-month long leadership contest. This crowd was pumped.
With party members queuing up to share their comments and/or concerns into a microphone during an event dubbed "Free Enterprise Friday," in front of hundreds of onlookers and media and live-streamed onto internet webcasts, no doubt White and the organizers were bracing for a possible gaffe. Someone might go far off-script, and by doing so define in the public's mind this otherwise carefully orchestrated and costly gathering of party faithful.
In fact, if you spoke to party members afterward, to a person they felt inspired by what they had heard during the open mic segment. One person who identified himself as a B.C. First Nations youth from Victoria talked about his support of free enterprise to improve the fortunes of his fellow band members.
Another 40-something woman from Abbotsford who described herself as a reformed political "couch potato" described how she would now move heaven and Earth to get her colleagues to support their local B.C. Liberal MLA in the next election.
In a time when political campaigns are so pre-programmed, the words of these B.C. Liberal grassroots members were almost defiant in their authenticity. Hence the party president's ear-to-ear grin.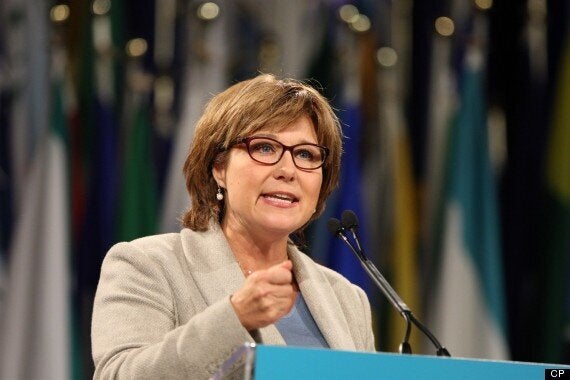 It was not only live video that beamed out of #BCL12 -- Twitter also supplied a steady stream of bulletins from the convention floor. Social media has become the great equalizer of politics because no single entity can control it. Everyone with a modest understanding of these tools is able to join the ranks of the punditocracy if they choose.
Look no further than the Sunday morning TV political chat programs to see Twitter's influence on political coverage. Not only is every panelist tagged with their Twitter handle, entire program segments are now devoted to discussing noteworthy tweets.
Much to the delight of political organizers, the traditional way we have received our political news -- through journalists, pundits and media broadcasts -- is being increasingly subverted by social media. And there was no clearer example of this than during a 90-minute presentation on Saturday afternoon that was closed to everyone but B.C. Liberal Party members.
Media and observing members of the opposition were politely asked to step outside the Fairmont ballroom -- not an unusual practice at a political convention. Inside the hall speaking to a packed house were political gurus Don Guy and Stephen Carter, whose campaign management skills helped to elect underdogs Dalton McGuinty and Allison Redford respectively. Carter first earned national prominence by running Calgary Mayor Naheed Nenshi's innovative campaign.
Though they were standing outside, the assembled media could barely miss a word that was spoken. They huddled near the doors, picking up enough sentence fragments to be able to make out what was being said. In a lighter moment, CKNW's Sean Leslie tweeted a photo of his colleague Stephen Smart of CBC-TV listening intently with his ear pressed to the door.
Inside the room the fingers were not at all idle either -- delegates tweeted what was being discussed. The buildup of interest -- undoubtedly piqued by the closed doors -- caused #BCL12 to trend across Canada, with thousands of followers hanging onto the words of the political masterminds Guy and Carter.
From the campaign's standpoint it looked like a stroke of genius. Radio-Canada reporter Sophie Rousseau tweeted what by this time was obvious. She called this closed door session an "inspired gatekeeper bypassing strategy" which amounted to a "controlled leak."
However, not everyone thought it was so clever. Longtime Vancouver Sun political pundit Vaughn Palmer summed it up this way:
"It became readily apparent that the traditional methods of gathering what goes on behind closed doors were being superseded by the age of social media."
Palmer went on to deride the whole affair:
"When the parties go to this much trouble to make themselves look ridiculous, you don't need to do anything more than take notes on what they are doing and report it."
If you ask me the Radio-Canada reporter understood how the game was being played, not the Sun columnist. If convention organizers truly wanted to bar the media they could have shooed them all down the hallway, and asked delegates to holster their iPhones. Instead, the news that the Butch Cassidy and the Sundance Kid of Canadian politics have taken up with the B.C. Liberals landed on wireless devices from coast to coast. Best of all , their NDP opponents heard it loud and clear.
Campaign organizers will surely embrace more of these kinds of strategies -- however "ridiculous" -- that amplify their brand message straight to voters.
During the convention B.C. Liberal organizers and advisors like Guy and Carter preached the value of authenticity in politics, and put their faith in the party's delegates to keep it real. With all the streaming video, the unbridled Twitter activity and uploaded images, it all could have gone terribly wrong. Instead, they knocked it out of the park.
For the traditional gatekeepers of political news in the mainstream media, #BCL12 should be a wake-up call. Whether they like it or not, their role in covering a political event like this was forever altered now that parties can make this direct connection with voters. To stay ahead of the curve in this new era of politics, they're going to have to find new ways to tell the story.