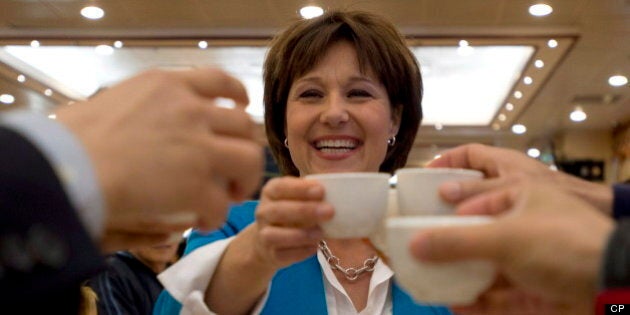 Last September, while swimming against a tidal wave of negative public opinion, I predicted the BC Liberal Party led by Premier Christy Clark would win the May 2013 election. Understandably, most readers scoffed.
I can assure you that I am no Nostradamus. Don't bother asking me which stock to pick or what the 649 Lottery numbers will be. Rather, I relish being a contrarian. It is my nature to question the prevailing view on a range of topics -- politics in particular -- and to hopefully stir intelligent debate.
At the time I was a BC Liberal party member (I have since moved on to the non-partisan CFIB) who had campaigned for their candidates in past, so I was prepared to be accused of partisan spin. While the article could be construed as favourable to the BC Liberals, my core argument relied upon the results of past elections -- in British Columbia and beyond.
I noted the experience of Manitoba, Ontario and Alberta where low-polling incumbent governments were all given new mandates (Quebec came close), and asked myself why this happened.
Also last September, Quebec newspaper columnist Lysiane Gagnon wrote her own post-mortem on the Alberta and Quebec elections. The "undecided," she said, can make or break a party's electoral chances.
In the recent Quebec election, the Liberal Party was underestimated in part for the same reason that the Wildrose Party was overestimated in the spring Alberta election: The pollsters didn't take into account the voting patterns of the self-proclaimed "undecided" and greatly overemphasized the popular appetite for "change."
Both the Quebec and Alberta general elections were classic cases of when voters are faced with a decision, they choose "the devil they know". Is there some reason why this would not happen in BC too? I could not see one, yet it was commonly held that the BC Liberals were toast.
As Gagnon points out, flawed poll results bolstered that viewpoint.
The Progressive Conservatives won handily with 44 per cent of the vote. Embarrassed pollsters attributed their mistake to a last-minute, massive change of heart among the electorate - a turnabout caused, they said, by the inopportune comments of a couple of bigoted Wildrose candidates. But this analysis seems a bit short.
After the disastrous misreading of the B.C. electorate, polling companies are still loath to admit they were way off the mark.
B.C.'s political punditocracy - the opinion columnists and commentators who closely cover the Legislature - hold some responsibility for propagating the poll results without providing context. As with the pollsters cited by Gagnon, the Legislative commentators subjectively determined that the 2013 election was about "change", a view only held by the minority.
A huge number of B.C. voters became "10-second B.C. Liberals" just prior to marking their ballots. Assuming pollster Ipsos-Reid's analysis can be trusted, just over one-in-ten voters made up their minds right in the polling station. This supports Gagnon's "devil you know" supposition.
If you follow politics closely, you could have also asked yourself if the troubles facing Clark's government had any resemblance to previous political collapses.
They say a house divided against itself will not stand, and so it goes with political organizations. Like with B.C. Social Credit in 1991, the federal Progressive Conservatives in 1993, the B.C. NDP in 2000, and the Vancouver NPA in 2008, internal warfare resulted in a severe punishment by voters.
By contrast the Liberal Party kept a unified front even in the face of adversity. Furthermore, they were attracting strong candidates all around the province, many of whom fought tough nomination battles to earn their candidacy. If there were signs of imminent collapse, they were well-disguised.
Admittedly, I played long odds by betting eight months out that the Liberals would win. So much could, and did, happen during the subsequent months to shake the faith of the party's supporters. But strong election campaign performances, coupled with the right ballot question repeatedly erases voters' misgivings about their elected leaders. This is something political pundits often fail to remember.
While Christy Clark's most ardent critics will of course carry on, there is little doubt she has changed the minds of many who doubted her abilities. She now has a strong mandate to lead British Columbia into the 21st Century, and the resilience to make good use of it.
Good luck to you, Premier.