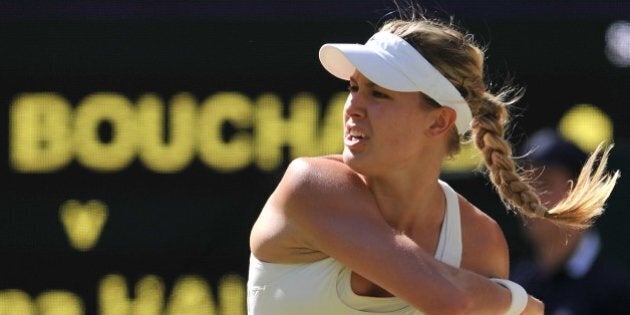 If you live in Canada or read British tabloids, you'll know that there is a 20-year-old Canadian named Eugenie Bouchard who is playing some exceptional tennis right now. She's playing in a Wimbledon final and has also made the semi-finals of the previous two grand slam events. She's young, she's athletic, and yes, she is an attractive woman.
So, she's Canada's tennis sweetheart. Only, she's not.
Anyone who has paid any attention to the ridiculously rapid rise of Genie Bouchard in the tennis world would know there's nothing sweetheart about her. She's nice and she's polite and she smiles when people ask her stupid questions about who she has a crush on, but she's ultra competitive when on the court -- a trait that has served her well over the years she's trained to be a professional athlete. She talks endlessly about not being satisfied with her results until she's reached her ultimate goal of winning major titles.
But, she's a young woman, so she's automatically deemed a "sweetheart." Because we can't think of a woman with as much blonde hair and as athletic a body as she has as just another athletic superstar. No, she has to be a sweetheart and we need to talk as much about her personal life as we do about her tennis game.
Milos Raonic is another young Canadian tennis player who is experiencing previously unknown levels of success for a Canadian male tennis player. He has a booming serve, talks about winning grand slams and has slicked back hair. I've never heard him referenced as "Canada's tennis sweetheart." He's simply an emerging star of the game with a great tennis future. I have no idea who he's dating, I have no idea what clothes he wears off the tennis court.
Eugenie doesn't talk about knitting sweaters, she doesn't talk about snuggling with kittens after a match. She isn't out on the tennis court rescuing baby penguins from the cold or petting the wings of butterflies. She talks about nothing I'd associate with someone I'd consider being a sweetheart and her game reminds me more of her sport's legends like Martina Navratilova or Pete Sampras than of the woman at my grandmother's bridge club who always brings buttertarts for all the players.
Instead, she talks and acts like someone I'd much rather call "Canada's Excellent Female Athlete I'd Like My Daughters to Watch," or even like someone I'd rather call "Eugenie Bouchard." The same goes for the excellent female soccer players we've had in this country and our women's hockey teams who never lose. I want my daughters to see these women as idols or role models, not as sweethearts. Isn't it more important that our kids be known for their skill, talent, intelligence and determination instead of how sweet, cute, or pretty they are? Doesn't praising our athletes for their beauty instead of skill undermine that?
It's a very real problem that when young women rise to fame they're labelled as sweethearts or darlings and when the endless articles being written about her reference her beauty and grace on the court. Her tennis game is beautiful, the rest is irrelevant. The physical characteristics we should be focusing on include her court coverage, her forehand, her footwork and her stamina, not her blonde hair.
Seriously, Google her name to look for some images. The top categories for her name include "boyfriend" and "dress." Search for Milos Raonic and you get "2013," "2014″ and "serve." Jesus, what is wrong with us that when searching for a tennis star who is 20 and blonde, we want to know what dress she wears and who her boyfriend is?
Let's praise her for her determination and focus, not simply because she's a beautiful woman who's capable of being photographed 10,000 times a day and who we like to see on our television sets. Eugenie Bouchard is not Canada's Tennis Sweetheart, she's Canada's best tennis player.